Abstract
In the first years of the 21st century, there was a building boom in Spain, which triggered many corruption cases in municipalities. This paper contributes to the scarce literature on this issue by analysing the impact of socio-economic and financial factors on urban political corruption. Our sample covers the 110 Spanish largest municipalities for 2000–2009. The findings indicate that higher politicians' salaries and more transparency are connected with lower corruption levels. In this way, we confirm theoretical assumptions that posit that municipalities where politicians have higher salaries present less corruption cases. Finally, municipal transparency should be enhanced, because it is related to lower corruption.
This is a preview of subscription content, log in to check access.
Access options
Buy single article
Instant access to the full article PDF.
US$ 39.95
Price includes VAT for USA
Subscribe to journal
Immediate online access to all issues from 2019. Subscription will auto renew annually.
US$ 99
This is the net price. Taxes to be calculated in checkout.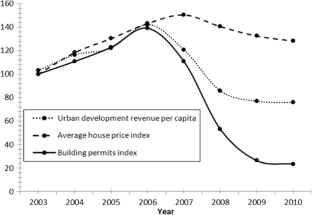 References
1.

Agranoff, R. (2010). Local governments and their intergovernmental networks in federalizing Spain. Montreal: McGill-Queen's University Press.

2.

Agresti, A. (2010). Analysis of ordinal categorical data. New Jersey: Wiley.

3.

Alt, J. E., & Lassen, D. D. (2003). The political economy of institutions and corruption in American states. Journal of Theoretical Politics, 15(3), 341–365.

4.

Alt, J. E., Lassen, D. D., & Skilling, D. (2002). Fiscal transparency, gubernatorial approval, and the scale of government: evidence from the states. State Politics & Policy Quarterly, 2(3), 230–250.

5.

Amundsen, I. (1999). Political Corruption: An Introduction to the Issues. Chr. Michelsen Institute Working Paper N° 7.

6.

Ashworth, J., Geys, B., & Heyndels, B. (2005). Government weakness and local public Debt development in flemish municipalities. International Tax and Public Finance, 12(4), 395–422.

7.

Bac, M. (2001). Corruption, connections and transparency: does a better screen imply a better scene? Public Choice, 107(1–2), 87–96.

8.

Bertot, J. C., Jaeger, P. T., & Grimes, J. M. (2010). Using ICTs to create a culture of transparency: E-government and social media as openness and anti-corruption tools for societies. Government Information Quarterly, 27(3), 264–271.

9.

Beylis, G., Finan, F., & Mazzocco, M. (2012). Understanding corruption: Theory and evidence from the audits of local. United States: UCLA and UC-Berkeley.

10.

Billger, S. M., & Goel, R. K. (2009). Do existing corruption levels matter in controlling corruption?: Cross-country quantile regression estimates. Journal of Development Economics, 90(2), 299–305.

11.

Braun, M., & Di Tella, R. (2004). Inflation, inflation variability, and corruption. Economics & Politics, 16(1), 77–100.

12.

Damania, R., Fredriksson, P. G., & Mani, M. (2004). The persistence of corruption and regulatory compliance failures: theory and evidence. Public Choice, 121(3–4), 363–390.

13.

European Commission (2013). Special Eurobarometer 397, Corruption. Brussels

14.

European Commission (2014a). Report from the Commission to the Council and the European Parliament. Brussels

15.

European Commission (2014b). Spain to the EU Anti-Corruption Report. Brussels.

16.

Ferraz, C., Finan, F. (2007). Electoral accountability and corruption in local governments: evidence from audit reports. Germany: IZA Discussion Papers No. 2843.

17.

Fréchette, G. R. (2006). Panel data analysis of the time-varying determinants of corruption. Montréal: CIRANO working paper.

18.

García, M. G., Jiménez, F., & Villoria, M. (2013). Building local integrity systems in southern Europe: the case of urban local corruption in Spain. International Review of Administrative Sciences, 79(4), 618–637.

19.

Glaeser, E. L., & Saks, R. E. (2006). Corruption in America. Journal of Public Economics, 90(6), 1053–1072.

20.

Golden, M. A., & Picci, L. (2005). Proposal for a new measure of corruption, illustrated with Italian data. Economics & Politics, 17(1), 37–75.

21.

Herzfeld, T., & Weiss, C. (2003). Corruption and legal (in) effectiveness: an empirical investigation. European Journal of Political Economy, 19(3), 621–632.

22.

Hill, K. Q. (2003). Democratization and corruption systematic evidence from the American States. American Politics Research, 31(6), 613–631.

23.

Jerez, L. M., Martin, V. O., & Pérez, R. (2012). Aproximación a una geografía de la corrupción urbanística en España. Ería, 87, 5–18.

24.

Jiménez, F., Villoria, M., & García-Quesada, M. (2012). Badly designed institutions, informal rules and perverse incentives: local government corruption in Spain. Lex localis-Journal of Local Self-Government, 10(4), 363–381.

25.

La Porta, R., Lopez de Silanes, F., Shleifer, A., & Vishny, R. (1999). The quality of government. Journal of Law, Economics and Organization, 15(1), 222–279.

26.

Lindstedt, C., Naurin, D. (2006). Transparency Against Corruption-A Cross-Country Analysis", paper presented at the IPSA 20th World Congress, Fukuoka, Japan, 9–13 July, http://paperroom.ipsa.org/papers/paper_5232.pdf

27.

Martini, M. (2014). Local Integrity: Allowances, Interest And Asset Declarations, And Revolving Door. Transparency International.

28.

Meier, K. J., & Holbrook, T. M. (1992). I seen my opportunities and I Took'Em: political corruption in the American states. The Journal of Politics, 54(1), 135–155.

29.

Mouritzen, P. E., & Svara, J. H. (2002). Leaderhsip at the Apex. Politicians and administrators in Western local governments. Pittsburg: University of Pittsburgh Press.

30.

Persson, T., Tabellini, G., & Trebbi, F. (2003). Electoral rules and corruption. Journal of the European Economic Association, 1(4), 958–989.

31.

Pettersson-Lidbom, P. (2001). An empirical investigation of the strategic use of debt. The Journal of Political Economy, 109(3), 570–583.

32.

Pilapitiya, T. (2004). The Impact of corruption on the human rights based approach to development. Oslo: United Nations Development Programme, Oslo Governance Centre.

33.

Romero, J., Jiménez, F., & Villoria, M. (2012). (Un)sustainable territories: causes of the speculative bubble in Spain (1996–2010) and its territorial, environmental, and sociopolitical consequences. Environment and Planning C: Government and Policy, 30(3), 467–486.

34.

Rose-Ackerman, S. (1999). Corruption and government: Causes, consequences, and reform. United Kingdom: Cambridge University Press.

35.

Seldadyo, H., & de Haan, J. (2006). The determinants of corruption. A literature survey and new evidence. Paper prepared for the 2006 EPCS conference, Turku, Finland, 20–23 April 2006.

36.

Serra, D. (2006). Empirical determinants of corruption: a sensitivity analysis. Public Choice, 126(1–2), 225–256.

37.

Shabbir, G., & Anwar, M. (2007). Determinants of corruption in developing countries. The Pakistan Development Review, 46(4), 751–764.

38.

Shim, D. C., & Eom, T. H. (2009). Anticorruption effects of information communication and technology (ICT) and social capital. International Review of Administrative Sciences, 75(1), 99–116.

39.

Shleifer, A., & Vishny, R. W. (1993). Corruption. The Quarterly Journal of Economics, 108(3), 599–617.

40.

Tellier, G. (2006). Public expenditures in Canadian provinces: an empirical study of politico-economic interactions. Public Choice, 126(3–4), 367–385.

41.

Treisman, D. (2000). The causes of corruption: a cross-national study. Journal of Public Economics, 76(3), 399–457.

42.

Van Rijckeghem, C., & Weder, B. (2001). Bureaucratic corruption and the rate of temptation: do wages in the civil service affect corruption, and by how much? Journal of Development Economics, 65(2), 307–331.

43.

Wraith, R., & Simpkins, E. (1963). Corruption in developing countries. London: Allen & Unwin.
Acknowledgments
We acknowledge the financial support of the Spanish Ministry of Economy and Competitiveness (ECO2010-20522).
About this article
Cite this article
Benito, B., Guillamón, M. & Bastida, F. Determinants of urban political corruption in local governments. Crime Law Soc Change 63, 191–210 (2015). https://doi.org/10.1007/s10611-015-9563-9
JEL Classification