Chemical Constituents of the Rhizomes of Actinidia kolomikta
Actinidia kolomikta (Rupr. & Maxim.) Maxim. is a natural health food and a traditional medicine for treating scurvy in China. It is a species of wild plant that grows in Asia, including the northern part of China, North Korea, Japan, and the Soviet Union [1, 2]. Previous phytochemical studies verified that the roots and leaves of this plant produce a variety of glycosides, flavonoids, polyphenols, sterols, terpenoids, organic acids, and vitamin C [3, 4, 5, 6, 7]. In the present study, we set out to explore the chemical constituents of the rhizomes of A. kolomikta, which have not yet been reported. Fifteen known compounds were isolated from the CH2Cl2 fraction of A. kolomikta, including five sterols (1–5) and ten triterpenoids (6–15). Their structures were elucidated by comparing the spectroscopic data to reported values. This is the first report of compounds 1, 2, 4, 5, and 8–15 from the family Actinidiaceae and compounds 6 and 7 from A. kolomikta.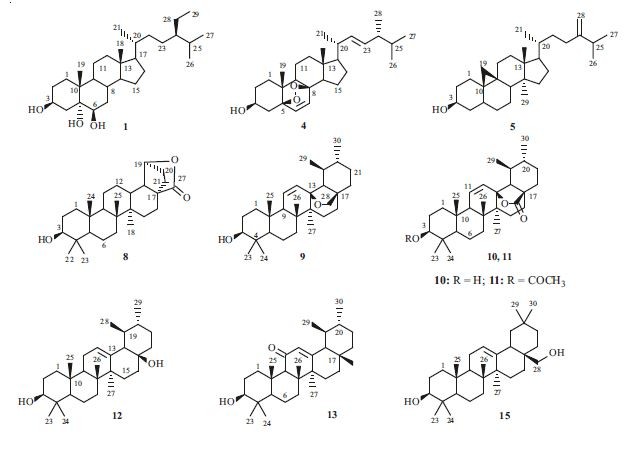 Notes
Acknowledgment
This work was supported by the Jilin Provincial Education Department (2016-280) and partially supported by the National Natural Science Foundation of China under Grant Nos. 81660699, 81660579, and 81760627.
Copyright information
© Springer Science+Business Media, LLC, part of Springer Nature 2019