Synthesis of Stereoisomeric 2,3-Dihydroxy-11-Oxoolean-12-En-30-Oic Acids
Pentacyclic triterpenoids are natural compounds that are broadly distributed in the plant world and possess a variety of biological activities [1, 2, 3]. 18βH-Glycyrrhetinic acid (18β-GLA, 1) is a well-known β-amyrin-type pentacyclic triterpenoid, the aglycon of glycyrrhizic acid, and the main component of roots of Glycyrrhiza glabra L. and G. uralensis Fisch. (Leguminosae) [4]. 18β-GLA possessed various types of biological and pharmacological activity [4, 5]. A stereoisomeric form of 18β-GLA, i.e., 18α-GLA (2), is a minor triterpenoid of licorice extract, has biological activity comparable to that of natural 18β-GLA, and is readily produced from 18β-GLA via epimerization of C18 in acidic (AcOH/HCl) or basic (KOH/MeOH) solution [4]. Previously, 2-hydroxy-3-on-1-ene derivatives (diosphenols) of stereoisomeric 1 and 2 with hypoglycemic activity were synthesized by us and were interesting as a platform for producing new antidiabetic agents [6].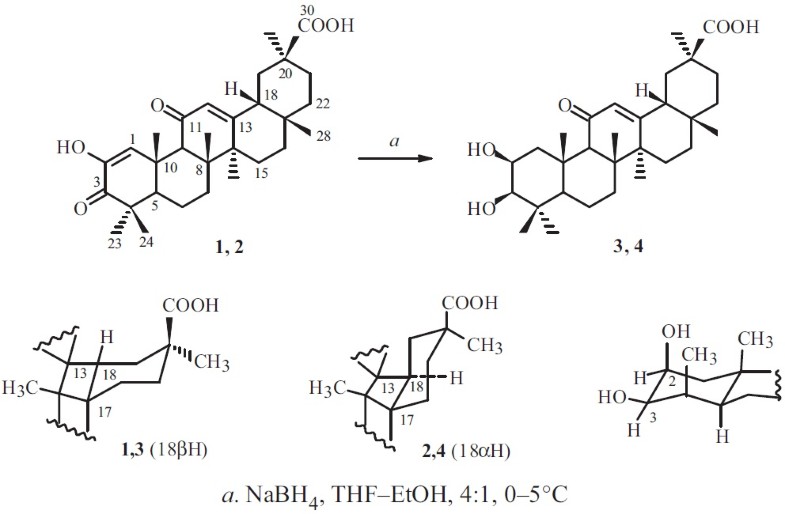 Notes
Acknowledgment
The work was performed on topics of State Task AAAA-A17-117011910025-6 and AAAA-A17-117011910027-0 and used equipment at the Khimiya CUC, UfIC, UFRC, RAS.
Copyright information
© Springer Science+Business Media, LLC, part of Springer Nature 2019