Synthesis of Conjugate Esters of 5-(4-Hydroxyphenyl)-3H-1,2-Dithiole-3-Thione and Ursolic Acid 3-O-ACYL Derivatives
Chemical conjugates of H
2
S-donors and non-steroidal anti-inflammatory drugs (NSAIDs) are being investigated as anti-inflammatory and chemoprevention agents [
1
]. Dithiolethiones, in particular 5-(4-methoxyphenyl)-3
H
-1,2-dithiole-3-thione (
1a
, ADT), are H
2
S donors and exhibit marked antioxidant activity (free-radical binding, lipid peroxidation inhibition) [
2
]. Desmethylanethol trithione (
1b
, ADTOH) is a known ADT metabolite and is used as a synthon to prepare new promising NSAID conjugate derivatives [
3
]. Available triterpenoids such as ursolic acid (UA,
2a
) and its synthetic derivatives were also reported to have anti-inflammatory, antioxidant, and antitumor activity [
4
].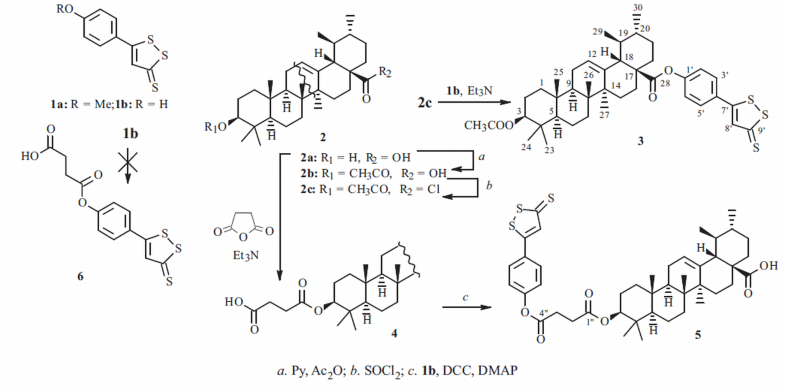 Keywords
Succinic Acid 
Et3N 
Ursolic Acid 
Chemoprevention Agent 
Dithiole 
These keywords were added by machine and not by the authors. This process is experimental and the keywords may be updated as the learning algorithm improves.
Notes
Acknowledgment
Analytical and spectral studies used the Khimiya Service Center for Collective Use, SB, RAS. The work was performed under the auspices of Project No. 12 of the NAS of Belarus and SB RAS Joint Basic Research.
Copyright information
© Springer Science+Business Media New York 2016