Interest in β-carbolines is caused by the biological activity of these compounds and the use of their fluorescent properties in the study of their interaction with DNA and other biological targets, as well as with drug delivery vehicles. A new general method for the synthesis of harmane, harmine, and their structural analogs by thermolysis of substituted 4-aryl-3-azidopyridines was developed, and their optical properties were studied.
This is a preview of subscription content, log in to check access.
Access options
Buy single article
Instant access to the full article PDF.
US$ 39.95
Price includes VAT for USA
Subscribe to journal
Immediate online access to all issues from 2019. Subscription will auto renew annually.
US$ 199
This is the net price. Taxes to be calculated in checkout.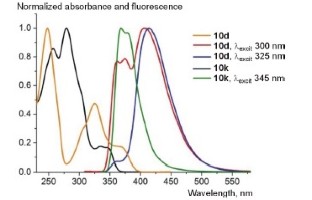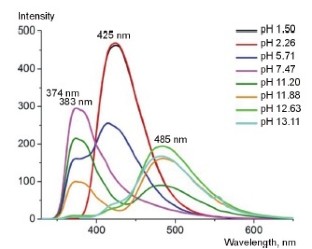 References
1.

(а) Nenaah, G. Fitoterapia2010, 81, 779. a Mahmoudian, M.; Jalilpour, H.; Salehian, P. Iran. J. Pharmacol. Ther.2002, 1, 1.

2.

(a) Cao, R.; Peng, W.; Wang, Z.; Xu, A. Curr. Med. Chem. 2007, 14, 479. (b) Rao, R. N.; Maiti, B.; Chanda, K. ACS Comb. Sci.2017, 19, 199. (c) Dai, J.; Dan, W.; Schneider, U.; Wang, J. Eur. J. Med. Chem.2018, 157, 622.

3.

(a) Cao, R.; Peng, W.; Chen, H.; Ma, Y.; Liu, X.; Hou, X.; Guan, H.; Xu, A. Biochem. Biophys. Res. Commun. 2005, 338, 1557. (b) Bain, J.; Plater, L.; Elliott, M.; Shpiro, N.; Hastie, C. J.; Mclauchlan, H.; Klevernic, I.; Arthur, J. S. C.; Alessi, D. R.; Cohen, P. Biochem. J.2007, 408, 297. (c) Li, S.-P. Wang, Y.-W.; Qi, S.-L.; Zhang, Y.-P.; Deng, G.; Ding, W.-Z.; Ma, C.; Lin, Q.-Y.; Guan, H.-D.; Liu, W.; Cheng, X.-M.; Wang, C.-H. Front. Pharmacol. 2018, 9, 346. (d) Hara, E. S.; Ono, M.; Kubota, S.; Sonoyama, W.; Oida, Y.; Hattori, T.; Nishida, T.; Furumatsu, T.; Ozaki, T.; Takigawa, M.; Kuboki, T. Biochimie2013, 95, 374. (e) Pagano, B.; Caterino, M.; Filosa, R.; Giancola, C. Molecules2017, 22, 1831.

4.

Khan, H.; Patel, S.; Kamal, M. A. Curr. Drug Metab.2017, 18, 853.

5.

(a) Quintana, V. M.; Piccini, L. E.; Zenere, J. D. P.; Damonte, E. B.; Ponce, M. A.; Castilla, V. Antiviral Res.2016, 134, 26. (b) Ishida, J.; Wang, H.-K.; Oyama, M.; Cosentino, M. L.; Hu, C.-Q.; Lee, K.-H. J. Nat. Prod. 2001, 64, 958.

6.

Kwon, M. S.; Gierschner, J.; Seo, J.; Park, S. Y. J. Mater. Chem. 2014, 2, 2552.

7.

(a) Paul, B. K.; Guchhait, N. J. Phys. Chem. B2011, 115, 10322. (b) Paul, B. K.; Guchhait, N. J. Phys. Chem. B 2011, 115, 11938. (c) Guan, H.; Liu, X.; Peng, W.; Cao, R.; Ma, Y.; Chen, H.; Xu, A. Biochem. Biophys. Res. Commun.2006, 342, 894. (d) Garcia-Zubiri, I. X.; Burrows, H. D.; de Melo, J. S. S.; Pina, J.; Monteserin, M.; Tapia, M. J. Photochem. Photobiol. 2007, 83, 1455.

8.

(a) Love, B. E. Org. Prep. Proced. Int. 1996, 28, 1. (b) Galvis, C. E. P.; Kouznetsov, V. V. Synthesis2017, 4535.

9.

(a) Rao, A. V. R.; Chavan, S. P.; Sivadasan, L. Tetrahedron1986, 42, 5065. (b) Fujita, H.; Nishikawa, R.; Sasamoto, O.; Kitamura, M.; Kunishima, M. J. Org. Chem. 2019, 84, 8380.

10.

Wang, Z.-X.; Xiang, J.-C.; Cheng, Y.; Ma, J.-T.; Wu, Y.-D.; Wu, A.-X. J. Org. Chem. 2018, 83, 12247.

11.

(a) Chalotra, N.; Ahmed, A.; Rizvi, M. A.; Hussain, Z.; Ahmed, Q. N.; Shah, B. A. J. Org. Chem. 2018, 83, 14443. (b) Namjoshi, O. A.; Gryboski, A.; Fonseca, G. O.; Linn, M. L. V.; Wang, Z.-J. Deschamps, J. R.; Cook, J. M. J. Org. Chem. 2011, 76, 4721. (c) Yan, Q.; Gin, E.; Banwell, M. G.; Willis, A. C.; Carr, P. D. J. Org. Chem. 2017, 82, 4328. (d) Zhang, H.; Larock, R. C. J. Org. Chem.2002, 67, 9318. (e) Dassonneville, B.; Witulski, B.; Detert, H. Eur. J. Org. Chem. 2011, 2836. f Pumphrey, A. L.; Dong, H.; Driver, T. G. Angew. Chem., Int. Ed. 2012, 51, 5920.

12.

Gaich, T.; Baran, P. S. J. Org. Chem. 2010, 75, 4657.

13.

Kaczanowska, K.; Eickhoff, H.; Albert, K.; Wiesmuller, K.-H.; Schaffner, A.-P. J. Heterocycl. Chem. 2011, 48, 792.

14.

(a) Krinochkin, A. P.; Kopchuk, D. S.; Chepchugov, N. V.; Kim, G. A.; Kovalev, I. S.; Rahman, M.; Zyryanov, G. V.; Majee, A.; Rusinov, V. L.; Chupakhin, O. N. Chin. Chem. Lett.2017, 28, 1099. (b) Weller, D. D.; Luellen, G. R.; Weller, D. L. J. Org. Chem.1982, 47, 4803.

15.

Katritzky, A. R.; Denisenko, A.; Arend, M. J. Org. Chem. 1999, 64, 6076.

16.

Nesnow, S.; Miyazaki, T.; Khwaja, T.; Meyer, R. B.; Heidelberger, C. J. Med. Chem.1973, 16, 524.

17.

(a) Huang, X.; Keillor, J. W. Tetrahedron Lett.1997, 38, 313. b) Huang, X.; Seid, M.; Keillor, J. W. J. Org. Chem.1997, 62, 7495.

18.

(a) Perez, M. A. M.; Guzman, M. C. C.; Toledo, J. H.; Almeida, M. B. J. Chem. Soc., Perkin Trans. 21986, 1573. (b) Reyman, D.; Vinas, M. H.; Poyato, J. M. L.; Pardo, A. J. Phys. Chem. A1997, 101, 768. (c) Tarzi, O. I.; Erra-Balsells, R. J. Photochem. Photobiol. B2006, 82, 79. (d) Pardo, A.; Reyman, D.; Martin, E.; Poyato, J. M. L.; Camacho, J. J.; Hidalgo, J.; Sanchez, M. J. Lumin.1988, 42, 163.

19.

Wolfbeis, O. S.; Furlinger, E. Z. Phys. Chem.1982, 129, 171.

20.

Vignoni, M.; Rasse-Suriani, F. A. O.; Butzbach, K.; Erra- Balsells, R.; Epe, B.; Cabrerizo, F. M. Org. Biomol. Chem.2013, 11, 5300.

21.

Kumar, A.; Singh, S.; Mudahar, G. S.; Thind, K. S. Radiat. Phys. Chem.2006, 75, 737.

22.

Williams, A. T. R.; Winfield, S. A.; Miller, J. N. Analyst1983, 108, 1067.

23.

Allen, M. W. Measurement of Fluorescence Quantum Yields; Thermo Fisher Scientific: Madison. Technical note: 52019.

24.

Brouwer, A. M. Pure Appl. Chem.2011, 83, 2213.

25.

(a) Demir, A. S.; Sesenoglu, O.; UIku, D.; Arici, C. Helv. Chim. Acta.2004, 87, 106. (b) Elias, G.; Rao, M. N. A. Eur. J. Med. Chem.1988, 23, 379. (c) Szmant, H. H.; Basso, A. J. J. Am. Chem. Soc.1952, 74, 4397. (d) Bai, X.-G.; Xu, C.-L.; Zhao, S.-S.; He, H.-W.;Wang, Y.-C.; Wang, J.-X. Molecules2014, 19, 17256. (e) Yang, J.-X.; Tao, X.-T.; Yuan, C. X.; Yan, Y. X.; Wang, L.; Liu, Z.; Ren, Y.; Jiang, M. H. J. Am. Chem. Soc.2005, 127, 3278. (f) Garg, S.; Raghav, N. RSC Adv.2015, 5, 72937.

26.

Stecher, E. D.; Ryder, H. F. J. Am. Chem. Soc.1952, 74, 4392.

27.

(a) Hassanien, A. Z. A.; Ghozlan, S. A. S.; Elnagdi, M. H. J. Heterocycl. Chem.2003, 40, 225. (b) Shibata, K.; Urano, K.; Matsui, M. Bull. Chem. Soc. Jpn.1988, 61, 2199. (c) Sizova, E. E.; Arshinov, E. E.; Kotsareva, Y. A.; Glizdinskaya, L. V.; Sagitullina, G. P. Chem. Heterocycl. Compd.2017, 53, 1026. [Khim. Geterotsikl. Soedin.2017, 53, 1026.]

28.

Dong, J.; Shi, X.-X.; Yan, J.-J.; Xing, J.; Zhang Q.; Xiao, S. Eur. J. Org. Chem.2010, 36, 6987.

29.

(a) Huang, Y.-Q.; Song, H.-J.; Liu, Y.-X.; Wang, Q.-M. Chem.–Eur. J.2018, 24, 2065. (b) Mukhamedova, S.; Maekh, C. Kh.; Yunusov, S. Yu. Chem. Nat. Compd.1983, 19, 376. [Khim. Prirod. Soedin.1983, 19, 394.]

30.

(a) Duval, E.; Cuny, G. D. Tetrahedron Lett.2004, 45, 5411. (b) Dorofeenko, G. N.; Dulenko, L. V. Chem. Heterocycl. Compd.1969, 5, 313. [Khim. Geterotsikl. Soedin.1969, 417.]
Acknowledgment
This work was financially supported by the Russian Foundation for Basic Research and the Ministry of Education of the Omsk Region (grant 16-43-550144p_a) and the Ministry of Education and Science of the Russian Federation (project 4.1657.2017 / 4.6)
Additional information
Translated from Khimiya Geterotsiklicheskikh Soedinenii, 2020, 56(1), 73–83
Electronic supplementary materials
About this article
Cite this article
Shuvalov, V.Y., Elisheva, V.А., Belousova, A.S. et al. β-Carbolines: synthesis of harmane, harmine alkaloids and their structural analogs by thermolysis of 4-aryl-3-azidopyridines and investigation of their optical properties. Chem Heterocycl Comp (2020). https://doi.org/10.1007/s10593-020-02625-4
Received:

Accepted:

Published:
Keywords
alkaloids

3-amino-4-arylpyridines

4-aryl-3-azidopyridines

asymmetric Hantzsch pyridines

harmane

harmine

substituted β-carbolines

fluorescence of β-carbolines