SNH Arylamination of Nitroquinolines: Access to Nitro and Nitroso Derivatives of Arylaminoquinolines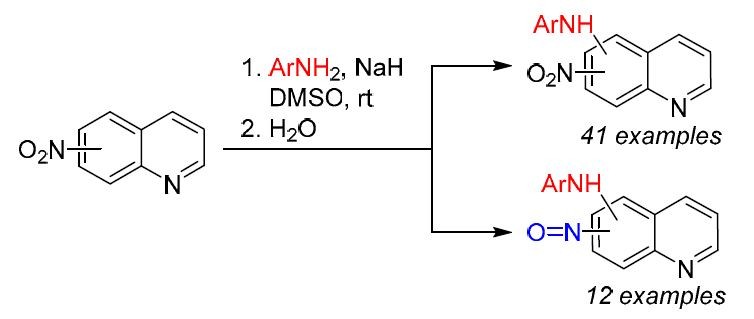 SNH Arylamination of 5-, 6-, 7-, and 8-nitroquinolines in anhydrous DMSO gave not only the arylamino derivatives of the respective nitroquinolines, but also the arylamino derivatives of nitrosoquinolines. In the case of 6-nitroquinoline, the first representatives of polycyclic structures on the basis of pyrido[3,2-a]phenazine 7-oxide were isolated.
Keywords
nitroquinolines 
phenazines 
SNH arylamination 
disproportionation 
SNH methodology 
Notes
This work was performed with financial support from the Ministry of Education and Science of the Russian Federation within the framework of State Assignment (project No. 4.6306.2017/8.9).
Copyright information
© Springer Science+Business Media, LLC, part of Springer Nature 2018