Identification of inflammatory mediators associated with metastasis of oral squamous cell carcinoma in experimental and clinical studies: systematic review
Abstract
Metastasis, whether regional or distant, remains the main cause of morbidity and recurrence in oral cancer. The accumulating evidence suggests that inflammatory mediators are strong drivers for cancer progression and spread. However, the precise role of these inflammatory mediators in mediating specific metastatic stage is poorly understood due to lack of integration/validation of experimental research data and the clinical trials, i.e., the data produced from research is not translated to clinical therapeutic targets. This, in turn, results in the lack of developing reliable biomarker that can be used for accurate diagnosis/prognosis of the tumour spread. We have performed a systematic review to assess the role of inflammatory mediators as potential markers for diagnosis/prognosis of oral squamous cell carcinoma (OSCC) metastasis. We carried out a systematic search the PubMed, Web of Science, Embase and Scopus databases under the guidelines for Preferred Reporting Items for Systematic Reviews and Meta-Analyses (PRISMA) and Australian National Health and Medical Research Council (NHMRC). Articles were divided into two groups; experimental (in-vivo) and clinical studies. The REporting recommendations for tumour MARKer prognostic studies Scale (REMARK) was used to assess the quality of the studies for the clinical search while Animal research: Reporting In-vivo experiments (ARRIVE) guidelines were used to assess the quality of the animal studies. Sixteen articles in the clinical group and four articles in the experimental group were included in the final review. We identified nine inflammatory mediators; CXCR4, CXCL12 (SDF-1), CCR7, IL-6, IL-18, CCL20 (MIP-3), CXCL1 (GRO-1), CCL3, CXCR2. This panel of inflammatory mediators can provide a framework for hypothesis testing of the potential value of these mediators in metastatic prognosis. We recommend carrying a large cohort study with data pooling for adequate assessment and testing of the inflammatory panel of mediators.
Keywords
Metastasis 
Oral squamous cell carcinoma 
Oral cancer 
Inflammatory mediators 
Prognostic biomarker 
Clinical implementation 
Introduction
Metastasis accounts for up to 90% of cancer fatalities. Ironically, the success in early detection and prevention of tumours has resulted in prolonged survival periods, which, although counterintuitive, has led to higher metastatic incidence rates observed clinically [1, 2, 3]. Large cohort studies have shown higher recurrence rates for patients with early stage tumours, even after successful treatments within the period of 5–25 years [2]. The rate of metastatic spread for oral squamous cell carcinoma (OSCC) is reported to be 65% for lymph node metastasis, 5–25% for distant metastasis and up to 50% rate for local recurrence [4, 5, 6].
The involvement of metastasis, as the most important prognostic factor [7, 8], significantly decreases the survival probability [9]. This explains why OSCC remains one of the tumours with the worst prognosis, with an overall 5-year survival rate of around 50% [9]. Moreover, metastasis is not limited to late stages but also can occur in patients with clinically negative lymph nodes as "micro-metastatic" foci. These foci can activate primary or secondary recurrence in OSCC patients even after they have been treated for the primary tumour [10].
OSCC patients with metastasis or those in early stages with a high risk of metastasis are subjected to invasive management approaches. However, such treatment strategies (neck dissection, chemotherapy, radiotherapy) are accompanied by significant morbidity, poor quality of life, and even mortality as a result of treatment complications [11]. Finally, those modalities have not brought significant improvements in patient survival or metastatic or recurrence control [12].
Clinical stages of metastasis
For cancer cells to disseminate to a secondary site, they have to go through several stages termed the "metastatic cascade" [13, 14]. Despite being an ineffective process, it is highly regulated by a complex network of mediators. First, the neoplastic cell detaches from its neighbouring cells and transforms into a mesenchymal, invasive form that degrades any hindering structures to access the blood/lymphatic vessels. This is achieved through structural changes of the cytoskeleton of the cells, in particular, the adhesion molecules associated with increases in production of matrix degrading enzymes [15]. Second, the invading cell turns into a migratory pattern termed epithelial-mesenchymal transition (EMT) [16]. The increasing demand for nutrient and oxygen to fuel tumour growth dictates the induction of angiogenesis (formation of new blood vessels) mechanisms by the tumour to guarantee its survival [17].
Formation of new blood vessels within the tumour provides access for the migrating cells to enter the main blood stream in a process termed "intravasation" [18]. The escape of the tumour cells from the circulation or lymphatic vessels into the tissue (extravasation) is a critical step in the metastatic cascade and leads to the implantation of the tumour mass at the distant site [19].
Description of phenomenon of interest
Cancer does not use novel mechanisms but rather implements existing biological processes in favour of its growth and progression [20]. This fundamental concept is supported by insights into the different stages of cancer progression and the metastatic cascade [e.g., epithelial mesenchymal transition (EMT), angiogenesis, intravasation/extravasation] which reveal that most of these stages are identical to some inflammatory processes [21]. The link between inflammation and cancer has been a topic of research in the recent years since Hahn et al. identified inflammation as a main cardinal sign of cancer [22]. Although this research has revealed several aspects of inflammation in initiating and progressing neoplasms, it has not completely highlighted the role of inflammation as a main driver of metastasis [23, 24, 25].
Rationale
Metastasis has become the prime killer of cancer patients, rather than the original tumour itself [1, 2, 3]. The presence or risk of metastasis is the most important indicator of prognosis and the most deterministic in selecting the method of treatment [9]. Once metastasis has occurred, then the treatment of the primary tumour is either ineffective or confined to palliative treatment, providing no clinical benefit in prolonging survival. Although there has been progress in understanding the mechanisms of cancer initiation which resulted in prolonged survival periods across most types of cancer, relapses are seen clinically more often [3]. This can be traced to the poor understanding of the key players in the interaction between the tumour and its microenvironment which predispose and establish the blueprint of the metastatic process.
Evidence of the key role of inflammatory mediators in tumour metastasis is paramount. However, using this evidence for clinical implementation is challenging, as most of the studies focus on other prognostic factors such as survival and treatment response. Systematic identification of the role of inflammatory mediators in each stage of metastasis is missing, which in turn, reduces the potential of clinical use of these factors as predictors of disease progression. Numerous experimental studies reported varying, and even conflicting, findings on the role of inflammatory mediators in metastatic development due to different tumour sites as well as different experimental conditions. The majority of these studies have not been validated by a clinical follow up, indicating a huge gap between the clinical findings and the experimental data. This systematic review aims to provide an evidence-based comparison of inflammatory mediators responsible for mediating metastatic spread of the tumour by critically analysing results of animal and clinical studies. Integrating this vast amount of existing data is critical from a research perspective to elucidate the specific role of inflammation in mediating the metastatic process. More importantly, it can provide framework for hypothesis testing to identify a panel of inflammatory mediators that can be of potential for translation into clinical setting. This can aid the development of more effective prognostic systems which can add clinical value to the current inflammation-based grading systems.
Methods
Objectives
The objectives of this systematic review are: (1) to examine the prognostic value of inflammatory mediator expression in relation to the metastatic spread of the tumour in clinical patient samples; (2) to assess the association of the expression/inhibition of the inflammatory mediator with promoting/inhibiting specific metastatic stages in experimental animal studies; (3) to outline the gap in the state of knowledge between clinical and experimental data; and (4) to establish a preliminary inflammatory mediator panel that can be used for accurate and reliable prediction of the risk of metastasis in cancer patients.
Search strategy
To achieve the objectives of the review, the search was designed to include two main groups. The first group reports the association of the expression of inflammatory mediators with the metastatic progression of OSCC tumours in clinical cases. The second group includes studies performed on animal models reporting the effect of over-expression/inhibition of an inflammatory mediator on tumour metastasis or one of the specific metastatic stages described above.
Literature search
The search strategy was developed according to guidelines outlined in the PRISMA guidelines and clinical practice guidelines devised by the Australian National Health and Medical Research Council (NHMRC). A systematic search was carried out on PubMed, Web of Science, Embase and Scopus databases articles published up to December 2018 and the search has been updated in August 2019. In addition a manual search of articles was performed. To maximise the identification of relevant results, the initial search used truncated forms of the words "Inflammation", "Cancer" and "Metastasis". The search was further refined by crossing with the terms "prognosis", "tumour progression" and "mediators". Searches with the inflammatory mediators' terms were included (for full description of search strategy and MeSH headings, see Online Appendix 1). The reference list of related reviews and potentially relevant articles was checked for further studies. Citation lists of relevant articles were screened manually to ensure sensitivity of the search strategy. Repeated articles showed on the citation manager were deleted. Relevant journals were identified and their index was searched manually to identify further important citations.
Selection criteria
The titles and abstracts of all articles identified through the electronic and hand searches were scanned independently and grouped into the clinical or the experimental group based on the search strategy. The scanned studies were passed through general eligibility criteria before being placed into their nominated groups. The general criteria for inclusion of primary studies in the clinical or experimental group were: (1) original paper; (2) abstract available; (3) clear reporting of association of inflammatory mediator expression with metastasis or role in specific metastatic stage; (4) sufficient key information as indicated by the score list; and (5) sufficient statistical data. General criteria for exclusion were: (1) duplicate; (2) non-original paper; (3) abstract unavailable; (4) missing key information or statistical data; (5) metastasis was not reported; and (6) haematological cancer. Articles in every group passed through specific inclusion/exclusion criteria as follows;
Clinical studies selection criteria The selection was limited to human studies and included all longitudinal studies that presented data for progressing and non-progressing metastatic lesions. Case–control and cohort studies were included. Potential randomised controlled trials and cross-sectional studies were included if found.
Metastatic progression was defined as having a distant disseminated tumour, either nodal or distant, as a consequence of the tumour under investigation versus tumour with no spread followed over time. The inclusion criteria were as follows: (1) a clinical study on human subjects either from biopsy, surgical specimen or bodily fluid (saliva, blood) samples, where clear diagnosis and histo-pathological assessment of the case and control group had been performed; (2) the inclusion of a control group for comparison; (3) correlation of the investigated inflammatory mediator with the metastatic spread of the tumour is reported; (4) measurement of inflammatory mediator protein, mRNA or genetic expression; (5) the cancer was not associated with another pre-existing condition; (6) TNM was the standard staging system used for tumour staging in the patients; and (7) the patient at the time of the biopsy or sample had not undergone any chemo or radio therapy. Follow-up period and sample size were not a critical factor in inclusion the study.
Exclusion criteria for primary studies were: (1) duplicate studies; (2) non-human subject; (3) no control group; (4) case report studies; (5) review articles were excluded from the primary search but categorised for extraction of relevant articles; (6) no follow-up was reported; (7) other prognostic outcome (not metastatic progression) was reported; and (8) chemo/radiotherapy treatment of the control or the case subjects before the intervention (surgical resection was not an exclusion criteria).
Experimental studies selection criteria The main criteria for including studies were: (1) experimental animal studies reporting the expression/inhibition of specific inflammatory mediators and their effects on a specific metastatic stage; (2) evaluating the potential association of the measurement of inflammatory mediators with the different stages of disease progression; (3) specific inhibition was carried out through the use of antibodies, gene knockdown, miRNA, or ablation experiments; and (4) non-steroidal anti-inflammatory drugs (NSAID) was included in studies where it was used to inhibit the action of a specific inflammatory mediator.
Exclusion criteria were: (1) no control group; (2) the inflammatory mediator was expressed as a downstream to another molecule; and (3) only the expression was reported with no association with disease progression.
Data extraction
Once finalised, eligible articles were obtained and the data were extracted using a specific reporting form for each of the (clinical or experimental) groups. Data extraction forms for the clinical research recorded the following information; study title, score, inflammatory mediator, number of patients, number of controls, lymph node or distant metastasis, correlation with staging, correlation with specific metastatic stage, correlation with other prognostic factors, in vivo validation and remarks. In the experimental search, the form contained the following information; article title, score, inflammatory mediator, type of animal, method of measurement, downstream pathway, cell of origin, inhibition method and remarks. The forms were prepared using Microsoft AccessR software to facilitate report preparation.
Critical appraisal of studies
The REMARK Quality Guideline Scale was used to assess the quality of the studies for the clinical search [26]. The scale was modified to have a score of 16 for the included studies (Online Appendix 2). Animal research: reporting In-vivo experiments (ARRIVE) guidelines were used to assess the quality of the animal studies [27]. The original 20-item-checklist guideline was modified to meet the specific aims and objectives of the current review (Online Appendix 3). The modified 19-item list scored each item on a scale of [0-1] or [0-1-2].
Results
Initially, 5,278,203 articles were found through the general search with the truncated form of "Inflammation", "Cancer", and "Metastasis". The search with the specific terms yielded a total of 277,974 papers. By scanning through the titles of those articles, 35,111 studies were identified as relevant for the review, 19,564 articles were excluded as being irrelevant, 1345 systematic reviews and 116 meta-analysis studies were excluded but were further scanned for any potential articles, 14,086 research articles were assessed through the abstract, of which 3492 and 3712 articles were excluded for exclusion criteria and duplication, respectively. The remaining articles were divided into 3103 clinical studies and 3379 experimental studies.
Clinical studies search results
The flow diagram of the retrieved articles for the clinical search is shown in (Fig. 
1
). In total, 78 articles were obtained for the final selection, 50 articles from the clinical search, and 28 from the experimental search. By examining the full text of the articles, 62 articles were excluded due to: full article not available; in vivo study (moved to the experimental group); only the expression of the inflammatory mediator with no association to metastasis; not enough data (as per the scoring guideline); not statistically significant; outcome other than metastasis was reported; or the cases have a pre-operative chemo/radio treatment. Sixteen articles were eligible for the review and were scored accordingly (Table 
1
). The review identified nine inflammatory mediators associated with metastasis. Fifteen articles reported lymph-node metastasis and one article reported both lymph node metastasis and distant metastasis. Four articles were clearly associated with stages of metastatic cascade and five studies were validated with in vivo studies. The inflammatory mediators identified were CXCR4 (6 studies), CXCL12 (SDF-1), CCR7, IL-6 (2 studies each), IL-18, CCL20 (MIP-3), CXCL1 (GRO-1), CCL3, CXCR2 (1 study each).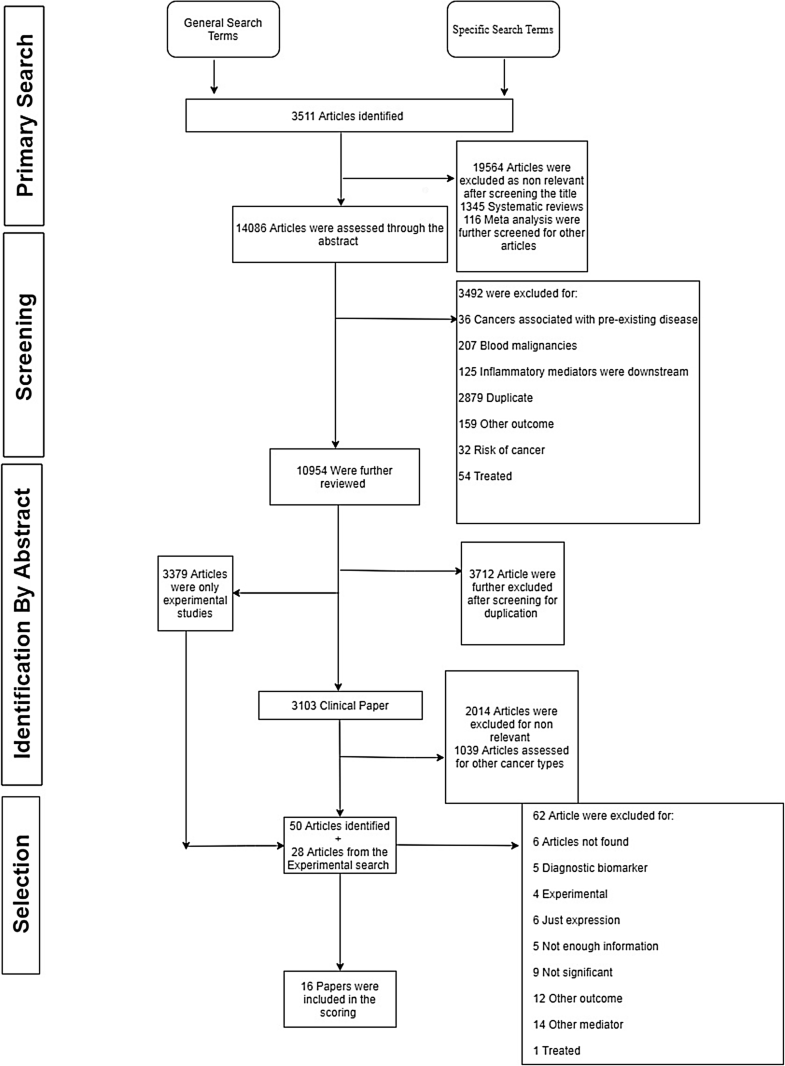 Table 1
Articles that was included in the clinical search
Author (year)

I.M

Score

Method of detection

LN

Remarks

Xia (2015) [40]

CCR7

13

Immunohistochemistry, RT-PCR

Yes

Correlation with staging, and survival

Tsai (2013) [46]

IL-18

12

PCR-restriction fragment length polymorphism for genotyping of SNP in IL-2

Yes

Correlation with staging inversely

Lee (2009) [35]

CXR4

12

Immunohistochemistry

Yes

Correlation with invasion and survival

Albert (2012) [34]

CXCR4

13

Immunohistochemistry

Yes

Correlation with EMT, staging and survival

Chang (2011) [50]

MIP-3α

12

Immunohistochemistry and quantitative real-time RT-PCR

Yes

Correlation with survival

Shang (2009) [41]

CCR7

11

Immunohistochemistry, RT-PCR and Western Blot

Yes

Correlation with staging

Oliveira (2008) [31]

CXCL12

CXCR4

9

Immunohistochemistry and real time polymerase chain reaction

Yes

 

Uchida (2007) [36]

CXCL12

11

Immunohistochemistry

Yes

Correlation with survival

Shintani (2004) [47]

CXCL1

7

Immunohistochemical and RT-PCR

Yes

Correlation with angiogenesis

Wang (2002) [45]

IL-6

13

Immunohistochemical staining and in‐situ hybridization for IL‐6 mRNA transcripts

Yes

Correlation with distant metastasis and survival

Meng (2010) [33]

CXCR4

9

Immunohistochemistry

Yes

Correlation with staging

Ishikawa (2006) [30]

CXCR4

8

Immunohistochemistry

Yes

Correlation with staging

De Oliveira (2007) [52]

CCL3

8

Immunohistochemical and real-time quantitative RT-PCR

Yes

Comparison of metastatic and non-metastatic lymph nodes

Qian (2014) [57]

CXCR2

9

Immunohistochemistry

Yes

 

Shinriki (2011) [44]

IL-6

9

Immunohistochemical and real-time quantitative RT-PCR

Yes

Correlation with lymphogenesis

Uchida (2003) [32]

CXCR4

8

Immunohistochemistry and real time polymerase chain reaction

Yes

 
II: Experimental studies search results: The flow diagram of the retrieved articles for the experimental search is shown in (Fig. 
2
). Fifteen articles were identified for review. Eleven articles were excluded due to: in vitro experiments; non-specific inhibition; or other outcomes than metastasis. Four articles were included in the final review and have been scored (Table 
2
). Three inflammatory mediators have been identified as follows: CXCR4, CXCL12 and CXCR7. Three articles reported lymph node metastasis and one reported both lymph node and distant metastasis, with all experiments conducted in BALB Nude mice. Finally, two articles detailed the downstream pathway of the inflammatory mediator, and all the articles addressed specific metastatic stage (adhesion and extravasation).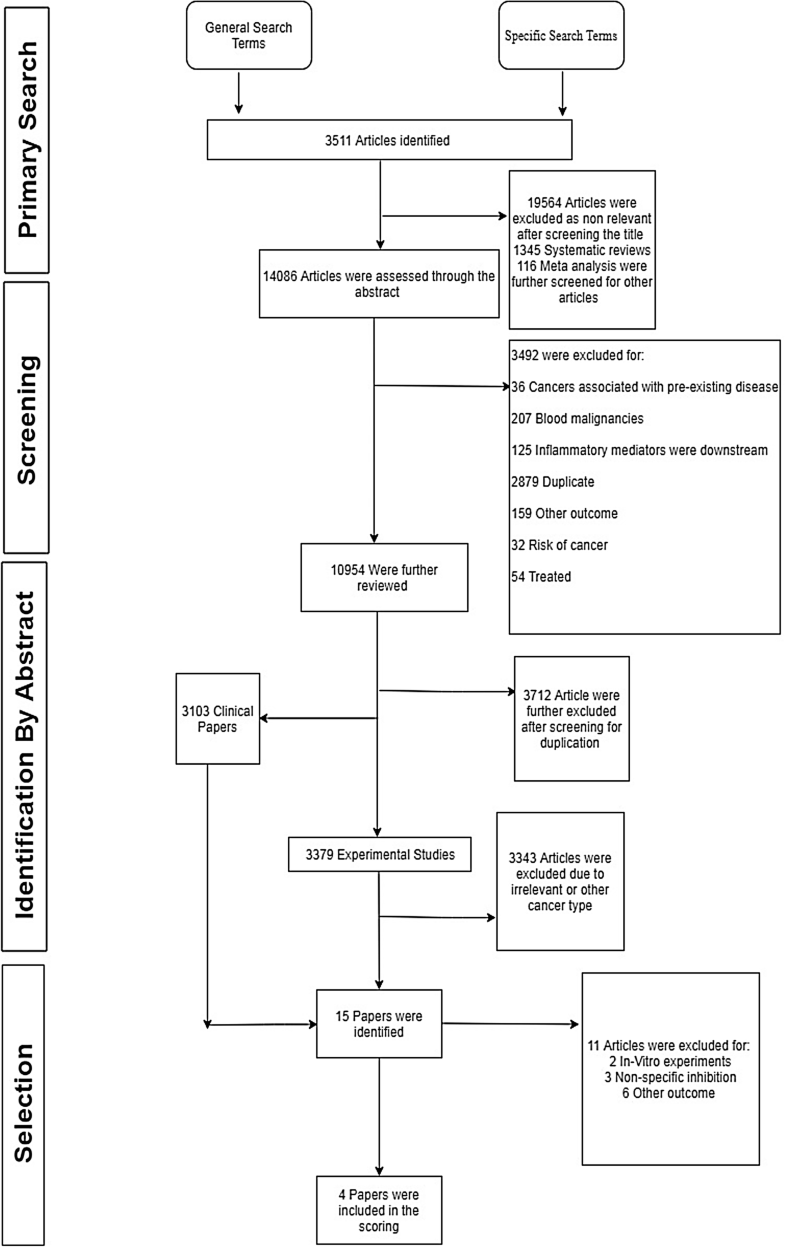 Table 2
Articles that was included in the experimental search
| Author (year) | Score | IM | Downstream pathway | Stage | Cell of origin | Method | Remarks |
| --- | --- | --- | --- | --- | --- | --- | --- |
| Xia (2015) [28] | 12 | CCR7 | NA | NA | Tumour cells | Knock-down | T met to LN (IM act on ADH) |
| Uchida (2007) [39] | 11 | CXCL12 | NA | NA | Tumour cells | Over-expression | LN and DMe met (act on ADH/EXTf stages) |
| Uchida (2003) [42] | 8 | CXCR4 | Yes | NA | Tumour cells | NA | LN (ADH) |
| Uchida (2004) [37] | 13 | CXCR4 | Yes | NA | Tumour cells | Over-expression | LN (ADH/EXT) |
Discussion
Metastasis remains the major cause of fatality in cancer. Despite extensive research, little is known about the precise mechanism of this process [13]. The link between metastasis and inflammation has been firmly established, however, an understanding of this interaction for clinical use remains obscured [28].
This review systematically summarises the evidence of the prognostic role of inflammatory mediators in predicting metastasis/metastatic stages in OSCC. Additionally, it compares the available evidence from clinical and experimental animal settings. The clinical search of the review identified nine inflammatory mediators associated with lymph node metastasis and one associated with distant metastasis. The experimental search identified three mediators, all of which were included in the clinical search. These inflammatory mediators are discussed below.
CXCL12/CXCR4 axis is composed of CXCR4 polypeptide receptor that binds to its conical ligand CXCL12 (SDF-1) and is responsible for a variety of physiological processes e.g., lymphocyte homing, development, and vascularisation [29]. It has been shown to be highly expressed by numerous types of tumours with a significant correlation with metastasis [29]. Several mechanisms have been hypothesised to explain its role in metastasis. First, CXCR4 acts as a chemotactic factor which is expressed by tumour cells migrating towards an increasing CXCL12 gradient in the lymph nodes [30]. Further evidence for this role is provided by Olivira et al. [31] who showed that non-metastatic lip SCC samples did not express either CXCL12 or CXCR4. Uchida et al. [32]—the only study that was validated with animal model—showed that CXCR4 has a similar expression both in tumour tissue and metastatic lymph node, whereas SDF-1 is higher in metastatic lymph nodes. In the animal models, they obtained similar results with heavier staining scores and more numbers of lymph node and lung metastases showed autocrine signalling, however, there was no comparison with a non-metastatic group.
Second, the activation of CXCR4 due to HIF production, which is induced by the limited supply of oxygen to the neoplastic cells, initiates a cascade of downstream pathways leading to more invasive phenotypes [33]. Third, Albert and Lee et al. [34, 35] suggested that CXCR4 is responsible for the induction of EMT phenotype as well as MMP2/9 expression. Fourth, Ucida et al. [32, 36, 37] suggested the CXCR4/SDF-1 axis activates the ERK/AKT/SRC family of kinases. However, the included articles (n = 7 for clinical, n = 3 experimental) for CXCR4 and CXCL12 did not report the role of these chemokines as a cancer stem cell niche (which has been reported in other studies and a role for which has been suggested in the invasive ability of tumours harbouring those mediators) and their role in metastasis. Only one experimental study reported the occurrence of distant metastasis in the animals. These results suggest a strong role for CXCR4/CXCL12 for prognosis and predicting lymph node metastasis in OSCC.
A hypothesis can be constructed that CXCR4 is up-regulated in tumour cells due to a hypoxic environment. This activates downstream pathways which endow tumours with EMT, invasive phenotype and mitogenic signalling. These cell populations mark a new stem cell-like niche with growth and migratory advantages, and therefore will be selected to migrate towards gradient of CXCL12 displayed by lymph nodes.
CCR7 is a trans-membrane receptor that exerts its action by binding to its ligands CCL21/19 and it is expressed by many immune cells for homing and directional movement of these cells [38]. CCR7 has been reported to be associated with lymph-node metastasis in several tumours [39]. Similarly, Xia and Shang et al. described a significant association of this receptor with lymph node metastasis [40, 41]. Moreover, Adenoid cystocarcinoma, which commonly migrates through a hematogenous pathway, did not migrate to a gradient concentration of CCL21. The studies suggested an adhesion mechanism between CCR7 expressing tumour cells and lymph node cells, explaining the lymph node metastatic tendency.
IL-6 cytokine can exert either an inflammatory response through autocrine signalling to its IL-6R receptor or an anti-inflammatory effect through a paracrine signal via GP130 protein [42]. Recent studies showed that IL-6 can activate several downstream pathways and it is correlated with several types of cancer [43]. Due to the complex network activated by IL-6, it is difficult to pinpoint its role in metastatic process [44], however, Shinriki et al. showed a significant correlation with IL-6 and lymph node metastasis as well as a correlation with VEGF-C and lymphogenesis suggesting a direct effect for IL-6 in the process of metastasis [44]. Wang et al. was the only study to report an association of an inflammatory mediator with distant metastasis, though they did not report specific organ preference [45]. More interestingly, there is a negative correlation between IL-6 mRNA and the presence of either lymph node or distant metastasis. These conflicting results need further validation to pinpoint the actual role of IL-6.
IL-18 is an IL-1 superfamily cytokine which is reported in the only study in the review to report genetic polymorphism [46]. The results concluded that G/C heterozygous is a factor in increasing OSCC susceptibility though a protective factor against metastasis.
CXCL1 (GRO-1) Shintani et al. [47] found that GRO-1 is significantly correlated with lymph node metastasis, micro-vessel density and leukocyte infiltration, which suggests a role for GRO-1 in attracting immune cells to the tumour for deploying in new vessel formation.
CCL20 (MIP-3) is a small peptide chemokine with a selective, pleiotropic ligand CCR6 [48]. It has been found to be expressed in liver, mucosa-associated lymph tissue and other lymphoid tissue with a main function of recruiting CD34+ [48]. CCL20 activates the conical inflammatory pathway NF-kβ and might implement an autocrine manner via activation of ERK1/2-MAPK and PI3K pathways [49]. This evidence is supported by high expression of CCL20 both by highly metastatic colorectal and lung tumours [48, 49]. Chang et al. [50] showed that MIP-3α was significantly overexpressed by positive lymph node patients (P = 0.036). This expression was demonstrated to be expressed by the tumour cells versus the normal epithelium. They applied in vitro interfering RNA to CCL20 which inhibited the cancer cell migration and proliferation.
CCL3 Macrophage inflammatory protein-1α is a member of the CC inflammatory chemokines. They are able to induce chemotactic mobilisation of monocyte-lineage cells and lymphocytes into inflammatory tissues as well as the proliferation of haematopoietic stem/progenitor cells [51]. Only one study reported the expression of the inflammatory mediator CCL3 in metastatic lymph nodes and non-metastatic lymph nodes [52]. They found that CCL3 was significantly higher in metastatic lymph nodes compared with non-metastatic lymph nodes of the same patients (P = 0.013). In contrast, another study showed CCL3-secreting tumours resulted in similar increases in CD4+ and CD8+ T cells, resulting in immune activation against a murine colon tumour model CT26 [53]. Those results might indicate a different role for CCL3 in neoplastic progression, depending on the stage of the neoplasm as well as the specific tissue microenvironment, which warrants further validation.
CXCR2 is chemokine receptor that binds with high affinity with CXC chemokine ligands which contains the ELR positive motif (chemokines responsible for neutrophil chemo-attractant) [54]. CXCR2 has been postulated to play a vital role in the progression of various cancers presumably by enhancing angiogenesis, chemoresistance as well as chemo-attractant characteristics [55]. This is evidenced through the inhibition of CXCR2 either by knockdown, deletion, or suppressing its downstream resulted in suppression of metastasis and enhancement of chemotherapy efficacy [56]. Qian et al. found a significant expression of CXCR2 in OSCC patients with cervical metastases. They attributed the role of CXCR2 in tumour progression to the ability to invade as well as modifying cytoskeleton structure [57].
It is well established from several studies that inflammatory processes surrounding the neoplasm can activate signalling pathways, which lead to the remodelling of the tumour microenvironment [58]. This remodelling is accompanied by a profile of inflammatory mediators (e.g., cytokines or chemokines) that can be either a driver or an inhibitor of tumour progression. Hence the stage of the tumour (progressing or dormant) and the profile of the existing inflammatory mediators prognosticate the tumour progression and metastasis. The aim of the review was to identify panel of inflammatory mediators that can be used for prognostication of the metastatic spread of the tumour by comparing all the data available through animal as well as clinical studies. The review has identified two cytokines, three chemokine receptors and four chemokines. This profile was associated with cervical metastasis and three of those mediators were further validated through the experimental animal models.
It is not surprising that the majority of the panel is chemokines and their receptors with their well-known function as chemo-attractant for cell trafficking, homing and upregulating endothelial cell adhesion molecules [59]. CXCL12, CXCR4 and CCR7 are known to be of the basal (homeostatic) chemokines/receptors produced by different lymphoid organs and the receptors displayed by cells supposed to home to those organs. In particular, CCR7 is expressed by antigen presenting cells, whereas its ligand is expressed by lymph node [40]. Meanwhile, CXCL12/CXCR4 is the main axis expressed by bone marrow niche for B cell maturation. CXCR2, CCL3, CXCL1 and CCL20 are inflammatory chemokines that are produced in high quantities in inflammatory lesions to attract all types of leukocytes [52]. Recent experimental investigations are revealing more roles for those mediators in early stages of metastasis, such as recruitment of myeloid stem cells for endothelial cell proliferation (e.g., CXCL12) [60]. Others are suggested to be the regulators of the stem-cell nature of those cells (CCL3) or promote angiogenesis directly. IL-6 has been implicated in EMT program activation and circulating tumour cell seeding which explains its association with distant metastasis [60].
The review supplemented the clinical data with experimental information which proved critical in overcoming the shortcomings of either the clinical or experimental studies. A profound disadvantage of the clinical studies is the difficulty in monitoring specific metastatic stages as well the uncontrolled experimental condition. While the experimental studies do not have such problems, they possess another set of issues such as having an immunocompetent model which is technically challenging and time-consuming. On the other hand, implementing an immunodeficient model represents a highly biased design. This highlights the need for new experimental models which are more robust, representative and experimentally reliable. The advent of new molecular biology tools and imaging will facilitate such models (e.g., microfluidic metastatic models).
The other limiting factor in these studies was that metastasis is not always the final outcome to measure in the study and other parameters are used such as survival. Therefore, the presented studies could not have enough predictive power to qualify any of the inflammatory mediators for prognostic biomarkers. This is mainly because most of the studies: (a) included small sample sizes; (b) reported on limited and variable follow‐up data; (c) there was no clear criteria to delineate the actual effect of inflammatory mediator under investigation in driving specific stage of metastasis.
Liu et al. [61], have compared the expression of 17 inflammatory mediators in plasma OSCC patient sample and normal group of patients, and found that all of the those biomarkers were much elevated in the cancerous tissue more than the normal samples. In contrast, Goertzen et al. [62] reported totally opposite results when investigating the expression of inflammatory mediators in the salivary fluid of OSCC patients and control group. Most of the inflammatory mediators have been overexpressed in the saliva of the OSCC patients and highly correlated with other prognostic parameters. The results of these studies and others highlight the difficulty and incoherence of the data and therefore our aim was to systematically collect all the available evidence. Another major issue is that most of these studies focus on the initiation of cancerous lesion not on the metastatic progression. For the best of our knowledge, this is the first evidence-based study that summarise a panel of inflammatory mediators that might have the potential for implementation in the accurate prediction of neoplastic spread.
Cancer immunotherapy has achieved some success with some inflammatory mediators being used as an adjuvant to increase efficacy metastatic treatment [63]. However, the complexity of the immunomodulators and their interaction within the tumour domain is challenging and will require time to unravel the precise mechanism and role for each tumour. Furthermore, the timing of the treatment for metastasis proves to be a critical factor and it has been shown that preventing metastasis in animal model was more effective than reversing the process once it has been initiated [64]. Therefore, we propose validating this panel with a cohort study for prediction of metastatic progression in OSCC high-risk patients such as recently diagnosed or precancerous patients.
A summary of the findings of the review includes: (1) there was an overwhelming amount of information about the involvement of inflammatory mediators in OSCC but this information is not in a systemic order to allow for better understanding of their specific role; (2) most of the studies did not take metastasis into account as a prognostic outcome but considered other prognostic points such as tumour stage or size; (3) there is a clear gap between clinical and experimental information, where most of the clinical studies are not supplemented with enough experimental data for validation and explaining the biological mechanism; (4) the reporting of the association of inflammatory mediators with metastasis lacks precise highlighting of their role in specific metastatic stages either in clinical or experimental research and some critical metastatic stages such as extravasation could not be detected at all in any clinical studies, reflecting the lack of proper experimental tools; and (5) it is more likely that a panel of mediators, rather than a single one, orchestrates the metastatic cascade.
Research in such areas is very cumbersome as most of the above-mentioned inflammatory mediators have redundant pathways and therefore underpinning their main role is a very challenging task. Moreover, most of these mediators have vital physiologic functions and thus interfering with them may result in a catastrophic adverse effect to the cancer patients, which may partly explain the slow pace of research in this area.
Some limitation does exist with this review with the small number of studies. Additionally, some of the potential articles were difficult to obtain for the final analysis. However, the review represents a starting point for a new direction in researching the role of inflammatory mediators in the prediction and prevention of OSCC.
Future direction
A lot of information has been gained about the primary tumours; however, there is a huge lag in understanding metastatic process and it key drivers. In the era of individualised therapy, well-designed research is needed which can identify the specific pathway and interaction of inflammatory mediators and metastasis. In addition, a collaborative multi-institutional effort to collect data from different cohort studies and analyse the huge volume of data will ensure the identification of potential biomarkers. This has been facilitated with the rise of omics fields and the ability to integrate the biologic information on the expression as well as the genomic level. We hypothesize that the outcome of our study can be the framework for a longitudinal study that can test the validity of the panel of inflammatory mediators identified by the article for prognostic purposes. We also recommend the development of new experimental method to have the ability to monitor each stage of metastasis and the ability to mimic the in vivo microenvironment of the tumour. The 3D microfluidic system and the advances in in vivo imaging can facilitate the task and provide precisions data that can be used to identify new biomarkers. We also recommend establishment of database that collect and be the repository for all the data about metastasis and it relation with inflammation and other biologic processes. This can be the start to treat metastasis as a separate entity and not sequelae of cancer as well as the database will accelerate the state of knowledge and the process of identifying potential therapeutic biomarkers both for intervention and prevention.
Conclusion
Metastasis is a fatal consequence of cancer and so a new paradigm needs to be followed in research. Evolutionary insights and experimental evidence are revealing an intricate relationship between cancer and its microenvironment with inherent weaknesses and strengths on the host and tumour sides. The review revealed a panel of inflammatory mediators, each responsible for a pathway/stage in metastasis. Despite requiring further validation, this panel can be implemented for the introduction of a new "Metastasis early monitoring and prediction" tool similar to cancer early-prevention tutorials. The review provides a panel of inflammatory mediators that can be used, after proper validation, in clinical settings in high-risk groups of patients and in vivo to elucidate the specific correlation of these mediators with specific stages and their mechanisms. However, such validation will require a new and reliable experimental method that can avoid the high technicality of animal models, with the ability to detect precisely every stage of metastasis in a way that mimics the in vivo environment.
Notes
Compliance with ethical standards
Conflict of interest
The authors declare that they have no conflict of interest.
Copyright information
© Springer Nature B.V. 2019