Abstract
Hepatocellular carcinoma (HCC) is the fifth leading cause of cancer mortality worldwide. Several studies have investigated the relationship between 18F-fluorodeoxyglucose (18F-FDG) uptake on positron emission tomography and the prognosis of patients with HCC, although the relationship between 18F-FDG uptake and expression of EMT-related proteins in these patients remains unclear. We retrospectively enrolled 116 patients with HCC treated by curative surgical resection and who underwent 18F-FDG positron emission tomography/computed tomography (PET/CT) for preoperative staging. The relationship between the tumor-to-liver standardized uptake value ratio (TLR) and the presence of metastasis was determined. By using HCC cell lines with different 18F-FDG uptake, we assessed the effect of 18F-FDG uptake on in vitro cell proliferation and migration on the inhibition of glucose uptake. Ten (29.4%) of 34 patients with high TLRs had extrahepatic metastases, whereas six (7.3%) of 82 patients with low TLRs had extrahepatic metastases (p = 0.002). Hepatocellular carcinomas with high TLRs showed higher expression of glucose transporter isoform 1 and EMT markers than did HCCs with low TLRs. After treatment with a glucose uptake inhibitor, HCC cells with high 18F-FDG uptake showed decreased cell proliferation and migration and a reversal in the expression of EMT markers. High 18F-FDG uptake on PET/CT is associated with frequent extrahepatic metastasis and EMT in patients with HCC. Inhibition of glucose uptake reduced cell proliferation, reversed EMT-related protein expression, and decreased cellular migration. Glycolytic regulation could be a new therapeutic target to reduce tumor growth and metastatic potential in HCCs with a high glycolytic phenotype.
This is a preview of subscription content, log in to check access.
Access options
Buy single article
Instant access to the full article PDF.
US$ 39.95
Price includes VAT for USA
Subscribe to journal
Immediate online access to all issues from 2019. Subscription will auto renew annually.
US$ 199
This is the net price. Taxes to be calculated in checkout.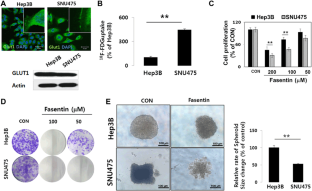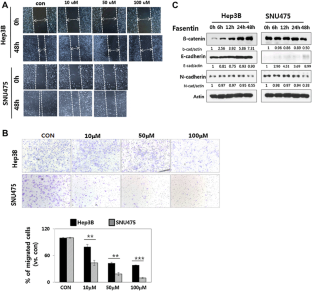 Abbreviations
EMT:

Epithelial-mesenchymal transition

FDG:

Fluorodeoxyglucose

HCC:

Hepatocellular carcinoma

PET:

Positron emission tomography

TLR:

Tumor-to-liver standardized uptake value ratio
References
1.

Ferlay J, Shin HR, Bray F, Forman D, Mathers C, Parkin DM (2010) Estimates of worldwide burden of cancer in 2008: GLOBOCAN 2008. Int J Cancer 127(12):2893–2917. doi:10.1002/ijc.25516

2.

Ferlay J, Soerjomataram I, Dikshit R, Eser S, Mathers C, Rebelo M, Parkin DM, Forman D, Bray F (2015) Cancer incidence and mortality worldwide: sources, methods and major patterns in GLOBOCAN 2012. Int J Cancer 136(5):E359–E386. doi:10.1002/ijc.29210

3.

Llovet JM, Di Bisceglie AM, Bruix J, Kramer BS, Lencioni R, Zhu AX, Sherman M, Schwartz M, Lotze M, Talwalkar J, Gores GJ, Panel of Experts in HCCDCT (2008) Design and endpoints of clinical trials in hepatocellular carcinoma. J Natl Cancer Inst 100(10):698–711. doi:10.1093/jnci/djn134

4.

(1998) A new prognostic system for hepatocellular carcinoma: a retrospective study of 435 patients: the Cancer of the Liver Italian Program (CLIP) investigators. Hepatology 28(3):751–755. doi:10.1002/hep.510280322

5.

Llovet JM, Ricci S, Mazzaferro V, Hilgard P, Gane E, Blanc JF, de Oliveira AC, Santoro A, Raoul JL, Forner A, Schwartz M, Porta C, Zeuzem S, Bolondi L, Greten TF, Galle PR, Seitz JF, Borbath I, Haussinger D, Giannaris T, Shan M, Moscovici M, Voliotis D, Bruix J, Group SIS (2008) Sorafenib in advanced hepatocellular carcinoma. N Engl J Med 359(4):378–390. doi:10.1056/NEJMoa0708857

6.

Cheng AL, Kang YK, Chen Z, Tsao CJ, Qin S, Kim JS, Luo R, Feng J, Ye S, Yang TS, Xu J, Sun Y, Liang H, Liu J, Wang J, Tak WY, Pan H, Burock K, Zou J, Voliotis D, Guan Z (2009) Efficacy and safety of sorafenib in patients in the Asia-Pacific region with advanced hepatocellular carcinoma: a phase III randomised, double-blind, placebo-controlled trial. The Lancet Oncol 10(1):25–34. doi:10.1016/S1470-2045(08)70285-7

7.

Bruix J, Sherman M, American Association for the Study of Liver D (2011) Management of hepatocellular carcinoma: an update. Hepatology 53(3):1020–1022. doi:10.1002/hep.24199

8.

Hanahan D, Weinberg RA (2011) Hallmarks of cancer: the next generation. Cell 144(5):646–674. doi:10.1016/j.cell.2011.02.013

9.

Warburg O (1956) On the origin of cancer cells. Science 123(3191):309–314

10.

Warburg O, Wind F, Negelein E (1927) The metabolism of tumors in the body. J Gen Physiol 8(6):519–530

11.

Pelicano H, Martin DS, Xu RH, Huang P (2006) Glycolysis inhibition for anticancer treatment. Oncogene 25(34):4633–4646. doi:10.1038/sj.onc.1209597

12.

Thorens B, Mueckler M (2010) Glucose transporters in the 21st century. Am J Physiol Endocrinol Metab 298(2):E141–E145. doi:10.1152/ajpendo.00712.2009

13.

Macheda ML, Rogers S, Best JD (2005) Molecular and cellular regulation of glucose transporter (GLUT) proteins in cancer. J Cell Physiol 202(3):654–662. doi:10.1002/jcp.20166

14.

Medina RA, Owen GI (2002) Glucose transporters: expression, regulation and cancer. Biol Res 35(1):9–26

15.

Amann T, Maegdefrau U, Hartmann A, Agaimy A, Marienhagen J, Weiss TS, Stoeltzing O, Warnecke C, Scholmerich J, Oefner PJ, Kreutz M, Bosserhoff AK, Hellerbrand C (2009) GLUT1 expression is increased in hepatocellular carcinoma and promotes tumorigenesis. Am J Pathol 174(4):1544–1552. doi:10.2353/ajpath.2009.080596

16.

Rodriguez-Enriquez S, Marin-Hernandez A, Gallardo-Perez JC, Moreno-Sanchez R (2009) Kinetics of transport and phosphorylation of glucose in cancer cells. J Cell Physiol 221(3):552–559. doi:10.1002/jcp.21885

17.

Huang SC, Phelps ME, Hoffman EJ, Sideris K, Selin CJ, Kuhl DE (1980) Noninvasive determination of local cerebral metabolic rate of glucose in man. Am J Physiol 238(1):E69–E82

18.

Phelps ME, Huang SC, Hoffman EJ, Selin C, Sokoloff L, Kuhl DE (1979) Tomographic measurement of local cerebral glucose metabolic rate in humans with (F-18)2-fluoro-2-deoxy-d-glucose: validation of method. Ann Neurol 6(5):371–388. doi:10.1002/ana.410060502

19.

Stokkel MP, Draisma A, Pauwels EK (2001) Positron emission tomography with 2-[18F]-fluoro-2-deoxy-d-glucose in oncology. Part IIIb: therapy response monitoring in colorectal and lung tumours, head and neck cancer, hepatocellular carcinoma and sarcoma. J Cancer Res Clin Oncol 127(5):278–285

20.

Iwata Y, Shiomi S, Sasaki N, Jomura H, Nishiguchi S, Seki S, Kawabe J, Ochi H (2000) Clinical usefulness of positron emission tomography with fluorine-18-fluorodeoxyglucose in the diagnosis of liver tumors. Ann Nucl Med 14(2):121–126

21.

Khan MA, Combs CS, Brunt EM, Lowe VJ, Wolverson MK, Solomon H, Collins BT, Di Bisceglie AM (2000) Positron emission tomography scanning in the evaluation of hepatocellular carcinoma. J Hepatol 32(5):792–797

22.

Bohm B, Voth M, Geoghegan J, Hellfritzsch H, Petrovich A, Scheele J, Gottschild D (2004) Impact of positron emission tomography on strategy in liver resection for primary and secondary liver tumors. J Cancer Res Clin Oncol 130(5):266–272. doi:10.1007/s00432-003-0527-6

23.

Tavanez JP, Valcarcel J (2010) A splicing mastermind for EMT. EMBO J 29(19):3217–3218. doi:10.1038/emboj.2010.234

24.

Huber MA, Kraut N, Beug H (2005) Molecular requirements for epithelial-mesenchymal transition during tumor progression. Curr Opin Cell Biol 17(5):548–558. doi:10.1016/j.ceb.2005.08.001

25.

Zeisberg M, Neilson EG (2009) Biomarkers for epithelial-mesenchymal transitions. J Clin Invest 119(6):1429–1437. doi:10.1172/JCI36183

26.

Boellaard R, Krak NC, Hoekstra OS, Lammertsma AA (2004) Effects of noise, image resolution, and ROI definition on the accuracy of standard uptake values: a simulation study. J Nucl Med 45(9):1519–1527

27.

Paquet N, Albert A, Foidart J, Hustinx R (2004) Within-patient variability of (18)F-FDG: standardized uptake values in normal tissues. J Nucl Med 45(5):784–788

28.

Lee M, Wiedemann T, Gross C, Leinhauser I, Roncaroli F, Braren R, Pellegata NS (2015) Targeting PI3K/mTOR signaling displays potent antitumor efficacy against nonfunctioning pituitary adenomas. Clin Cancer Res 21(14):3204–3215. doi:10.1158/1078-0432.CCR-15-0288

29.

Lee M, Lupp A, Mendoza N, Martin N, Beschorner R, Honegger J, Schlegel J, Shively T, Pulz E, Schulz S, Roncaroli F, Pellegata NS (2015) SSTR3 is a putative target for the medical treatment of gonadotroph adenomas of the pituitary. Endocr Relat Cancer 22(1):111–119. doi:10.1530/ERC-14-0472

30.

Liaqat U, Ko H, Suh H, Lee MS, Pyun JC (2016) Surface modification of parylene-N films for the culture of osteoblast-like cells (MG-63). Appl Surf Sci 378:277–285. doi:10.1016/j.apsusc.2016.03.218

31.

Finley LW, Carracedo A, Lee J, Souza A, Egia A, Zhang J, Teruya-Feldstein J, Moreira PI, Cardoso SM, Clish CB, Pandolfi PP, Haigis MC (2011) SIRT3 opposes reprogramming of cancer cell metabolism through HIF1alpha destabilization. Cancer cell 19(3):416–428. doi:10.1016/j.ccr.2011.02.014

32.

Lee JW, Paeng JC, Kang KW, Kwon HW, Suh KS, Chung JK, Lee MC, Lee DS (2009) Prediction of tumor recurrence by 18F-FDG PET in liver transplantation for hepatocellular carcinoma. J Nucl Med 50(5):682–687. doi:10.2967/jnumed.108.060574

33.

Lee JW, Oh JK, Chung YA, Na SJ, Hyun SH, Hong IK, Eo JS, Song BI, Kim TS, Kim do Y, Kim SU, Moon DH, Lee JD, Yun M (2016) Prognostic significance of (1)(8)F-FDG uptake in hepatocellular Carcinoma treated with transarterial chemoembolization or concurrent chemoradiotherapy: a multicenter retrospective cohort study. J Nucl Med 57(4):509–516. doi:10.2967/jnumed.115.167338

34.

Kitamura K, Hatano E, Higashi T, Narita M, Seo S, Nakamoto Y, Yamanaka K, Nagata H, Taura K, Yasuchika K, Nitta T, Uemoto S (2011) Proliferative activity in hepatocellular carcinoma is closely correlated with glucose metabolism but not angiogenesis. J Hepatol 55(4):846–857. doi:10.1016/j.jhep.2011.01.038

35.

Sugiyama M, Sakahara H, Torizuka T, Kanno T, Nakamura F, Futatsubashi M, Nakamura S (2004) 18F-FDG PET in the detection of extrahepatic metastases from hepatocellular carcinoma. J Gastroenterol 39(10):961–968. doi:10.1007/s00535-004-1427-5

36.

Yoon KT, Kim JK, Kim DY, Ahn SH, Lee JD, Yun M, Rha SY, Chon CY, Han KH (2007) Role of 18F-fluorodeoxyglucose positron emission tomography in detecting extrahepatic metastasis in pretreatment staging of hepatocellular carcinoma. Int Soc Cell 72(Suppl 1):104–110. doi:10.1159/000111715

37.

Park JW, Kim JH, Kim SK, Kang KW, Park KW, Choi JI, Lee WJ, Kim CM, Nam BH (2008) A prospective evaluation of 18F-FDG and 11C-acetate PET/CT for detection of primary and metastatic hepatocellular carcinoma. J Nucl Med 49(12):1912–1921. doi:10.2967/jnumed.108.055087

38.

Jans J, van Dijk JH, van Schelven S, van der Groep P, Willems SH, Jonges TN, van Diest PJ, Bosch JL (2010) Expression and localization of hypoxia proteins in prostate cancer: prognostic implications after radical prostatectomy. Urology 75(4):786–792. doi:10.1016/j.urology.2009.08.024

39.

Kim HS, Patel K, Muldoon-Jacobs K, Bisht KS, Aykin-Burns N, Pennington JD, van der Meer R, Nguyen P, Savage J, Owens KM, Vassilopoulos A, Ozden O, Park SH, Singh KK, Abdulkadir SA, Spitz DR, Deng CX, Gius D (2010) SIRT3 is a mitochondria-localized tumor suppressor required for maintenance of mitochondrial integrity and metabolism during stress. Cancer cell 17(1):41–52. doi:10.1016/j.ccr.2009.11.023

40.

Dong XC, Jing LM, Wang WX, Gao YX (2016) Down-regulation of SIRT3 promotes ovarian carcinoma metastasis. Biochem Biophys Res Commun 475(3):245–250. doi:10.1016/j.bbrc.2016.05.098

41.

Orsulic S, Huber O, Aberle H, Arnold S, Kemler R (1999) E-cadherin binding prevents beta-catenin nuclear localization and beta-catenin/LEF-1-mediated transactivation. J Cell Sci 112(Pt 8):1237–1245

42.

Howard S, Deroo T, Fujita Y, Itasaki N (2011) A positive role of cadherin in Wnt/beta-catenin signalling during epithelial-mesenchymal transition. PloS ONE 6(8):e23899. doi:10.1371/journal.pone.0023899

43.

Suzuki H, Masuda N, Shimura T, Araki K, Kobayashi T, Tsutsumi S, Asao T, Kuwano H (2008) Nuclear beta-catenin expression at the invasive front and in the vessels predicts liver metastasis in colorectal carcinoma. Anticancer Res 28(3B):1821–1830

44.

Inagawa S, Itabashi M, Adachi S, Kawamoto T, Hori M, Shimazaki J, Yoshimi F, Fukao K (2002) Expression and prognostic roles of beta-catenin in hepatocellular carcinoma: correlation with tumor progression and postoperative survival. Clin Cancer Res 8(2):450–456

45.

Rastogi S, Banerjee S, Chellappan S, Simon GR (2007) Glut-1 antibodies induce growth arrest and apoptosis in human cancer cell lines. Cancer Lett 257(2):244–251. doi:10.1016/j.canlet.2007.07.021

46.

Wood TE, Dalili S, Simpson CD, Hurren R, Mao X, Saiz FS, Gronda M, Eberhard Y, Minden MD, Bilan PJ, Klip A, Batey RA, Schimmer AD (2008) A novel inhibitor of glucose uptake sensitizes cells to FAS-induced cell death. Mol Cancer Ther 7(11):3546–3555. doi:10.1158/1535-7163.MCT-08-0569

47.

Koch A, Lang SA, Wild PJ, Gantner S, Mahli A, Spanier G, Berneburg M, Muller M, Bosserhoff AK, Hellerbrand C (2015) Glucose transporter isoform 1 expression enhances metastasis of malignant melanoma cells. Oncotarget 6(32):32748–32760. doi:10.18632/oncotarget.4977

48.

Satoh S, Daigo Y, Furukawa Y et al (2000) AXIN1 mutations in hepatocellular carcinomas, and growth suppression in cancer cells by virus-mediated transfer of AXIN1. Nat Genet 24(3):245–250
Acknowledgements
The authors thank Jisuk Kim for her help in some experiments. Tissue samples were provided by the Severance Hospital at Yonsei University College of Medicine (Seoul, South Korea).
Funding
This research was supported by the National Research Foundation of Korea (Seoul, Korea; Grant Nos. NRF-2011-0030086, NRF-2015R1D1A1A01057737, and NRF-2016R1E1A1A01943303) and was supported by an Incheon National University Research Grant (Incheon, Korea) in 2016.
Ethics declarations
Conflict of interest
No other potential conflict of interest relevant to this article was reported.
Additional information
Misu Lee and Jeong Yong Jeon have contributed equally to this work.
Electronic supplementary material
Below is the link to the electronic supplementary material.
About this article
Cite this article
Lee, M., Jeon, J.Y., Neugent, M.L. et al. 18F-Fluorodeoxyglucose uptake on positron emission tomography/computed tomography is associated with metastasis and epithelial-mesenchymal transition in hepatocellular carcinoma. Clin Exp Metastasis 34, 251–260 (2017). https://doi.org/10.1007/s10585-017-9847-9
Received:

Accepted:

Published:

Issue Date:
Keywords
18F-Fluorodeoxyglucose positron emission tomography

Metastasis

Glucose metabolism

Epithelial-mesenchymal transition

Hepatocellular carcinoma