Abstract
Cancer cells with the surface marker profile CD44+/CD24− have previously been described to possess cancer stem cell-like properties. This manuscript evaluates those properties in ovarian cancer cell lines. The proportion of CD44+/CD24− cells corresponded to the clinical aggressiveness of each ovarian cancer cell line histologic subtype. CD44+/CD24− cells demonstrated enhanced progressive differentiation as well as showing a 60-fold increase in Matrigel invasion in both SKOV3 and OV90 cell lines (p < 0.001 each) compared to other phenotypes. CD44+/CD24− demonstrated significant resistance to all chemotherapy agents used in all cell lines, with a 71–93 % increase in resistance compared with baseline. Using a threshold of 25 % CD44+/CD24– ovarian cancer cells found in ascites, patients with >25 % CD44+/CD24− were significantly more likely to recur (83 vs. 14 %, p = 0.003) and had shorter median progression-free survival (6 vs. 18 months, p = 0.01). In conclusion, the CD44+/CD24− phenotype in ovarian cancer cells demonstrate cancer stem cell-like properties of enhanced differentiation, invasion, and resistance to chemotherapy. This CD44+/CD24− phenotype correlates to clinical endpoints with increased risk of recurrence and shorter progression-free survival in patients with ovarian cancer.
This is a preview of subscription content, log in to check access.
Access options
Buy single article
Instant access to the full article PDF.
US$ 39.95
Price includes VAT for USA
Subscribe to journal
Immediate online access to all issues from 2019. Subscription will auto renew annually.
US$ 199
This is the net price. Taxes to be calculated in checkout.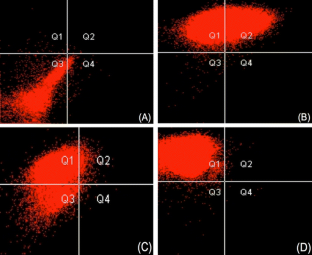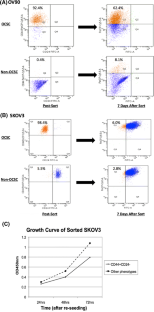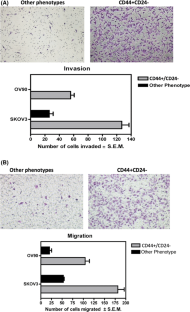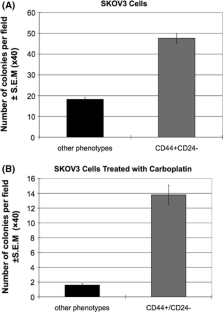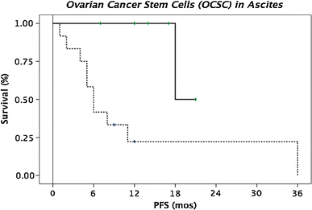 Abbreviations
bFGF:

Basic fibroblast growth factor

BSA:

Bovine serum albumin

CK7:

Cytokeratin 7

EGF:

Epidermal growth factor

FACS:

Fluorescence-activated cell sorting

FCM:

Flow cytometry

FITC:

Fluorescein isothiocyanate

PFS:

Progression free survival
References
1.

Siegel R, Ward E, Brawley O, Jemal A (2011) Cancer statistics, 2011: the impact of eliminating socioeconomic and racial disparities on premature cancer deaths. CA Cancer J Clin 61(4):212–236

2.

Dean M, Fojo T, Bates S (2005) Tumour stem cells and drug resistance. Nat Rev Cancer 5(4):275–284

3.

Frank NY, Margaryan A, Huang Y, Schatton T, Waaga-Gasser AM, Gasser M, Sayegh MH, Sadee W, Frank MH (2005) ABCB5-mediated doxorubicin transport and chemoresistance in human malignant melanoma. Cancer Res 65(10):4320–4333

4.

Reya T, Morrison SJ, Clarke MF, Weissman IL (2001) Stem cells, cancer, and cancer stem cells. Nature 414(6859):105–111

5.

Rocconi RP, Matthews KS, Kemper MK, Hoskins KE, Barnes MN (2008) Chemotherapy-related myelosuppression as a marker of survival in epithelial ovarian cancer patients. Gynecol Oncol 108(2):336–341

6.

Al-Hajj M, Becker MW, Wicha M, Weissman I, Clarke MF (2004) Therapeutic implications of cancer stem cells. Curr Opin Genet Dev 14(1):43–47

7.

Al-Hajj M, Clarke MF (2004) Self-renewal and solid tumor stem cells. Oncogene 23(43):7274–7282

8.

Jordan CT, Guzman ML, Noble M (2006) Cancer stem cells. N Engl J Med 355(12):1253–1261

9.

Sunayama J, Sato A, Matsuda K, Tachibana K, Watanabe E, Seino S, Suzuki K, Narita Y, Shibui S, Sakurada K, Kayama T, Tomiyama A, Kitanaka C (2011) FoxO3a functions as a key integrator of cellular signals that control glioblastoma stem-like cell differentiation and tumorigenicity. Stem Cells 29(9):1327–1337

10.

Joshua B, Kaplan MJ, Doweck I, Pai R, Weissman IL, Prince ME, Ailles LE (2012) Frequency of cells expressing CD44, a head and neck cancer stem cell marker: correlation with tumor aggressiveness. Head Neck 34(1):42–49

11.

Wu Q, Guo R, Lin M, Zhou B, Wang Y (2011) MicroRNA-200a inhibits CD133/1+ ovarian cancer stem cells migration and invasion by targeting E-cadherin repressor ZEB2. Gynecol Oncol 122(1):149–154

12.

Zhao BC, Zhao B, Han JG, Ma HC, Wang ZJ (2010) Adipose-derived stem cells promote gastric cancer cell growth, migration and invasion through SDF-1/CXCR4 axis. Hepatogastroenterology 57(104):1382–1389

13.

Cheng L, Wu Q, Guryanova OA, Huang Z, Huang Q, Rich JN, Bao S (2011) Elevated invasive potential of glioblastoma stem cells. Biochem Biophys Res Commun 406(4):643–648

14.

Luo L, Zeng J, Liang B, Zhao Z, Sun L, Cao D, Yang J, Shen K (2011) Ovarian cancer cells with the CD117 phenotype are highly tumorigenic and are related to chemotherapy outcome. Exp Mol Pathol 91(2):596–602

15.

Ray A, Meng E, Reed E, Shevde LA, Rocconi RP (2011) Hedgehog signaling pathway regulates the growth of ovarian cancer spheroid forming cells. Int J Oncol 39(4):797–804

16.

Van Phuc P, Nhan PL, Nhung TH, Tam NT, Hoang NM, Tue VG, Thuy DT, Ngoc PK (2011) Downregulation of CD44 reduces doxorubicin resistance of CD44CD24 breast cancer cells. Onco Targets Ther 4:71–78

17.

Al-Hajj M, Wicha MS, Benito-Hernandez A, Morrison SJ, Clarke MF (2003) Prospective identification of tumorigenic breast cancer cells. Proc Natl Acad Sci USA 100(7):3983–3988

18.

Tiezzi DG, Valejo FA, Marana HR, Carrara HH, Benevides L, Antonio HM, Sicchieri RD, Milanezi CM, Silva JS, de Andrade JM (2011) CD44(+)/CD24(−) cells and lymph node metastasis in stage I and II invasive ductal carcinoma of the breast. Med Oncol. doi:10.1007/s12032-011-0014-x

19.

McGowan PM, Simedrea C, Ribot EJ, Foster PJ, Palmieri D, Steeg PS, Allan AL, Chambers AF (2011) Notch1 inhibition alters the CD44hi/CD24lo population and reduces the formation of brain metastases from breast cancer. Mol Cancer Res 9(7):834–844

20.

Nicolini A, Ferrari P, Fini M, Borsari V, Fallahi P, Antonelli A, Berti P, Carpi A, Miccoli P (2011) Stem cells: their role in breast cancer development and resistance to treatment. Curr Pharm Biotechnol 12(2):196–205

21.

Lee HE, Kim JH, Kim YJ, Choi SY, Kim SW, Kang E, Chung IY, Kim IA, Kim EJ, Choi Y, Ryu HS, Park SY (2011) An increase in cancer stem cell population after primary systemic therapy is a poor prognostic factor in breast cancer. Br J Cancer 104(11):1730–1738

22.

Alvero AB, Chen R, Fu HH, Montagna M, Schwartz PE, Rutherford T, Silasi DA, Steffensen KD, Waldstrom M, Visintin I, Mor G (2009) Molecular phenotyping of human ovarian cancer stem cells unravels the mechanisms for repair and chemoresistance. Cell Cycle 8(1):158–166

23.

Shi MF, Jiao J, Lu WG, Ye F, Ma D, Dong QG, Xie X (2010) Identification of cancer stem cell-like cells from human epithelial ovarian carcinoma cell line. Cell Mol Life Sci 67(22):3915–3925

24.

Shevde LA, Samant RS, Paik JC, Metge BJ, Chambers AF, Casey G, Frost AR, Welch DR (2006) Osteopontin knockdown suppresses tumorigenicity of human metastatic breast carcinoma, MDA-MB-435. Clin Exp Metastasis 23(2):123–133

25.

Liu CG, Lu Y, Wang BB, Zhang YJ, Zhang RS, Chen B, Xu H, Jin F, Lu P (2011) Clinical implications of stem cell gene Oct-4 expression in breast cancer. Ann Surg 253(6):1165–1171

26.

Wu K, Jiao X, Li Z, Katiyar S, Casimiro MC, Yang W, Zhang Q, Willmarth NE, Chepelev I, Crosariol M, Wei Z, Hu J, Zhao K, Pestell RG (2011) Cell fate determination factor Dachshund reprograms breast cancer stem cell function. J Biol Chem 286(3):2132–2142

27.

Ponti D, Costa A, Zaffaroni N, Pratesi G, Petrangolini G, Coradini D, Pilotti S, Pierotti MA, Daidone MG (2005) Isolation and in vitro propagation of tumorigenic breast cancer cells with stem/progenitor cell properties. Cancer Res 65(13):5506–5511

28.

Li L, Neaves WB (2006) Normal stem cells and cancer stem cells: the niche matters. Cancer Res 66(9):4553–4557
Acknowledgments
This work was supported by the Gynecologic Cancer Foundation Ovarian Cancer Research Award: Sherri's From a Whisper to a Roar, Women's Motorcycle Foundation Award.
Conflict of interest
The authors declare that they have no conflict of interests to disclose.
About this article
Cite this article
Meng, E., Long, B., Sullivan, P. et al. CD44+/CD24− ovarian cancer cells demonstrate cancer stem cell properties and correlate to survival. Clin Exp Metastasis 29, 939–948 (2012). https://doi.org/10.1007/s10585-012-9482-4
Received:

Accepted:

Published:

Issue Date:
Keywords
CD44+/CD24−

Ovarian cancer

Cancer stem-like cells

Chemoresistance

Survival