The climate lobby: a sectoral analysis of lobbying spending on climate change in the USA, 2000 to 2016
Abstract
Lobbying is considered to be an important factor in the success or failure of climate change legislation. This paper provides an estimate of lobbying expenditures related to climate change legislation in the U.S. Congress from 2000 to 2016. During this time period, over $2 billion was spent on this activity, constituting 3.9% of total lobbying expenditures. Major sectors involved in lobbying were fossil fuel and transportation corporations, utilities, and affiliated trade associations. Expenditures by these sectors dwarf those of environmental organizations and renewable energy corporations. Levels of expenditures on lobbying appear to be related to the introduction and probability of passage of significant climate legislation. Future research should focus on tying particular positions on climate legislation and lobbying expenditures at the corporate level.
Lobbying Congress has long been a practice of U.S. corporations. As far back as 1889, corporate lobbyists were portrayed as exercising undue influence over the legislative process. In his lithograph "The Bosses of the Senate" (Fig. 
1
), Joseph Keppler portrays the Senate chamber as dominated by oversized lobbyists for various interests, who loom over the lawmakers. Several senators are shown looking to the lobbyists for guidance, while the public is barred from entering. While amusing, this image of influence peddling is a stereotype of how lobbying is actually conducted. Lobbying has become much more sophisticated over the 129 years since this cartoon was drawn. It is now a big business. On an annual basis, between $3 billion and $4 billion are spent on directly lobbying U.S. Congress members, and about another $4 billion on indirect lobbying.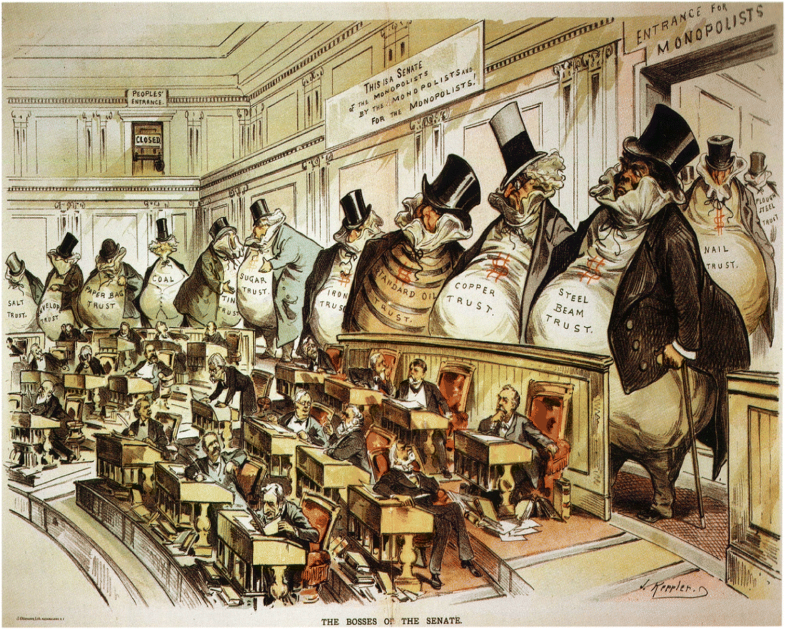 Climate legislation has often been the focus of intense lobbying. Despite the introduction of several major bills to limit carbon emissions in the USA, none of them have been passed. While many factors affected these outcomes, lobbying is seen as an important influence on legislative outcomes. Based on a series of interviews with policymakers, Downie (2017) maintains that this policy elite saw the extensive lobbying effort regarding the Waxman-Markey Bill in 2009 as one of the major reasons for the defeat of this legislation. Yet despite its importance in the legislative process, the role of lobbying regarding climate change legislation has not been a concerted focus of US scholarship. In this paper, I seek to build on the emerging literature on climate lobbying. The objective of this paper is to develop an empirical estimate of lobbying expenditures related to climate change by organizational type and industry sector over the time period 2000–2016. This descriptive compilation provides initial data on lobbying expenditures. In the first part of the paper, I review the literature on lobbying and its core characteristics. Informed by this review, I conduct an analysis of lobbying report filings to determine the levels and timing of lobbying expenditures on climate change-related legislation by a number of key sectors in climate change politics. I then discuss some of the factors that drive these expenditures in an anecdotal review of some of the factors that could influence lobbying expenditure levels. I conclude the paper with a discussion of the implications for legislation regarding climate change, and suggest steps to utilize this data compilation to further empirical research.
Copyright information
© Springer Nature B.V. 2018