Abstract
Public opinion in the United States about human-caused climate change has varied over the past 20 years, despite an increasing consensus about the issue in the expert community. Attitudes about climate change have been attributed to a number of factors including personal values, political ideology, the media environment and personal experience. Recent studies have found evidence that the temperature can influence one's opinion about climate change and willingness to change behaviour and/or support climate policy. Although there is some evidence that individual cool or warm years have influenced large-scale opinion about climate change, the extent to which temperature can explain the past variability in public opinion and public discourse about climate change at the national level is not known. Here we isolate the relationship between opinion about climate change and temperature at the national scale, using data from opinion polls, a discourse analysis of opinion articles from five major daily newspapers, and a national air temperature database. The fraction of respondents to national polls who express "belief in" or "worry about" climate change is found to be significantly correlated to U.S. mean temperature anomalies over the previous 3–12 months. In addition, the fraction of editorial and opinion articles which "agree" with the expert consensus on climate change is also found to be significantly correlated to U.S. mean temperature anomalies at seasonal and annual scales. These results suggest that a fraction of the past variance in American views about climate change could potentially be explained by climate variability.
Access options
Buy single article
Instant access to the full article PDF.
US$ 39.95
Tax calculation will be finalised during checkout.
Subscribe to journal
Immediate online access to all issues from 2019. Subscription will auto renew annually.
US$ 119
Tax calculation will be finalised during checkout.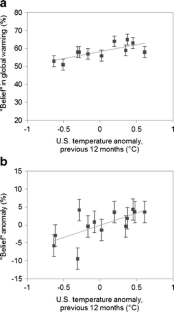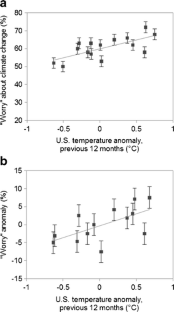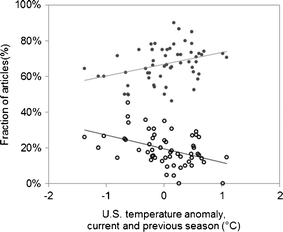 References
Alexander A (2009) The heat from a global warming column. Washington Post, March 1, p. A13

Antilla L (2005) Climate of scepticism: US newspaper coverage of the science of climate change. Glob Environ Chang 15:338–252

Boykoff MT, Boykoff JM (2004) Balance as bias: global warming and the US Prestige Press. Glob Environ Chang 24:125–136

Brody SD, Zahran S, Vedlitz A, Grover H (2008) Examining the relationship between physical vulnerability and public perceptions of global climate change in the United States. Environ Behav 41:72–95

Brulle RJ, Carmichael J, Jenkins JC (2012) Shifting public opinion on climate change: an empirical assessment of factors influencing concern over climate change in the U.S., 2002–2010. Clim Chang. doi:10.1007/s10584-012-0403-y

Donner SD (2007) Domain of the Gods: an editorial essay. Clim Chang 85:231–236

Donner SD (2011) Making the climate a part of the human world. Bull Am Meteorol Soc 92:1297–1302

Dunlap RE, McCright AM (2008) A widening gap: republican and democratic views on climate change. Environment 50:26–35

Freudenberg WR, Muselli V (2010) Global warming estimates, media expectations, and the asymmetry of scientific challenge. Glob Environ Chang 20:483–491

Hamilton LC, Keim BD (2009) Regional variation in perceptions about climate change. Int J Climatol 29:2348–2352

Joireman J, Truelove H, Duell B (2010) Effect of outdoor temperature, heat primes, and anchoring on belief in global warming. J Environ Psychol 30:358–367

Kahan DM, Jenkins-Smith H, Braman D (2011) Cultural cognition of scientific consensus. J Risk Res 14:147–174

Krosnick JA (2010) The climate majority. New York Times. June 9, p. A25 New York Edition

Krosnick JA, Holbrook AL, Lowe L, Visser PS (2006) The origins and consequences of democratic citizens' policy agendas: a study of popular concern about global warming. Clim Chang 77:7–43

Leiserowitz A, Maibach E, Roser-Renouf C (2010) Climate change in the American mind: Americans' global warming beliefs and attitudes in January 2010. Yale Project on Climate Change. Yale University, New Haven

Li Y, Johnson EJ, Zaval L (2011) Local warming: daily temperature change influences belief in global warming. Psychol Sci 22:454–459

Liu X, Vedlitz A, Alston L (2008) Regional news portrayals of global warming and climate change. Environ Sci Policy 11:379–393

Marquart-Pyatt S, Shwom RL, Dietz T, Dunalp RE, Kaplowitz SA, McCright AM, Zahran S (2011) Understanding public opinion on climate change: a call for research. Environment 53:38–42

McCright AM, Dunlap RE (2003) Defeating Kyoto: the conservative movement's impact on U.S. climate change policy. Soc Probl 50:348–373

McCright AM, Dunlap RE (2010) Anti-reflexivity: the American conservative movement's success in undermining climate science and policy. Theor, Culture, Soc 27:100–133

McCright AM, Dunlap RE (2011) The politicization of climate change and polarization in the American public's views of global warming, 2001–2010. Sociol Q 52:155–194

Menne MJ, Williams CN, Palecki MA (2010) On the reliability of the U.S. Surface Temperature Record. J Geophys Res-Atmos 155. doi:10.1029/2009JD013094

Mooney C (2009) Climate change myths and facts. Washington Post, March 21, p. A13

Nisbet MC, Meyers R (2007) The polls—trends: twenty years of public opinion about global warming. Public Opin Q 71:444–470

Oreskes N, Conway EM (2010) Merchants of doubt: how a handful of scientists obscured the truth on issues from tobacco smoke to global warming. Bloomsbury Press, New York

Ratter BMW, Philipp KHI, von Storch H (2012) Between hype and decline: recent trends in public perception of climate change. Environ Sci Policy 18:3–8

Russil C, Nyssa Z (2009) The tipping point trend in climate change communication. Glob Environ Chang 19:336–344

Schuldt JP, Konrath SH, Schwarz N (2011) "Global warming" or "climate change"? Whether the planet is warming depends on the question wording. Public Opin Q 75:115–124

Scruggs L, Benegal S (2012) Declining public concern about climate change: can we blame the great recession? Glob Environ Chang 22:505–515

Semenza JC, Hall DE, Wilson DJ, Bontempo BD, Sailor DJ, George LA (2008) Public perception of climate change: voluntary mitigation and barriers to behavior change. Am J Prev Med 35:479–487

Shanahan J, Good J (2000) Heat and hot air: influence of local temperature on journalists' coverage of global warming. Public Underst Sci 9:285–295

Trumbo C (1996) Constructing climate change: claims and frames in US news coverage of an environmental issue. Public Underst Sci 5:269–283

Ungar S (1992) The rise and (relative) decline of global warming as a social problem. Sociol Q 33:483–501

Weber EU (2006) Experience-based and description-based perceptions of long-term risk: why global warming does not scare us (yet). Clim Chang 77:103–120

Whitmarsh L (2011) Scepticism and uncertainty about climate change: dimensions, determinants and change over time. Glob Environ Chang 21(2):690–700

Will GF (2009) Dark green doomsayers. Washington Post, February 15, p. B07

Zahran S, Brody SD, Grover H, Vedlitz A (2006) Climate change vulnerability and policy support. Soc Nat Resour 19:771–789

Zehr SC (2000) Public representations of scientific uncertainty about global climate change. Public Underst Sci 9:85–103
Acknowledgments
This research was funded by a NSERC Discovery Grant and a UBC AURA Award.
About this article
Cite this article
Donner, S.D., McDaniels, J. The influence of national temperature fluctuations on opinions about climate change in the U.S. since 1990. Climatic Change 118, 537–550 (2013). https://doi.org/10.1007/s10584-012-0690-3
Received:

Accepted:

Published:

Issue Date:
Keywords
Climate Change

Climate Variability

Temperature Anomaly

Wall Street Journal

Polling Question