Abstract
The paper reports the results of the analysis of the 14 longest precipitation instrumental series, covering the last 300 years, that have been recovered in six subareas of the Western Mediterranean basin, i.e., Portugal, Northern and Southern Spain, Southern France, Northern and Southern Italy. This study extends back by one century our knowledge about the instrumental precipitation over the Western Mediterranean, and by two centuries in some specific subareas. All the time series show repeated swings. No specific trends have been found over the whole period, except in a few cases, but with modest time changes and sometimes having opposite tendency. The same can be said for the most recent decades although with some more marked departures from the average. The correlation between the various Mediterranean subareas is generally not significant, or almost uncorrelated. The Wavelet Spectral Analysis applied to the precipitation identifies only a minor 56-year cycle in autumn, i.e., the same return period that has been found in literature for the Sea Surface Temperature over North Atlantic. A comparison with a gridded dataset reconstruction based on mixed multiproxy and instrumental observations, shows that the grid reconstruction is in good agreement with the observed data for the period after 1900, less for the previous period.
This is a preview of subscription content, log in to check access.
Access options
Buy single article
Instant access to the full article PDF.
US$ 39.95
Price includes VAT for USA
Subscribe to journal
Immediate online access to all issues from 2019. Subscription will auto renew annually.
US$ 199
This is the net price. Taxes to be calculated in checkout.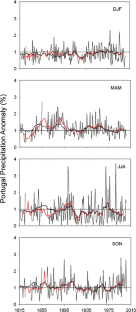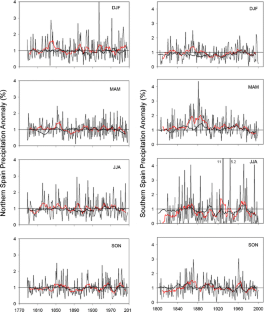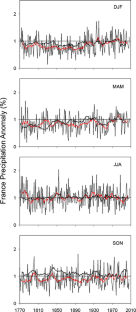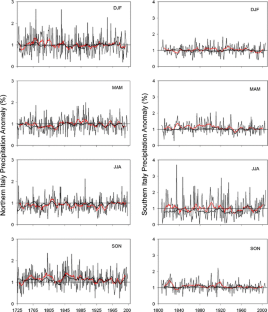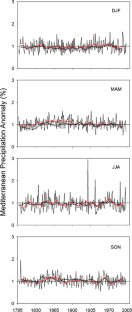 References
Alberti V (1901) Sul clima di Napoli. Atti del R. Istituto d'Incoraggiamento di Napoli, Serie V, Vol. III (4). Società Anonima Cooperativa Tipografica, Naples, pp 1–124

Aurino S (1935) Sul clima di Napoli, Riassunto generale delle osservazioni eseguite nella R. Specola di Capodimonte dal 1901 al 1925. Istituto Poligrafico dello Stato, Rome

Baiada E (1986) Da Beccari a Ranuzzi: la meteorologia nell'Accademia Bolognese nel XVIII secolo. In: Finzi R (ed) Le meteore ed il frumento: Clima, agricoltura, meteorologia a Bologna nel '700. Il Mulino, Bologna, pp 99–261

Barriendos M, Martín-Vide J, Peña JC, Rodríguez R (2002) Daily meteorological observations in Cádiz—San Fernando. Analysis of the documentary sources and the instrumental data content (1786–1996). Clim Chang 53:151–170

Brunetti M, Buffoni L, Lo Vecchio G, Maugeri M, Nanni T (2001) Tre secoli di Meteorologia a Bologna. ISAO-CNR, Bologna. Istituto di Fisica Generale Applicata-Università di Milano; Osservatorio Astronomico di Milano-Brera. CUSL, Milan

Buishand TA (1981) Some methods for testing the homogeneity of rainfall records. J Hydrol 58:11–27

Camuffo D (1984) Analysis of the series of precipitation at Padova, Italy. Clim Chang 6:57–77

Camuffo D (2002) History of the long series of the air temperature in Padova (1725-today). Clim Chang 53(1–3):7–76

Camuffo D, Bertolin C, Barriendos M, Dominguez-Castro F, Cocheo C, Enzi S, Sghedoni M, della Valle A, Garnier E, Alcoforado MJ, Xoplaki E, Luterbacher J, Diodato N, Maugeri M, Nunes MF, Rodriguez R (2010a) 500-year temperature reconstruction in the Mediterranean Basin by means of documentary data and instrumental observations. Clim Chang 101(1-2):169–199

Camuffo D, Bertolin C, Diodato N, Barriendos M, Dominguez-Castro F, Cocheo C, della Valle A, Garnier E, Alcoforado MJ (2010b) The Western Mediterranean Climate: how will it respond to Global Warming? Clim Chang 100:137–142

Castelli B (1639) Della misura dell'acque correnti (On the Measurement of Running Waters), Francesco Cavalli, Rome. This book includes a copy of the letter to Galileo dated 18 June 1639: "Copia di lettera al Sig, Galileo Galilei Primo Filosofo del Serenissimo Granduca di Toscana"

Chinnici I, Foderà Serio G, Granata L (2000) Duecento anni di meteorologia all'Osservatorio Astronomico di Palermo. Osservatorio Astronomico G.S, Vaiana

Chlistovsky F, Buffoni L, Maugeri M (1999) La precipitazione a Milano-Brera. Edizioni CUSL, Milan

Delattre P (1953) Les établissement de Jésuites en France depuis quatre siécles. Meester Frères, pp 732

De Lima MIP, Carvalho SCP, de Lima JLMP, Coelho MFES (2010) Trends in precipitation: analysis of long annual and monthly time series from mainland Portugal. Adv Geosci 25:155–160

Delworth TL, Mann ME (2000) Observed and simulated multidecadal variability in the Northern Hemisphere. Clim Dynam 16:661–676

Diodato N (2007) Climatic fluctuations in Southern Italy since 17th century: reconstruction with precipitation records at Benevento. Clim Chang 80:411–431

Garnier E (2010) Les dérangements du temps. 500 ans de chaud et de froid. Plon, Paris, p 244

Hemmer JJ (1783) Descriptio instrumentorum meteorologicorum, tam eorum, quam Societas distribuit, quam quibus praeter haec Manheimii utitur. Ephemerides Societatis Meteorologicae Palatinae, Tomus 1:57-90. Schwan, Officina Novae Societatis Typographicae, Mannheim

IPCC (2007) see Le Treut et al. (2007)

Jurin J (1723) Invitatio ad observationes Meteorologicas communi consilio instituendas a Jacobo Jurin M. D. Soc. Reg. Secr. et Colleg. Med. Lond. Socio. Phil Trans 379:422–427

Kendall MG (1975) Rank correlation methods, 4th edn. Charles Griffin, London

Le Treut H, Somerville R, Cubasch U, Ding Y, Mauritzen C, Mokssit A, Peterson T, Prather M (2007) Historical overview of climate change. In: Solomon S, Qin D, Manning M, Chen Z, Marquis M, Averyt KB, Tignor M, Miller HL (eds) Climate change 2007: The physical science basis. Contribution of Working Group I to the Fourth Assessment Report of the Intergovernmental Panel on Climate Change. Cambridge University Press, Cambridge

Lionello P, Malanotte-Rizzoli P, Boscolo R (2006) Mediterranean climate variability, volume 4. Elsevier, Amsterdam

Mann HB (1945) Non-Parametric tests against trend. Econometrica 13:245–59

Maugeri M, Buffoni L, Chlistovsky F (2002) Daily Milan temperature and pressare series (1763–1998): history of the observations and data and metadata recovery. Clim Chang 53:101–117

Mecatti GP (1761) Continuazione delle osservazioni sopra diverse eruzioni del Vesuvio. Giovanni di Simone, Naples

Micela G, Granata L, Iuliano V (2001) Due secoli di Pioggia a Palermo. Osservatorio Astronomico di Palermo G.S. Vaiana and University of Palermo, pp 290

Millosevich E (1882, 1884) Sulla distribuzione della pioggia in Italia, Annali della Meteorologia Part I, 1–143

Moberg A, Alexandersson H (1997a) Homogenization of Swedish temperature data. Part I: homogenity test for linear trends. Int J Climatol 17:25–34

Moberg A, Alexandersson H (1997b) Homogenization of Swedish temperature data. Part II: homogenized gridded air temperature compared with a subset of global gridded air temperature since 1861. Int J Climatol 17:35–54

Pauling A, Luterbacher J, Casty C, Wanner H (2006) Five hundred years of gridded high-resolution precipitation reconstructions over Europe and the connection to large-scale circulation. Clim Dynam 26:387–405

Piervitali E, Colacino M (2001) Evidence of drought in Western Sicily during the period 1565–1915 from liturgical offices. Clim Chang 49:225–238

Pisacane G, Artale V, Calmanti S, Rupolo V (2006) Decadal Oscillations in the Mediterranean Sea: a result of the overturning circulation variability in the Eastern Basin? Climate Res 31(2–3):257–271

Pujol N, Neppel L, Sabatier R (2007) Regional tests for trend detection in maximum precipitation series in the French Mediterranean region. Hydrolog Sci J 52(5):956–973

Reiter ER (1975) Handbook for forecasters in the Mediterranean. Wheter Phenomena of the Mediterranean Basin. Environmental Prediction Research Faciliti, Naval Postgraduate School, Monterey

Roche E (1898) Recherches sur la météorologie et les météorologistes à Montpellier du XVIII siècle jusqu'à nos jours. C. Boehm, Montpellier; reprinted 1900 in: Académie des Sciences et Lettres de Montpellier, Mémoires de la Section des Sciences, 2, 5:299–408

Rodrigo FS (2002) Changes in climate variability and seasonal rainfall extremes: a case study from San Fernando (Spain), 1821–2000. Theor Appl Climatol 72:193–207

Searcy JK, Hardison CH (1960) Double-mass curves. U.S. Geol. Surv., Water-Supply Pap., 1541-B: Washington, D.C., pp. 31–59

Taborda JP, Alcoforado MJ, Garcia JC (2004) O Clima no Sul de Portugal no século XVIII. Reconstituição a partir de fontes descritivas e instrumentais. Geo-Ecologia, 2, Centro de Estudos Geográficos, Lisboa, pp 211

Tildes-Gomes P (2005) Modos de variabilidade da precipitação na Península Ibérica. Teleconexões atmosféricas e oceânicas (PhD. Thesis, University of Lisbon, pp 711

Tuomenvirta H (2001) Homogeneity adjustments of temperature and precipitation series—Finnish and Nordic data. Int J Climatol 21:495–506

Udias A (1996) Jesuits' contribution to Meteorology. Am Meteorol Soc 77:2307–2315

UK Meteorological Office (1962) Weather in the Mediterranean, vol. I, general meteorology. Her Majesty's Stationery Office, London

Wigbout M (1973) Limitations in the use of double-mass curves. J Hydrol (NZ) 12(2):132–138

WMO (1983) Guide to meteorological instruments, 5th edn. Switzerland, Geneva

Xoplaki E, Gonzalez-Rouco JF, Luterbacher J, Wanner H (2004) Wet season Mediterranean precipitation variability: influence of large-scale dynamics and trends. Clim Dynam 23:63–78
Acknowledgments
For this long study, we are grateful to: the EU projects MILLENNIUM (Contract 017008-2) and CLIMATE FOR CULTURE (Contract GA 226973); the French projects OPHELIE and RENASEC; the ESF grant "Mediterranean Climate Variability and Predictability". For data and/or discussions we are grateful to the following colleagues: M. Fragoso, Lisbon University: T. Nanni, and M. Brunetti, CNR-ISAC, Bologna; GP. Maracchi and A. Crisci, CNR-IBIMET, Florence; M. Sulli, Istituto Sperimentale Selvicoltura, Florence; G. Micela, V. Iuliano and D. Randazzo, Astronomical Observatory "Vaiana", Palermo; L. Buffoni, F. Chlistovsky and M. Maugeri, Milan University; V. Zanini and L. Pigatto; University Library, Padua; L. Prosdocimi, Library of the Astronomy Department, Bologna University; R. Stasi, P. Pirolo and S. Pelle, National Central Library, Florence; P. Galluzzi, A. Lenzi, G. Strano, A. Saviori; Museo Galileo Institute and of History of Science, Florence; Father P.D. Spotorno, Library of the Vallombrosa Abbey; E. Borchi and R. Macii. Ximenes Observatory, Florence.
Electronic supplementary material
Below is the link to the electronic supplementary material.
About this article
Cite this article
Camuffo, D., Bertolin, C., Diodato, N. et al. Western Mediterranean precipitation over the last 300 years from instrumental observations. Climatic Change 117, 85–101 (2013). https://doi.org/10.1007/s10584-012-0539-9
Received:

Accepted:

Published:

Issue Date:
Keywords
Rain Gauge

Reference Period

Meteorological Observation

Wavelet Power Spectrum

Instrumental Observation