Abstract
Organic farmers are a prime clientele for climate services by virtue of their social profile and vulnerability of produce to climate extremes. The study draws on an online survey and in-depth interviews with organic farmers in Georgia (United States). It shows that organic farmers access and act on climate information in ways that reflect their emphasis on diversified and flexible systems. They favor a pluralistic knowledge base that integrates scientific expertise with place-based experience and intuitive understandings. Their management style combines information at multiple temporal scales and draws on a range of technical and social resources. Translating climate forecasts into usable science for organic farming requires attention to the identities, commitments, and relationships that define the organic farming community.
This is a preview of subscription content, log in to check access.
Access options
Buy single article
Instant access to the full article PDF.
US$ 39.95
Price includes VAT for USA
Subscribe to journal
Immediate online access to all issues from 2019. Subscription will auto renew annually.
US$ 199
This is the net price. Taxes to be calculated in checkout.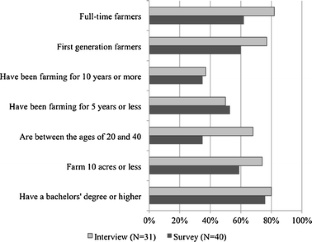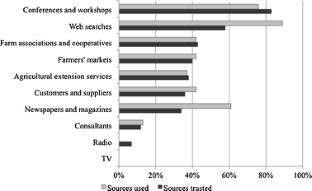 Notes
1.

The Georgia Automated Environmental Monitoring Network (AEMN) is comprised of 79 weather stations that are located across the State of Georgia.

2.

In this paper, weather forecasts refer to predictions of conditions occurring in the next few hours to few days (up to 10 days). Climate forecasts refer to seasonal trends occurring in the next 3 to 4 months.

3.

A CSA consists of a network of members who commit to support a farm operation for a season or a year. They pay "dues" in advance to helps cover farm expenses and receive weekly baskets of products in return.
References
Baigorria GA, Jones JW, O'Brian J (2008) Potential predictability of crop yield using an ensemble climate forecast by a regional circulation model. Agr Forest Meteorol 148:1353–1361

Borron S (2006) Building resilience for an unpredictable future: how organic agriculture can help farmers adapt to climate change. Food and Agriculture Organization of the United Nations. Sustainable Development Department, Rome

Breuer NE, Cabrera VE, Ingram KT, Broad K, Hildebrand PE (2008) AgClimate: a case study in participatory decision support system development. Clim Change 87:385–403

Carolan M (2006) Social change and the adoption and adaptation of knowledge claims: whose truth do you trust in regard to sustainable agriculture? Agr Human Values 23:325–339

Cash DW, Borck JC, Patt AG (2006) Countering the loading-dock approach to linking science and decision making: comparative analysis of El Niño/Southern Oscillation (ENSO) forecasting systems. Sci Tech Human Values 31:465–494

Crane T, Roncoli C, Paz J, Breuer N, Ingram K, Hoogenboom G (2010) Forecast skill and farmers' skills: seasonal climate forecasts and agricultural risk managment in the southeastern United States. Wea Climate Soc 2(1):44–59

Demiryurek K (2010) Analysis of information systems and communication networks for organic and conventional hazelnut producers in the Samsun province of Turkey. Agr Syst 103:444–452

Dilling L, Lemos MC (2011) Creating usable science: opportunities and constraints for climate knowledge use and their implications for science policy. Global Environ Change 21:680–689

Fraisse CW, Breuer N, Bellow JG, Cabrera V, Hatch U, Hoogenboom G, Ingram K, Jones JW, O'Brian J, Paz J, Zierden D (2006) AgClimate: a climate forecast information system for agricultural risk management in the southeastern USA. Comput Electron Agric 53(1):13–27

Frank E, Eakin H, Lopez-Carr D (2011) Social identity, perception and motivation in adaptation to climate risk in the coffee sector of Chiapas, Mexico. Global Environ Change 21:66–76

Getz C (2008) Social capital, organic agriculture, and sustainable livelihood security: rethinking agrarian change in Mexico. Rural Sociol 73(4):555–579

Goddard L, Mason SJ, Ropelewski CF, Basher R, Cane MA (2001) Current approaches to seasonal-to-annual climate predictions. IJCli 21:1111–1152

Gray I, Dunn T, Phillips E (1997) Power, interests and the extension of sustainable agriculture. Soc Ruralis 37(1)

Hansen JW, Hodges AW, Jones JW (1998) ENSO influences on agriculture in the southeastern United States. J Clim 11(404–411)

Hansen JW, Mason SJ, Sun L, Tall A (2011) Review of seasonal climate forecasting for agriculture in sub-Saharan Africa. Exp Agric 47:205–240

Hayman P, Crean J, Mullen J, Parton K (2007) How do probabilistic seasonal climate forecasts compare with other innovations that Australian farmers are encouraged to adopt? Aust J Agr Res 58:975

Hinrichs CC (2000) The embeddedness of local food systems: notes on two types of direct agricultural markets. J Rural Stud 16(3):295–303

Ingram J (2008) Are farmers in England equipped to meet the knowledge challenge of sustainable soil management? An analysis of farmer and advisor views. J Environ Manage 86:214–228

Klopper E, Vogel CH, Landman WA (2006) Seasonal climate forecasts- potential agricultural-risk management tools? Clim Change 76:73–90

Kroma MM (2006) Organic farmer networks: facilitating learning and innovation for sustainable agriculture. J Sustainable Agric 28(4):5–28

Meinke H, Stone RC (2005) Seasonal and inter-annual climate forecasting: the new tool for increasing preparedness to climate variability and change in agricultural planning and operations. Clim Change 70:221–253

Morgan K, Murdoch J (2000) Organic vs. conventional agriculture: knowledge, power and innovation in the food chain. Geoforum 31:159–173

Sooby J (2003) State of the states: organic farming systems research at land grant institutions 2001–2003. Organic Farming Research Foundation, Santa Cruz, CA

Tarnoczi TJ, Berkes F (2010) Sources of information for farmers' adaption practices in Canada's Prairie agro-ecosystem. Clim Change 98:299–305

Trauger A, Sachs CE, Barbercheck M, Brasier K, Kiernan NE (2010) "Our market is our community": women farmers and civic agriculture in Pennsylvania, USA. Agr Human Values 27:43–55

USDA (2007) 2007 Census of Agriculture

van de Fliert E (2002) Conceptualizing integrative, farmer participatory research for sustainable agriculture: from opportunities and impact. Agr Human Values 19:25–38

Wall E, Smit B (2005) Climate change adaptation in light of sustainable agriculture. J Sustainable Agric 27(1):113–123
Acknowledgements
This work was supported by the US National Oceanic and Atmospheric Administration-Climate Program Office (NOAA-CPO) and the USDA Cooperative State Research, Education and Extension Services (USDA-CSREES). We are also grateful to the farmers and Georgia Organics.
Electronic supplementary material
Below is the link to the electronic supplementary material.
About this article
Cite this article
Furman, C., Roncoli, C., Crane, T. et al. Beyond the "fit": introducing climate forecasts among organic farmers in Georgia (United States). Climatic Change 109, 791–799 (2011). https://doi.org/10.1007/s10584-011-0238-y
Received:

Accepted:

Published:

Issue Date:
Keywords
Organic agriculture

Climate variability

Agricultural risk management

Seasonal climate forecasts

Southeastern United States