Abstract
Parental factors have been linked to childhood anxiety, hence, parental involvement in cognitive behavioral therapy (CBT) for anxious children has been examined. However, findings do not consistently show added effects of parent-enhanced CBT, longitudinal investigations are scarce and long-term effects unclear. In the present study, 40 out of 54 families who, 3 years previously, completed one of two types of CBT treatment: with limited or active parental involvement, were assessed using semi-structured diagnostic interviews. Diagnostic status at 3-years follow-up was compared between groups. Changes in diagnostic status across assessment points: posttreatment, 6-month and 3-year follow-up were analyzed within groups. Diagnostic change from 6-month to 3-year follow-up was compared between groups. Intent-to-treat analyses revealed no significant difference in diagnostic status between groups at 3-year follow-up. Nonetheless, children whose parents actively participated in treatment showed significantly more remission from 6-month to 3-year follow-up than children with limited parental participation.
This is a preview of subscription content, log in to check access.
Access options
Buy single article
Instant access to the full article PDF.
US$ 39.95
Price includes VAT for USA
Subscribe to journal
Immediate online access to all issues from 2019. Subscription will auto renew annually.
US$ 99
This is the net price. Taxes to be calculated in checkout.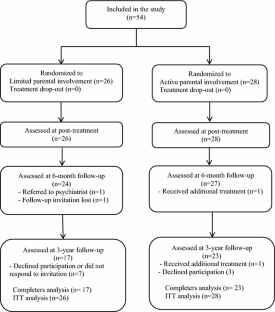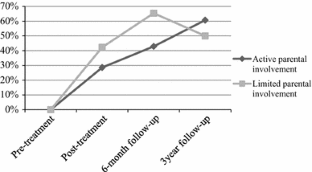 References
1.

Bögels SM, Brechman-Toussaint ML (2006) Family issues in child anxiety: attachment, family functioning, parental rearing and beliefs. Clin Psychol Rev 26(8):34–856

2.

Barrett PM, Dadds MR, Rapee RM (1996) Family treatment of childhood anxiety: a controlled trial. J Consult Clin Psychol 64:333–342

3.

Cobham VE, Dadds MR, Spence SH (1998) The role of parental anxiety in the treatment of childhood anxiety. J Consult Clin Psychol 66:893–905

4.

Kendall PC, Hudson JL, Gosch E, Flannery-Schroeder E, Suveg C (2008) Cognitive–behavioral therapy for anxiety disordered youth: a randomized clinical trial evaluating child and family modalities. J Consult Clin Psychol 76:282–297

5.

McLeod BD, Wood JJ, Weisz JR (2007) Examining the association between parenting and childhood anxiety: a meta-analysis. Clin Psychol Rev 27:155–172

6.

Crawford AM, Manassis K (2001) Familial predictors of treatment outcome in childhood anxiety disorders. J Am Acad Child Adolesc Psychiatry 40:1182–1189

7.

Ginsburg GS, Silverman WK, Kurtines WK (1995) Family involvement in treating children with phobic and anxiety disorders: a look ahead. Clin Psychol Rev 15:457–473

8.

Barmish AJ, Kendall PC (2005) Should parents be co-clients in cognitive–behavioral therapy for anxious youth? J Clin Child Adolesc Psychol 34:569–581

9.

Nauta MH, Scholing A, Emmelkamp PMG, Minderaa RB (2001) Cognitive–behavioural therapy for anxiety disordered children in a clinical setting: does additional cognitive parent training enhance treatment effectiveness? Clin Psychol Psychother 8:330–340

10.

Wood JJ, Piancentini JC, South-Gerow M, Chu BC, Sigman M (2006) Family cognitive behavioral therapy for child anxiety disorders. J Am Acad Child Adolesc Psychiatry 45:314–321

11.

Breinholst S, Esbjørn BH, Reinholdt-Dunne ML, Stallard P (2012) CBT for the treatment of child anxiety disorders: a review of why parental involvement has not enhanced outcomes. J Anxiety Disord 26:416–424

12.

Reynolds S, Wilson C, Austin J, Hooper L (2012) Effects of psychotherapy for anxiety in children and adolescents: a meta-analytic review. Clin Psychol Rev 32:251–262

13.

Manassis K, Lee TC, Bennett K, Zhao XY, Mendlowitz S, Duda S et al (2014) Types of parental involvement in CBT with anxious youth: a preliminary meta-analysis. J Consult Clin Psychol 92:1163–1172

14.

Barrett PM, Duffy AL, Dadds MR, Rapee RM (2001) Cognitive–behavioral treatment of anxiety disorders in children: long-term (6-year) follow-up. J Consult Clin Psychol 69:135–141

15.

Cobham VE, Dadds MR, Spence SH, McDermott B (2010) Parental anxiety in the treatment of childhood anxiety: a different story three years later. J Clin Child Adolesc Psychol 39:410–420

16.

Manassis K, Avery D, Butalia S, Mendlowitz S (2004) Cognitive–behavioral therapy with childhood anxiety disorders: functioning in adolescence. Depress Anxiety 19:209–216

17.

Mendlowitz SL, Manassis K, Bradley S, Scapillato D, Miezitis S, Shaw BE (1999) Cognitive–behavioral group treatments in childhood anxiety disorders: the role of parental involvement. J Am Acad Child Adolesc Psychiatry 38:1223–1229

18.

Ginsburg GS, Becker EM, Keeton CP, Sakolsky D, Piacentini J, Albano AM et al (2014) Naturalistic follow-up of youths treated for pediatric anxiety disorders. JAMA Psychiatry 71:310–318

19.

Esbjørn BH, Reinholdt-Dunne ML, Nielsen SK, Smith AC, Breinholst S, Leth I (2015) Exploring the effect of case formulation driven CBT for children with anxiety disorders: a feasibility study. Behav Cognit Psychother 43:20–30

20.

Silverman WK, Albano AM (1996) Anxiety Disorders Interview Schedule for DSM- IV. Oxford University Press, Oxford

21.

Silverman WK, Saavedra LM, Pina AA (2001) Test-retest reliability of anxiety symptoms and diagnoses with the Anxiety Disorders Interview Schedule for DSM-IV: child and parent versions. J Am Acad Child Adolesc Psychiatry 40:937–944

22.

Beck AT, Epstein N, Brown G, Steer RA (1988) An inventory for measuring clinical anxiety: psychometric properties. J Consult Clin Psychol 56:893–897

23.

Creamer M, Foran J, Bell R (1995) The Beck Anxiety Inventory in a non- clinical sample. Behav Res Ther 33:477–485

24.

Corp IBM (2011) IBM SPSS Statistics for Windows, Version 20.0. IBM Corp, Armonk, NY

25.

Fagerland MW, Lydersen S, Laake P (2013) The McNemar test for binary matched- pairs data: mid-p and asymptotic are better than exact conditional. BMC Med Res Methodol 13:1–8

26.

McDonald JH (2009) Handbook of biological statistics. Sparky House Publishing, Baltimore

27.

Sharpe D (2015) Your Chi-square test is statistically significant: now what? Pract Assess Res Eval 20:2–10

28.

Gillis MM, Haaga DAF, Ford GT (1995) Normative values for the Beck Anxiety Inventory, Fear Questionnaire, Penn State Worry Questionnaire, and Social Phobia and Anxiety Inventory. Psychol Assessment 7:450–455

29.

Loerinc AG, Meuret AE, Twohig MP, Rosenfield D, Bluett EJ, Craske MG (2015) Response rates for CBT for anxiety disorders: need for standardized criteria. Clin Psychol Rev 42:72–82

30.

Grills AE, Ollendick TH (2003) Multiple informant agreement and the anxiety disorders interview schedule for parents and children. J Am Acad Child Adolesc Psychiatry 42:30–40

31.

Esbjørn BH, Sømhovd MJ, Nielsen SK, Normann N, Leth I, Reinholdt-Dunne ML (2014) Parental changes after involvement in their anxious child's cognitive behavior therapy. J Anxiety Disord 28:664–670

32.

Carroll KM, Rounsaville BJ (2008) Efficacy and effectiveness in developing treatment manuals. In: Nezu AM, Nezu CM (eds) Evidence-based outcome research: a practical guide to conducting randomized controlled trials for psychosocial inter-ventions. Oxford University Press, New York, pp 219–243

33.

Southam-Gerow MA, Rodríguez A, Chorpita BF, Daleiden EL (2012) Dissemination and implementation of evidence based treatments for youth: challenges and recommendations. Prof Psychol Res Pract 43:527–534

34.

Lundkvist-Houndoumadi I, Thastum M, Hougaard E (2016) Effectiveness of an individualized case formulation-based CBT for non-responding youths with anxiety disorders. J Child Fam Stud 2:503–517

35.

Nevo GA, Manassis K (2009) Outcomes for treated anxious children: a critical review of long-term-follow-up studies. Depress Anxiety 26:650–660
Acknowledgments
The study was supported by grants to the Center for Anxiety from the Egmont (Grant Number 831-2205), and Helse Foundation (Grant Numbers 2008A438 and 2009A617). We wish to thank all participating children and parents for contributing to this study, as well as all staff and students who have assisted in the process.
Ethics declarations
Conflict of interest
The authors: Monika Walczak, Barbara H. Esbjørn, Sonja Breinholst and Marie Louise Reinholdt-Dunne have no conflict of interest with respect to this publication.
About this article
Cite this article
Walczak, M., Esbjørn, B.H., Breinholst, S. et al. Parental Involvement in Cognitive Behavior Therapy for Children with Anxiety Disorders: 3-Year Follow-Up. Child Psychiatry Hum Dev 48, 444–454 (2017). https://doi.org/10.1007/s10578-016-0671-2
Keywords
Childhood anxiety

CBT

Parental involvement

Long-term follow-up

Change in diagnostic