Abstract
During the past few years, a novel syndrome of heart failure and transient left ventricular systolic dysfunction precipitated by acute emotional or physical stress has been described. While patients with "stress cardiomyopathy" (SCM) typically present with signs and symptoms that resemble an acute coronary syndrome, it has become clear that this syndrome has unique clinical features that can readily be distinguished from acute infarction. In particular, in contrast to the irreversible myocardial injury seen with infarction, the myocardial dysfunction of SCM is completely reversible and occurs in the absence of plaque rupture and coronary thrombosis. There is increasing evidence that exaggerated sympathetic stimulation may play a pathogenic role in the development of SCM. Plasma catecholamine levels have been found to be markedly elevated in some patients with SCM, and the syndrome has been observed in other clinical states of catecholamine excess such as central neurologic injury and pheochromocytoma. Further, intravenous catecholamines can precipitate SCM in humans and can reproduce the syndrome in animal models. The precise mechanism in which excessive sympathetic stimulation may result in transient left ventricular dysfunction remains controversial. Abnormal myocardial blood flow due to sympathetically mediated microvascular dysfunction has been suggested and is supported by decreased coronary flow reserve during the acute phase of this syndrome. An alternative explanation is the direct effect of catecholamines on cardiac myocytes, possibly through cyclic AMP-mediated calcium overload. This manuscript will review the clinical and diagnostic features of SCM and will summarize the evidence supporting a sympathetically mediated pathogenesis. Clinical risk factors that appear to increase susceptibility to SCM, possibly by modulating myocyte and microvascular sensitivity to catecholamines, will also be highlighted.
This is a preview of subscription content, log in to check access.
We're sorry, something doesn't seem to be working properly.
Please try refreshing the page. If that doesn't work, please contact support so we can address the problem.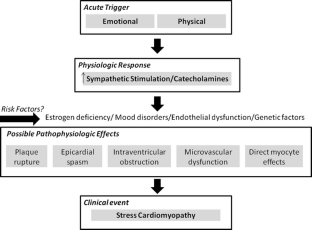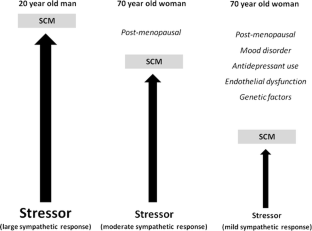 References
Abraham J, Mudd JO, Kapur NK et al (2009) Stress cardiomyopathy after intravenous administration of catecholamines and beta-receptor agonists. J Am Coll Cardiol 53:1320–1325

Barletta G, Del Pace S, Boddi M et al (2009) Abnormal coronary reserve and left ventricular wall motion during cold pressor test in patients with previous left ventricular ballooning syndrome. Eur Heart J 30:3007–3014

Barton DA, Dawood T, Lambert EA et al (2007) Sympathetic activity in major depressive disorder: Identifying those at increased risk? J Hypertens 25:2117–2124

Bhattacharyya MR, Steptoe A (2007) Emotional triggers of acute coronary syndromes: strength of evidence, biological processes, and clinical implications. Prog Cardiovasc Dis 49:353–365

Burgdorf C, von Hof K, Schunkert H, Kurowski V (2008) Regional alterations in myocardial sympathetic innervation in patients with transient left-ventricular apical ballooning (Tako-Tsubo cardiomyopathy). J Nucl Cardiol 15:65–72

Burke AP, Farb A, Malcom GT, Liang Y, Smialek JE, Virmani R (1999) Plaque rupture and sudden death related to exertion in men with coronary artery disease. JAMA 281:921–926

Bybee KA, Prasad A, Barsness GW et al (2004) Clinical characteristics and thrombolysis in myocardial infarction frame counts in women with transient left ventricular apical ballooning syndrome. Am J Cardiol 94:343–346

Cevik C, Nugent K (2008) The role of cardiac autonomic control in the pathogenesis of tako-tsubo cardiomyopathy. Am Heart J 156:e31

Del Pace S, Parodi G, Bellandi B et al (2011) Anxiety trait in patients with stress-induced cardiomyopathy: a case-control study. Clin Res Cardiol 100:523–529

D'Errico S, Neri M, Nieddu A et al (2011) Cardiac beta1-adrenoceptor expression in two stress-induced cardiomyopathy-related deaths. Forensic Sci Int 207:e8–e11

Eitel I, Knobelsdorff-Brenkenhoff F, Bernhardt P et al (2011) Clinical characteristics and cardiovascular magnetic resonance findings in stress (takotsubo) cardiomyopathy. JAMA 306:277–286

Elesber AA, Prasad A, Bybee KA et al (2006) Transient cardiac apical ballooning syndrome: prevalence and clinical implications of right ventricular involvement. J Am Coll Cardiol 47:1082–1083

Elesber AA, Prasad A, Lennon RJ, Wright RS, Lerman A, Rihal CS (2007) Four-year recurrence rate and prognosis of the apical ballooning syndrome. J Am Coll Cardiol 50:448–452

Ellison GM, Torella D, Karakikes I et al (2007) Acute beta-adrenergic overload produces myocyte damage through calcium leakage from the ryanodine receptor 2 but spares cardiac stem cells. J Biol Chem 282:11397–11409

Eshtehardi P, Koestner SC, Adorjan P et al (2009) Transient apical ballooning syndrome: clinical characteristics, ballooning pattern, and long-term follow-up in a Swiss population. Int J Cardiol 135:370–375

Hahn JY, Gwon HC, Park SW et al (2007) The clinical features of transient left ventricular nonapical ballooning syndrome: comparison with apical ballooning syndrome. Am Heart J 154:1166–1173

Hoyt J, Lerman A, Lennon RJ et al (2010) Left anterior descending artery length and coronary atherosclerosis in apical ballooning syndrome (Takotsubo/stress induced cardiomyopathy). Int J Cardiol 145:112–115

Hurst RT, Askew JW, Reuss CS et al (2006) Transient midventricular ballooning syndrome: a new variant. J Am Coll Cardiol 48:579–583

Ibanez B, Navarro F, Farre J et al (2004) Tako-tsubo syndrome associated with a long course of the left anterior descending coronary artery along the apical diaphragmatic surface of the left ventricle. Rev Esp Cardiol 57:209–216

Izumi Y, Okatani H, Shiota M et al (2009) Effects of metoprolol on epinephrine-induced takotsubo-like left ventricular dysfunction in non-human primates. Hypertens Res 32:339–346

Kawai S, Kitabatake A, Tomoike H (2007) Guidelines for diagnosis of takotsubo (ampulla) cardiomyopathy. Circ J 71:990–992

Komesaroff PA, Esler MD, Sudhir K (1999) Estrogen supplementation attenuates glucocorticoid and catecholamine responses to mental stress in perimenopausal women. J Clin Endocrinol Metab 84:606–610

Kume T, Akasaka T, Kawamoto T et al (2005) Assessment of coronary microcirculation in patients with takotsubo-like left ventricular dysfunction. Circ J 69:934–939

Kume T, Kawamoto T, Okura H et al (2008) Local release of catecholamines from the hearts of patients with tako-tsubo-like left ventricular dysfunction. Circ J 72:106–108

Kyuma M, Tsuchihashi K, Shinshi Y et al (2002) Effect of intravenous propranolol on left ventricular apical ballooning without coronary artery stenosis (ampulla cardiomyopathy): three cases. Circ J 66:1181–1184

Lavi S, Nevo O, Thaler I et al (2007) Effect of aging on the cardiovascular regulatory systems in healthy women. Am J Physiol Regul Integr Comp Physiol 292:R788–R793

Leor J, Poole WK, Kloner RA (1996) Sudden cardiac death triggered by an earthquake. N Engl J Med 334:413–419

Lyon AR, Rees PS, Prasad S, Poole-Wilson PA, Harding SE (2008) Stress (Takotsubo) cardiomyopathy: a novel pathophysiological hypothesis to explain catecholamine-induced acute myocardial stunning. Nat Clin Pract Cardiovasc Med 5:22–29

Mann DL, Kent RL, Parsons B, Cooper G (1992) Adrenergic effects on the biology of the adult mammalian cardiocyte. Circulation 85:790–804

Martin EA, Prasad A, Rihal CS et al (2010) Endothelial function and vascular response to mental stress are impaired in patients with apical ballooning syndrome. J Am Coll Cardiol 56:1840–1846

Martinez-Selles M, Datino T, Pello AM, Fernandez-Aviles F (2010) Ergonovine provocative test in Caucasian patients with left ventricular apical ballooning syndrome. Int J Cardiol 145:89–91

Meimoun P, Malaquin D, Sayah S et al (2008) The coronary flow reserve is transiently impaired in tako-tsubo cardiomyopathy: a prospective study using serial Doppler transthoracic echocardiography. J Am Soc Echocardiogr 21:72–77

Meisel SR, Kutz I, Dayan KI et al (1991) Effect of Iraqi missile war on incidence of acute myocardial infarction and sudden death in Israeli civilians. Lancet 338:660–661

Mittleman MA, Maclure M, Sherwood JB et al (1995) Triggering of acute myocardial infarction onset by episodes of anger. Determinants of myocardial infarction onset study investigators. Circulation 92:1720–1725

Moriya M, Mori H, Suzuki N et al (2002) Six-month follow-up of takotsubo cardiomyopathy with I-123-beta-metyl-iodophenyl pentadecanoic acid and I-123-meta-iodobenzyl-guanidine myocardial scintigraphy. Intern Med 41:829–833

Mudd JO, Kapur NK, Champion HC, Schulman SP, Wittstein IS (2007) Patients with stress-induced (Takotsubo) cardiomyopathy have an increased prevalence of mood disorders and antidepressant use compared to patients with acute myocardial infarction. J Cardiac Fail 13(Supplement 2):S176

Nef HM, Mollmann H, Troidl C et al (2009) Abnormalities in intracellular Ca2+ regulation contribute to the pathomechanism of Tako-Tsubo cardiomyopathy. Eur Heart J 30:2155–2164

Novo S, Akashi Y, Arbustini E et al (2008) Takotsubo cardiomyopathy: a consensus document. G Ital Cardiol 9:785–797

Nunez-Gil IJ, Fernandez-Ortiz A, Perez-Isla L et al (2008) Clinical and prognostic comparison between left ventricular transient dyskinesia and a first non-ST-segment elevation acute coronary syndrome. Coron Artery Dis 19:449–453

Ogura R, Hiasa Y, Takahashi T et al (2003) Specific findings of the standard 12-lead ECG in patients with 'Takotsubo' cardiomyopathy: comparison with the findings of acute anterior myocardial infarction. Circ J 67:687–690

Ortak J, Khattab K, Barantke M et al (2009) Evolution of cardiac autonomic nervous activity indices in patients presenting with transient left ventricular apical ballooning. Pacing Clin Electrophysiol 32(Suppl 1):S21–S25

Otomo S, Sugita M, Shimoda O, Terasaki H (2006) Two cases of transient left ventricular apical ballooning syndrome associated with subarachnoid hemorrhage. Anesth Analg 103:583–586

Parodi G, Del Pace S, Carrabba N et al (2007) Incidence, clinical findings, and outcome of women with left ventricular apical ballooning syndrome. Am J Cardiol 99:182–185

Pilgrim TM, Wyss TR (2008) Takotsubo cardiomyopathy or transient left ventricular apical ballooning syndrome: a systematic review. Int J Cardiol 124:282–292

Prasad A, Lerman A, Rihal CS (2008) Apical ballooning syndrome (Tako-Tsubo or stress cardiomyopathy): a mimic of acute myocardial infarction. Am Heart J 155:408–417

Prasad A, Madhavan M, Chareonthaitawee P (2009) Cardiac sympathetic activity in stress-induced (Takotsubo) cardiomyopathy. Nat Rev Cardiol 6:430–434

Regnante RA, Zuzek RW, Weinsier SB et al (2009) Clinical characteristics and four-year outcomes of patients in the Rhode island takotsubo cardiomyopathy registry. Am J Cardiol 103:1015–1019

Reuss CS, Lester SJ, Hurst RT et al (2007) Isolated left ventricular basal ballooning phenotype of transient cardiomyopathy in young women. Am J Cardiol 99:1451–1453

Rigo F, Sicari R, Citro R, Ossena G, Buja P, Picano E (2009) Diffuse, marked, reversible impairment in coronary microcirculation in stress cardiomyopathy: a Doppler transthoracic echo study. Ann Med 41:462–470

Satoh H, Tateishi H, Uchida T et al (1990) Takotsubo-type cardiomyopathy due to multivessel spasm. In: Kodama K, Haze K, Hon M (eds) Clinical Aspect of Myocardial Injury, from Ischemia to Heart Failure (in Japanese). Kagakuhyouronsya Co, Tokyo, pp 56–64

Sharkey SW, Lesser JR, Zenovich AG et al (2005) Acute and reversible cardiomyopathy provoked by stress in women from the United States. Circulation 111:472–479

Sharkey SW, Lesser JR, Menon M et al (2008) Spectrum and significance of electrocardiographic patterns, troponin levels, and thrombolysis in myocardial infarction frame count in patients with stress (tako-tsubo) cardiomyopathy and comparison to those in patients with ST-elevation anterior wall myocardial infarction. Am J Cardiol 101:1723–1728

Sharkey SW, Windenburg DC, Lesser JR, Maron MS, Hauser RG, Lesser JN et al (2010) Natural history and expansive clinical profile of stress (tako-tsubo) cardiomyopathy. J Am Coll Cardiol 55:333–341

Spinelli L, Trimarco V, Di Marino S, Marino M, Iaccarino G, Trimarco B (2010) L41Q polymorphism of the G protein coupled receptor kinase 5 is associated with left ventricular apical ballooning syndrome. Eur J Heart Fail 12:13–16

Steinberg JS, Arshad A, Kowalski M et al (2004) Increased incidence of life-threatening ventricular arrhythmias in implantable defibrillator patients after the World Trade Center attack. J Am Coll Cardiol 44:1261–1264

Strunk B, Shaw RE, Bull S et al (2006) High incidence of focal left ventricular wall motion abnormalities and normal coronary arteries in patients with myocardial infarctions presenting to a community hospital. J Invasive Cardiol 18:376–381

Sung BH, Ching M, Izzo JL Jr, Dandona P, Wilson MF (1999) Estrogen improves abnormal norepinephrine-induced vasoconstriction in postmenopausal women. J Hypertens 17:523–528

Takizawa M, Kobayakawa N, Uozumi H et al (2007) A case of transient left ventricular ballooning with pheochromocytoma, supporting pathogenetic role of catecholamines in stress-induced cardiomyopathy or takotsubo cardiomyopathy. Int J Cardiol 114:e15–e17

Tsuchihashi K, Ueshima K, Uchida T et al (2001) Transient left ventricular apical ballooning without coronary artery stenosis: a novel heart syndrome mimicking acute myocardial infarction. Angina pectoris-myocardial infarction investigations in Japan. J Am Coll Cardiol 38:11–18

Uchida Y, Egami H, Uchida Y et al (2010) Possible participation of endothelial cell apoptosis of coronary microvessels in the genesis of takotsubo cardiomyopathy. Clin Cardiol 33:371–377

Ueyama T, Kasamatsu K, Hano T, Yamamoto K, Tsuruo Y, Nishio I (2002) Emotional stress induces transient left ventricular hypocontraction in the rat via activation of cardiac adrenoceptors: a possible animal model of 'tako-tsubo' cardiomyopathy. Circ J 66:712–713

Ueyama T, Ishikura F, Matsuda A et al (2007) Chronic estrogen supplementation following ovariectomy improves the emotional stress-induced cardiovascular responses by indirect action on the nervous system and by direct action on the heart. Circ J 71:565–573

Wedekind H, Moller K, Scholz KH (2006) Tako-tsubo cardiomyopathy. Incidence in patients with acute coronary syndrome. Herz 31:339–346

Wilbert-Lampen U, Leistner D, Greven S et al (2008) Cardiovascular events during World Cup soccer. N Engl J Med 358:475–483

Wittstein IS (2007) Apical-ballooning syndrome. Lancet 370:545–547

Wittstein IS (2008) Acute stress cardiomyopathy. Curr Heart Fail Rep 5:61–68

Wittstein IS, Thiemann DR, Lima JA et al (2005) Neurohumoral features of myocardial stunning due to sudden emotional stress. N Engl J Med 352:539–548

Yeung AC, Vekshtein VI, Krantz DS et al (1991) The effect of atherosclerosis on the vasomotor response of coronary arteries to mental stress. N Engl J Med 325:1551–1556

Yoshimura S, Toyoda K, Ohara T et al (2008) Takotsubo cardiomyopathy in acute ischemic stroke. Ann Neurol 64:547–554

Zaroff JG, Pawlikowska L, Miss JC et al (2006) Adrenoceptor polymorphisms and the risk of cardiac injury and dysfunction after subarachnoid hemorrhage. Stroke 37:1680–1685
About this article
Cite this article
Wittstein, I.S. Stress Cardiomyopathy: A Syndrome of Catecholamine-Mediated Myocardial Stunning?. Cell Mol Neurobiol 32, 847–857 (2012). https://doi.org/10.1007/s10571-012-9804-8
Received:

Accepted:

Published:

Issue Date:
Keywords
Stress cardiomyopathy

Takotsubo cardiomyopathy

Apical ballooning

Catecholamines

Myocardial stunning