Abstract
In this paper, we proposed to prepare a spiropyran (SP)-based photochromic cotton fabric with high tri-stimulus response by thiol-ene click chemistry, which has excellent photochromic properties, good durability, and can quickly return to its original state under three different stimulations. The SP target monomer with ene group in the side chain was synthesized, and the cotton fabric was subjected to thiol modification by using 3-mercaptopropyltriethoxysilane. The SP molecule was grafted to the modified cotton fabric by covalent bonding, therefore effectively enhanced its durability in practical daily use. The results of FTIR, NMR, Raman and UV spectra confirmed the chemical composition. SEM images and energy-dispersive X-ray spectroscopy mapping spectra verified the grafting between this SP-based dye and modified cotton fabrics. The test data of color characteristic values indicated that the fabric undergoes significant color changes with fast photochromic response, high fatigue resistance, and maintains impressive reusability after experiencing 20 reversible cycles. The photochromic mechanism of cotton fabrics was attributed to the cleavage of C–O bond in the molecular structure of SP under ultraviolet (UV) irradiation. In addition, the properties related to practical applications including washing fastness and UV resistance have also been studied, proving its great potential in wearable and flexible textile-based sensors.
This is a preview of subscription content, log in to check access.
Access options
Buy single article
Instant unlimited access to the full article PDF.
US$ 39.95
Price includes VAT for USA
Subscribe to journal
Immediate online access to all issues from 2019. Subscription will auto renew annually.
US$ 199
This is the net price. Taxes to be calculated in checkout.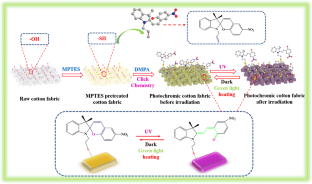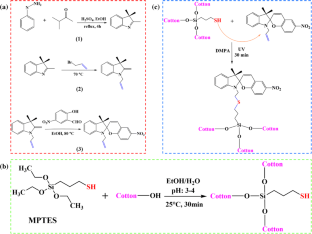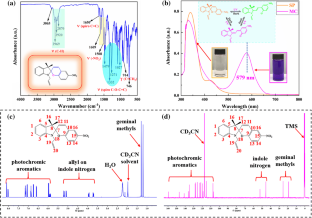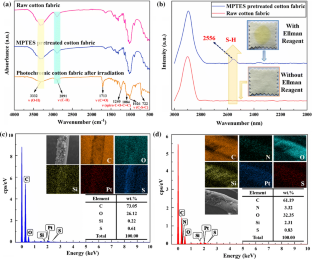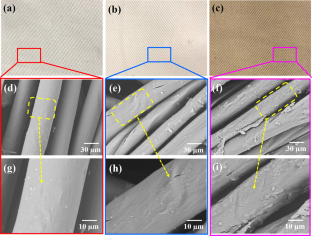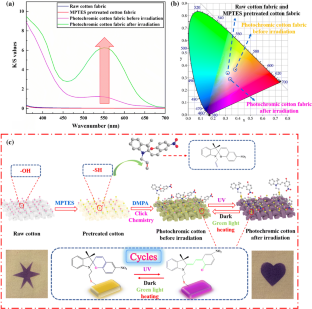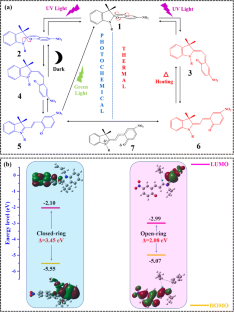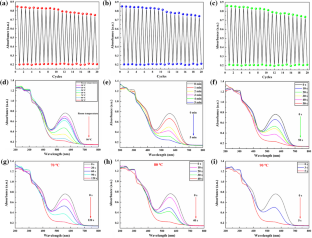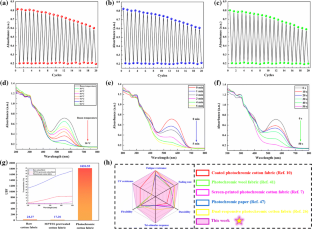 Acknowledgments
This work was supported by National Nature Science Foundation of China (No. 51403032).
Additional information
Publisher's Note
Springer Nature remains neutral with regard to jurisdictional claims in published maps and institutional affiliations.
Electronic supplementary material
Below is the link to the electronic supplementary material.
About this article
Cite this article
Fan, J., Bao, B., Wang, Z. et al. High tri-stimulus response photochromic cotton fabrics based on spiropyran dye by thiol-ene click chemistry. Cellulose 27, 493–510 (2020). https://doi.org/10.1007/s10570-019-02786-2
Received:

Accepted:

Published:

Issue Date:
Keywords
Photochromic

Spiropyran

Thiol-ene click chemistry

Tri-stimulus response

Cotton fabric