Study on the hydrolysis of cellulose with the regenerable and recyclable multifunctional solid acid as a catalyst and its catalytic hydrolytic kinetics
Abstract
The regenerated solid acid (Cl-MCMB-SO3H) catalyst containing bifunctional groups, namely, –SO3H and –Cl, was prepared using mesocarbon microbeads (MCMB) with numerous aromatic constituents. The acidic densities of –SO3H and –Cl in the as-prepared Cl-MCMB-SO3H reached 1.98 and 1.72 mmol/g, respectively. The total reducing sugar (TRS) yield of 70.3% was achieved at 130 °C for 3 h in distilled water with Cl-MCMB-SO3H solid acid as a catalyst. The analysis of hydrolytic kinetic model showed that the activation energy (Ea) of cellulose hydrolysis by using Cl-MCMB-SO3H was 89.4 kJ/mol, which was considerably lower than that of MCMB-SO3H (109.2 kJ/mol). Thus, the existence of –Cl group was not only beneficial in forming hydrogen bonds with cellulose but also aided in reducing the Ea value of cellulose hydrolysis. The TRS yield only decreased by 9.6% with Cl-MCMB-SO3H solid acid after it was recycled five times. More importantly, the TRS yield still reached 70.1% and 69.7% through the first and second Cl-MCMB-SO3H regeneration, respectively, demonstrating the excellent regenerability of the solid acid catalyst.
Graphic abstract
The multifunctional MCMB-solid acid was prepared and used for the catalytic hydrolysis of cellulose, which exhibited excellent catalysis, regenerability, and recyclability performances, and the introduction of –Cl group not only facilitated the formation of hydrogen bonds with cellulose but also dramatically decreased the activation energy.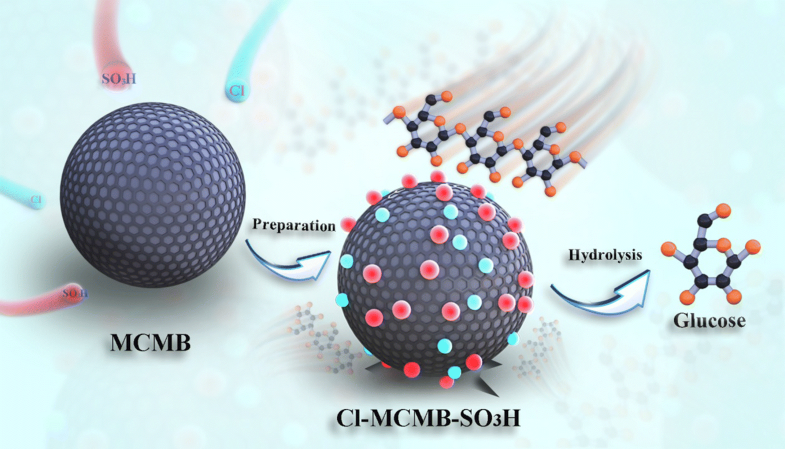 Keywords
Cellulose hydrolysis 
Catalysis 
Multifunctional solid acid 
Mesocarbon microbeads 
Hydrolytic kinetic 
Notes
Acknowledgments
The authors are very grateful for the financial support of the National Natural Science Foundation of China NSFC (No. 51174144), the Key Research and Development Program of Shanxi Province (No. 201703D12111437) and the Graduate Science and Technology Innovation Fund Project of Shanxi. (No. 2019BY059).
Copyright information
© Springer Nature B.V. 2019