Preparation and liquid crystal phase properties of discotic cellulose nanoparticles
Abstract
Understanding the behavior of fluids with inhomogeneous structural properties is critical for many industrial and biological materials. Sulfuric acid hydrolysis of cotton with ultrasonic treatment and low-speed centrifugation during purification yields "spiky" discotic cellulose particles. Amorphous cellulose remained in solution and forms discotic units which may be nucleated by crystalline rods. Scanning electron microscope and transmission electron microscope images confirm the discotic nature of the cellulose. High speed centrifugation could recover rod-like cellulose nanocrystals from the discotic cellulose nanoparticle solution. 3.6 wt% discotic cellulose nanoparticles formed the typical nematic phase and the liquid crystal texture became more structured with increasing concentration. Our results showed that spontaneous structuring of amorphous cellulose can lead to phase behavior that cannot be achieved using just rod-like cellulose nanocrystals.
Graphic abstract
Mixtures containing amorphous and crystalline cellulose can form discotic cellulose nanoparticles. These solutions can form nematic phase (
A
), a structured columnar-like phase (
B
), and a glassy phase (
C
). Scanning electron microscope characterization (
D
,
E
) confirms a discotic structure with some spikes and network formation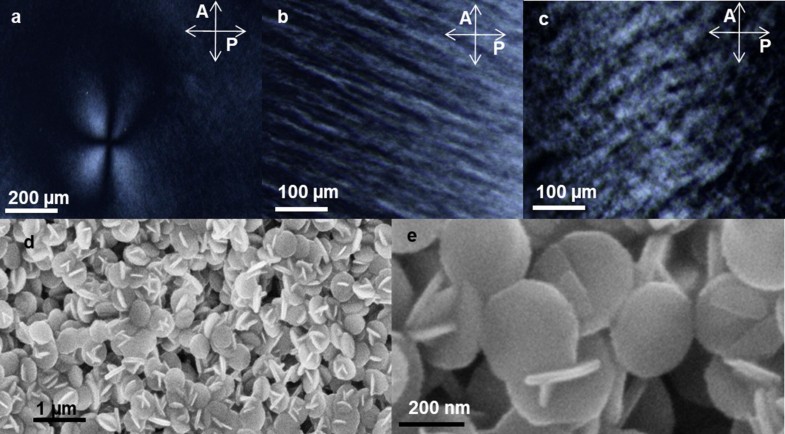 Keywords
Discotic cellulose nanoparticles 
Liquid crystals 
Phase behaviors 
Notes
Acknowledgments
The work was supported by the National Natural Science Foundation of China (11621101, 61550110246, 61850410525, 91233208), the Fundamental Research Funds for the Central Universities (2017FZA5001), the National Key Research and Development Program of China (No. 2017YFA0205700), and the Science and Technology Department of Zhejiang Province. We gratefully acknowledge Mr. Wang Hua, Analysis Center of Agrobiology and Environmental Sciences & Institute of Agrobiology and Environmental Sciences, Zhejiang University, for taking the TEM images and professor Qiu,Yayu, Liu Jiyong, Huang Lili Department of Chemistry, Zhejiang University for taking SAXS, XRD and Raman spectrum experiment results respectively.
Copyright information
© Springer Nature B.V. 2019