A comparative analysis of source based distinctly functionalized nanostructured cellulose for the adsorptive removal of toxic colorants
Abstract
In order to annul the toxic dye contaminants which are being heavily discharged into the water bodies, the present study emphasizes on the fabrication of pristine and functionalized cellulose nanofibres derived from two distinct lignocellulosic biomass sources i.e. sugarcane bagasse and pine needles. Pine needles proved to be a better source than sugarcane bagasse in terms of high adsorption capacity of the adsorbents which may be due to the difference in the nanofibrillar arrangement based on source. The developed adsorbents were characterized for their structural, morphological and other physico-chemical properties with the help of FT-IR, Powder XRD, FE-SEM and EDX spectroscopic techniques. Outstanding adsorption properties of modified cellulose nanofibres were explored for the eradication of Safranin O and Methylene blue from the polluted wastewater. Structural differences based on origin resulted in the variable adsorption characteristics over functionalized adsorbents. Among all, esterified cellulose nanofibres presented best adsorption capacity for the removal of toxic colorants. Incorporation of different isotherms and kinetic models provided the deep insights of the adsorption mechanism.
Graphical abstract
Functionalized cellulose nanofibres derived from two distinct lignocellulosic biomass sources for the eradication of toxic colorants from wastewater.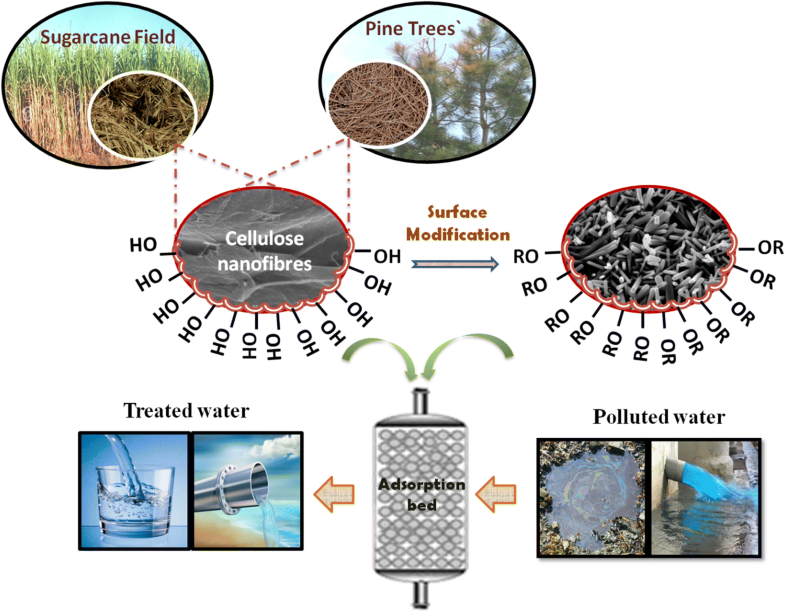 Keywords
Lignocellulosic biomass 
Nanocellulose 
Functionalized cellulose 
Adsorption 
Notes
Acknowledgments
Authors wish to acknowledge Council of Scientific and Industrial Research (CSIR) (Grant no. 01(02833)/15/EMR-II). The authors are grateful for providing the instrumentation facility for the required characterizations to Sophisticated Analytical Instrumentation Facility (SAIF), Panjab University (PU), Chandigarh.
Copyright information
© Springer Nature B.V. 2018