A novel deep eutectic solvent from lignin-derived acids for improving the enzymatic digestibility of herbal residues from cellulose
Abstract
A novel lignin-derived deep eutectic solvent (DES) was synthesized from choline chloride (ChCl) and p-coumaric acid (PCA). The results showed that after pretreatment with lignin-derived DES, the dense cellulose–hemicellulose–lignin structure of herb residues of Cortex albiziae (HRCA) was effectively broken down and this facilitated subsequent enzymatic hydrolysis. The optimum pretreatment conditions were ChCl/PCA molar ratio of 1:1, 160 °C-5 h, and a solid–liquid ratio of 1:10. Compared with untreated HRCA, 72-h enzymatic digestibility increased from 48.08 to 84.62%. When a ChCl–PCA–water pretreatment was used, the 72-h digestibility level of the residue reached 99.36%. Moreover, the recycling and reusability of this novel DES were evaluated. The results showed that synthesis and utilization of green, environment-friendly and recyclable lignin-derived DES can offer a new way of utilizing lignin which has considerable potential in the refining of biomass.
Graphical abstract
A novel lignin-derived deep eutectic solvent was synthesized, this DES pretreatment can improve the enzymatic digestibility of HCRA cellulose efficiently.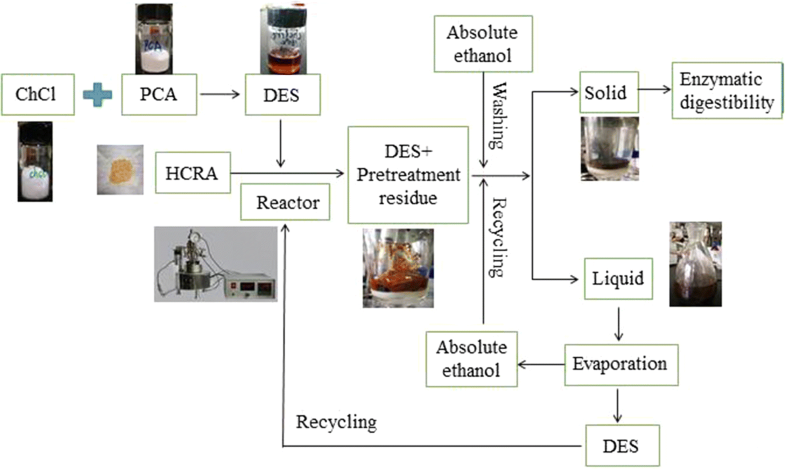 Keywords
Deep eutectic solvents 
Enzymatic hydrolysis 
Lignin 
Pretreatment 
Structure changes 
Notes
Acknowledgments
This work was supported financially by the National Natural Science Foundation of China (Grant Numbers 51876206, 51506207, 21476233), the Natural Science Foundation of Guangdong Province (Grant Number 2018A030313012), the Young Top-Notch Talent of Guangdong Province, China (Grant Number 2016TQ03N647), Pearl River S&T Nova Program of Guangzhou, China (Grant Number 201610010110), DNL Cooperation Fund, CAS (Grant Number DNL180305), and the Youth Innovation Promotion Association, CAS (Grant Number 2015289).
Copyright information
© Springer Nature B.V. 2019