Enzyme-assisted mechanical grinding for cellulose nanofibers from bagasse: energy consumption and nanofiber characteristics
Abstract
Bagasse fibers are smaller and have more hemicellulose than softwood fibers, which is expected to require less mechanical energy in cellulose nanofiber production as small size and hemicellulose benefit the disintegration of fibrils during a mechanical process. Both bagasse fibers and softwood fibers were used in this investigation for producing nanofibers with enzyme pretreatment followed by mechanical grinding. Results showed that nanofibers from bagasse had more uniform diameters about 9 nm, and the films made from them were more transparent. Grinding energy consumption of bagasse fibers was significantly lower than softwood, by 7.31%, and enzyme pretreatment further improved the energy efficiency, by 59.71%, and the yield of nanofibers, by 30.57%. The mechanical strength and thermal stability of nanofiber films from bagasse fibers were similar with that from softwood fibers. The results support the idea that bagasse, a waste or byproduct from sugar industry can be a promising alternative for nanofiber production.
Graphical abstract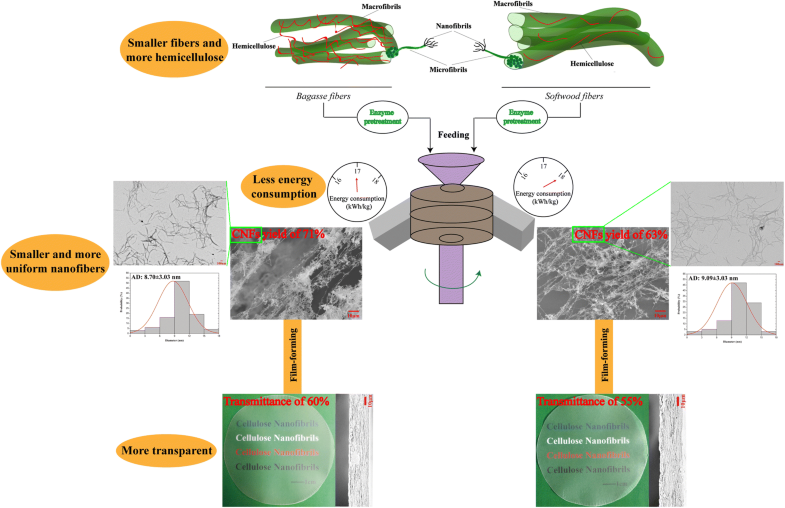 Keywords
Bagasse cellulose nanofibers 
Energy consumption 
Enzyme pretreatment 
Ultrafine grinding 
Notes
Acknowledgments
The authors thank the Project for Graduate Study Overseas of Guangxi University and China Scholarship Council under Grant No. 201706660011 for research assistance. The research is sponsored by the Innovation Project of Guangxi Graduate Education (YCBZ2018016), the National Natural Science Foundation of China (21766002), the Scientific Research Foundation of Guangxi University (XTZ140551), and the Foundation of Guangxi Key Laboratory of Clean Pulp &Papermaking and Pollution Control (KF201606 and ZR201603).
Copyright information
© Springer Nature B.V. 2018