Cellulose gelation in NaOH solutions is due to cellulose crystallization
Abstract
Cellulose gelation in 2 M NaOH aqueous solution was followed by time resolved turbidity and rheology measurements. The kinetics of gelation is observed to change from several hours down to few seconds when the temperature is increased from 25 to 30 °C. The increase of turbidity upon gelation demonstrates the formation of larger cellulose aggregates, while wide angle X-ray scattering data confirms the gradual formation of crystalline domains. This suggests that the gelation can be understood as cellulose precipitation/crystallization where an effectively cross linked network and gelation results from that cellulose chains may participate in more than one crystallite.
Graphical Abstract
The gelation of cellulose solutions is due to crystallization and precipitation of cellulose.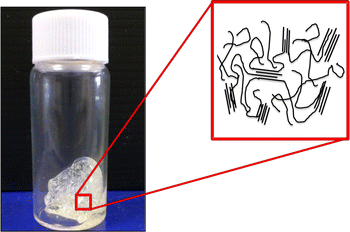 Keywords
Cellulose 
Gelation 
NaOH 
Crystallites, WAXS 
Notes
Acknowledgments
This work was supported by Nils and Dorthi Troëdssons Foundation, The Swedish Research Council, the Swedish Research Council Formas, and the Portuguese Foundation for Science and Technology (FCT) through project PTDC/AGR-TEC/4814/2014 and researcher grant IF/01005/2014. Ana Pereira acknowledges the support from the ERASMUS + mobility program. UO thanks Masayuki Imai for stimulating discussions.
Compliance with ethical standards
Conflict of interest
The authors declare that they have no conflict of interest.
Copyright information
© Springer Science+Business Media B.V., part of Springer Nature 2018