Abstract
Superhydrophobic cotton fabrics consisting of tea polyphenol/Fe hybrid coatings on cotton fabrics (TP/Fe@cotton fabrics) were fabricated via a facile, highly efficient, and environmentally friendly method. No fluorinated substances or organic solvents were used in the preparation process that involved only Fe2+, natural substances, and water. The original and modified cotton fabrics were characterized by scanning electron microscopy, atomic force microscopy, and X-ray photoelectron spectroscopy. A coating with a uniform 3D bulge-like form and many closely arranged microparticles was coated onto the surface of the TP/Fe@cotton fabric. Compared to the original cotton fabric, the TP/Fe@cotton fabric showed a higher superhydrophobicity, with a water contact angle of approximately 161° and sliding angle about 15°. The TP/Fe@cotton fabric could withstand 1000 cycles of abrasion without an apparent decrease of the contact angle, and was also stable under a variety of harsh environmental conditions. In addition, the TP/Fe@cotton fabric demonstrated an excellent self-cleaning performance and a highly efficient separation of various oil–water mixtures. Furthermore, its separation performance remained excellent even under harsh conditions or after being reused ten times. This facile, highly efficient, and environmentally friendly preparation method has potential prospects for industrialization, and the superhydrophobic TP/Fe@cotton fabric has potential value in practical applications such as oil–water separation.
This is a preview of subscription content, log in to check access.
Access options
Buy single article
Instant unlimited access to the full article PDF.
US$ 39.95
Price includes VAT for USA
Subscribe to journal
Immediate online access to all issues from 2019. Subscription will auto renew annually.
US$ 199
This is the net price. Taxes to be calculated in checkout.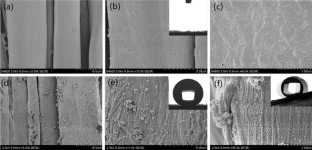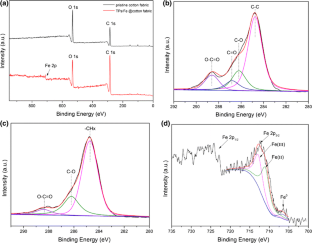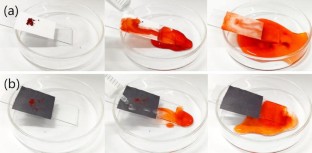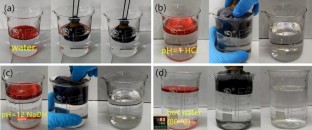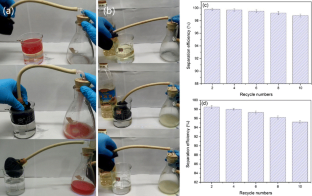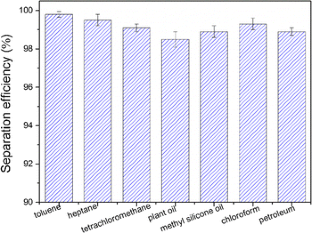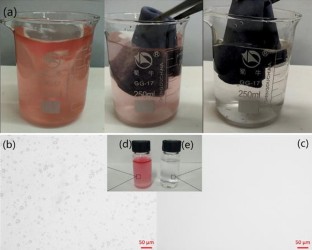 Acknowledgments
This work was supported by the National Nature Science Foundation of China (51741301), the Priority Academic Program Development of Jiangsu Higher Education Institutions (PAPD-2014-9), and the Postgraduate Research and Practice Innovation Program of Jiangsu Province (KYCX17_1989).
Electronic supplementary material
Below is the link to the electronic supplementary material.
Supplementary material 2 (MP4 8629 kb)
Supplementary material 7 (MP4 24263 kb)
About this article
Cite this article
Zhou, Q., Chen, G. & Xing, T. Facile construction of robust superhydrophobic tea polyphenol/Fe@cotton fabric for self-cleaning and efficient oil–water separation. Cellulose 25, 1513–1525 (2018) doi:10.1007/s10570-018-1654-1
Received:

Accepted:

Published:

Issue Date:
Keywords
Cotton fabric

Superhydrophobic

Oil–water separation

Tea polyphenol

Ferrous ion

Environmentally friendly