Abstract
Background
The developmental–ecological model highlights the contextual environments that influence children's emotional and behavioral adjustment. No previous research considers neighborhood characteristics when examining the influence of extended family members.
Objective
This study investigates the characteristics of neighborhoods where extended family households reside, and the confounding and moderating effects of extended family household structure and the neighborhood influences of income and co-ethnic concentration levels.
Method
Data come from the Los Angeles Family and Neighborhood Study and the decennial census. The analytical sample includes 1553 children between the ages of 3 and 11 years, clustered in 1191 households in 65 census tracts. This study uses multilevel linear regression modeling.
Results
Extended family households are more likely than nuclear families to live in lower-income neighborhoods, but with similar proportions of co-ethnics. Children in extended family households show higher levels of both internalizing and externalizing behaviors compared to children in nuclear families, an effect not explained by their neighborhood environments. Extended family members moderate the neighborhood effects, boosting advantages within co-ethnic concentrated neighborhoods. With a higher proportion of co-ethnics in their neighborhoods, children in extended families show lower levels of externalizing behaviors compared to children in nuclear families.
Conclusion
Co-resident extended family members not only predict child internalizing and externalizing behavioral problems but also moderate their neighborhood environments. This study provides policy implications, highlighting the potential of extended members to promote child development.
This is a preview of subscription content, log in to check access.
Access options
Buy single article
Instant unlimited access to the full article PDF.
US$ 39.95
Price includes VAT for USA
Subscribe to journal
Immediate online access to all issues from 2019. Subscription will auto renew annually.
US$ 99
This is the net price. Taxes to be calculated in checkout.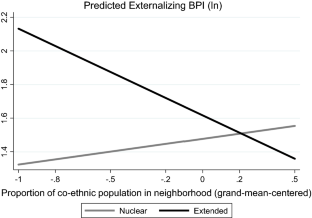 Notes
1.

Log-transformed income is used because the distribution of family income as well as the neighborhood-level median household income are negatively skewed, which can lead to inflated standard errors in regression analysis (Berk 1983).
References
Aneshensel, C. S., & Sucoff, C. A. (1996). The neighborhood context of adolescent mental health. Journal of Health and Social Behavior, 37(4), 293–310.

Attar, B. K., Guerra, N., & Tolan, P. H. (1994). Neighborhood disadvantage, stressful life events and adjustments in urban elementary-school children. Journal of Clinical Child Psychology, 23(4), 391–400.

Berk, R. A. (1983). An Introduction to sample selection bias in sociological data. American Sociological Review, 48(3), 386–398. https://doi.org/10.2307/2095230.

Bronfenbrenner, U. (1986). Ecology of the family as a context for human development: Research perspectives. Developmental Psychology Developmental Psychology, 22(6), 723–742.

Cox, M. J., & Paley, B. (1997). Families as system. Annual Review of Psychology, 48(1), 243.

Cramer, J., & McDonald, K. (1996). Kin support and family stress: Two sides to early childbearing and support networks. Human Organization, 55(2), 160–169.

Cross, C. J. (2018). Extended family households among children in the United States: Differences by race/ethnicity and socio-economic status. Population Studies, 72(2), 235–251.

Crowder, K., & Teachman, J. (2004). Do residential conditions explain the relationship between living arrangements and adolescent behavior? Journal of Marriage and Family, 66(3), 721–738.

DeLeire, T., & Kalil, A. (2002). Good things come in threes: Single-parent multigenerational family structure and adolescent adjustment. Demography, 39(2), 393–413.

Frank, R., Cerdá, M., & Rendón, M. (2007). Barrios and burbs: Residential context and health-risk behaviors among angeleno adolescents. Journal of Health and Social Behavior, 48(3), 283–300.

Galster, G., & Santiago, A. (2017). Neighbourhood ethnic composition and outcomes for low-income Latino and African American children. Urban Studies, 54(2), 482–500.

García Coll, C., Crnic, K., Lamberty, G., Wasik, B. H., Jenkins, R., Garcia, H. V., et al. (1996). An integrative model for the study of developmental competencies in minority children. Child Development, 67(5), 1891–1914.

Gaytán, F., & Suárez-Orozco, C. (2011). Social-emotional challenges for newcomer latino youth in educational settings. In N. J. Cabrera, F. Villarruel, & H. E. Fitzgerald (Eds.), Latina and Latino children's mental health (Vol. 1, pp. 243–268). Santa Barbara, California: Praeger/ABC-CLIO.

Georgiades, K., Boyle, M. H., & Duku, E. (2007). Contextual influences on children's mental health and school performance: The moderating effects of family immigrant status. Child Development, 78(5), 1572–1591.

Gerstel, N. (2011). Rethinking families and community: The color, class, and centrality of extended kin ties. Sociological Forum, 26(1), 1–20.

Glick, J. E., & Van Hook, J. (2011). Does a house divided stand? Kinship and the continuity of shared living arrangements. Journal of Marriage & Family, 73(5), 1149–1164.

Goldstein, H. (1995). Multilevel statistical models (2nd ed.). London: E. Arnold.

Gonzales, N. A., Coxe, S., Roosa, M. W., White, R. M. B., Knight, G. P., Zeiders, K. H., et al. (2011). Economic hardship, neighborhood context, and parenting: Prospective effects on Mexican-American adolescent's mental health. American Journal of Community Psychology, 47(1/2), 98–113.

Hamilton, H. A. (2005). Extended families and adolescent well-being. Journal of Adolescent Health, 36(3), 260–266.

Harrison, A. O., Wilson, M. N., Pine, C. J., Chan, S. Q., & Buriel, R. (1990). Family ecologies of ethnic minority children. Child Development, 61(2), 347–362.

Hoffmann, J. P. (2002). The community context of family structure and adolescent drug use. Journal of Marriage & Family, 64(2), 314–330.

Hoffmann, J. P. (2006). Family structure, community context, and adolescent problem behaviors. Journal of Youth and Adolescence, 35(6), 867–880.

Hurd, N. M., Stoddard, S. A., & Zimmerman, M. A. (2013). Neighborhoods, social support, and African American adolescents' mental health outcomes: A multilevel path analysis. Child Development, 84(3), 858–874. https://doi.org/10.1111/cdev.12018.

Kang, J., & Cohen, P. N. (2017). Extended kin and children's behavioral functioning: Family structure and parental immigrant status. Social Science and Medicine, 186, 61–69.

Kasnitz, P., Mollenkopf, J. H., Waters, M. C., & Holdaway, J. (2009). Inheriting the city: The children of immigrants come of age. New York: Russell Sage Foundation.

King, S. M., Iacono, W. G., & McGue, M. (2004). Childhood externalizing and internalizing psychopathology in the prediction of early substance use. ADD Addiction, 99(12), 1548–1559.

Kowaleski-Jones, L., & Dunifon, R. (2006). Family structure and community context evaluating influences on adolescent outcomes. Youth & Society, 38(1), 110–130.

Kreider, R. M., & Ellis, R. (2011). Living Arrangements of Children: 2009 (pp. 70–126). Washington, DC: US Census Bureau. 

Leach, M. (2012). A Burden of Support? Household Structure and Economic Resources Among Mexican Immigrant Families. Journal of Family Issues, 35, 28–53.

Leventhal, T., & Brooks-Gunn, J. (2000). The neighborhoods they live in: The effects of neighborhood residence on child and adolescent outcomes. Psychological Bulletin, 126(2), 309–337.

Levesque, R. J. R. (2014). Encyclopedia of adolescence. Berlin: Springer.

Mare, R. D. (2011). A multigenerational view of inequality. Demography, 48(1), 1–23.

Massey, D. S., & Denton, N. A. (1993). American apartheid: Segregation and the making of the underclass. Cambridge: Harvard University Press.

McLanahan, S., & Sandefur, G. D. (1994). Growing up with a single parent: What hurts, what helps. Cambridge, MA: Harvard University Press.

McLeod, J. D., & Kaiser, K. (2004). Childhood emotional and behavioral problems and educational attainment. American Sociological Review, 69(5), 636–658.

Mollborn, S., Fomby, P., & Dennis, J. A. (2011). Who matters for children's early development? Race/ethnicity and extended household structures in the United States. Child Indicators Research, 4(3), 389–411. https://doi.org/10.1007/s12187-010-9090-2.

Mollborn, S., Fomby, P., & Dennis, J. A. (2012). Extended household transitions, race/ethnicity, and early childhood cognitive outcomes. Social Science Research, 41(5), 1152–1165. https://doi.org/10.1016/j.ssresearch.2012.04.002.

Noah, A. J. (2018). Understanding the relationships between diverse family structures and the development of emotion regulation of Mexican-origin children: Population-based estimates. Child Indicators Research, 11(5), 1515–1530.

Peterson, C. E., Sastry, N., Pebley, A. R., Ghosh-Dastidar, B., Williamson, S., & Lara-Cinisomo, S. (2004). The Los Angeles family and neighborhood survey. Los Angeles: RAND. Retrieved August, 30, 2017,  from http://www.rand.org/content/dam/rand/pubs/drafts/2005/DRU2400.2-1.pdf.

Peterson, J. L., & Zill, N. (1986). Marital disruption, parent–child relationships, and behavior problems in children. Journal of Marriage and Family, 48(2), 295–307.

Raudenbush, S. W., & Bryk, A. S. (2002). Hierarchical linear models: Applications and data analysis methods. Thousand Oaks: SAGE Publications.

Riley, A. W., Finney, J. W., Mellits, E. D., Starfield, B., Kidwell, S., Quaskey, S., et al. (1993). Determinants of children's health care use: An investigation of psychosocial factors. Medical Care, 31(9), 767–783.

Roosa, M. W., Deng, S., Ryu, E., Burrell, G. L., Tein, J.-Y., Jones, S., et al. (2005). Family and child characteristics linking neighborhood context and child externalizing behavior. Journal of Marriage & Family, 67(2), 515–529.

Sampson, R. J., Raudenbush, S. W., & Earls, F. (1997). Neighborhoods and violent crime: A multilevel study of collective efficacy. Science, 277(5328), 918–924.

Santiago, C. D., Wadsworth, M. E., & Stump, J. (2011). Socioeconomic status, neighborhood disadvantage, and poverty-related stress: Prospective effects on psychological syndromes among diverse low-income families. Journal of Economic Psychology, 32(2), 218–230.

Upchurch, D. M., Aneshensel, C. S., Mudgal, J., & McNeely, C. S. (2001). Sociocultural contexts of time to first sex among hispanic adolescents. Journal of Marriage & Family, 63(4), 1158.

Wickrama, K. A. S., & Bryant, C. M. (2003). Community context of social resources and adolescent mental health. Journal of Marriage and Family, 65(4), 850–866.

Williams, D. R., & Collins, C. (2001). Racial residential segregation: A fundamental cause of racial disparities in health. Public Health Reports, 116(5), 404–416.

Wilson, W. J. (1987). The truly disadvantaged: The inner city, the underclass, and public policy. Chicago: University of Chicago Press.
Acknowledgements
This research uses data from the Los Angeles Family and Neighborhood Survey (L.A. FANS). Data collection for L.A. FANS was funded primarily by Grants HD35944 and HD49865 from the Eunice Kennedy Shriver National Institute of Child Health and Human Development, Grant AG22005 from the National Institute on Aging, and Grant ES13907 from the National Institute of Environmental Health Science. Information on how to obtain the L.A. FANS data files is available on the L.A. FANS website (www.lasurvey.rand.org). The author thanks the editor and the anonymous reviewers for their constructive remarks that helped develop and strengthen this research. Gratitude is extended to Philip N. Cohen and Ruth Triplett for their comments and support associated with this research.
Ethics declarations
Conflict of interest
The author declares that she or he has no conflict of interest.
Ethical Approval
All procedures performed in studies involving human participants were in accordance with the ethical standards of the institutional and/or national research committee and with the 1964 Helsinki declaration and its later amendments or comparable ethical standards. For this type of study, formal consent is not required. This article does not contain any studies with animals performed by any of the authors.
Additional information
Publisher's Note
Springer Nature remains neutral with regard to jurisdictional claims in published maps and institutional affiliations.
About this article
Cite this article
Kang, J. Do Extended Family Members Protect Children from Disadvantaged Neighborhoods? Focusing on Behavioral Problems of Children. Child Youth Care Forum 48, 427–447 (2019). https://doi.org/10.1007/s10566-019-09489-6
Keywords
Child development

Internalizing behaviors

Externalizing behaviors

Extended family household

Neighborhood environments