Abstract
A simple, efficient and environmentally benign method has been discussed for the synthesis of aldehydes and ketones by the oxidative decarboxylation of phenylacetic acid under ligand free condition using simple, efficient, preparatively easy, magnetically recoverable and low cost spinel CuFe2O4 nanoparticles. The catalyst was characterised using powder-XRD, FTIR, FE-SEM, EDX, VSM and HRTEM. The recyclability was examined and the results showed that the catalyst remained almost equally active up to five consecutive cycles.
Graphic Abstract
Spinel Structured Copper Ferrite is a very efficient nano catalyst for Oxidative decarboxylation of Phenyl acetic acids and can be reused up to five cycles without significant loss in catalytic activity.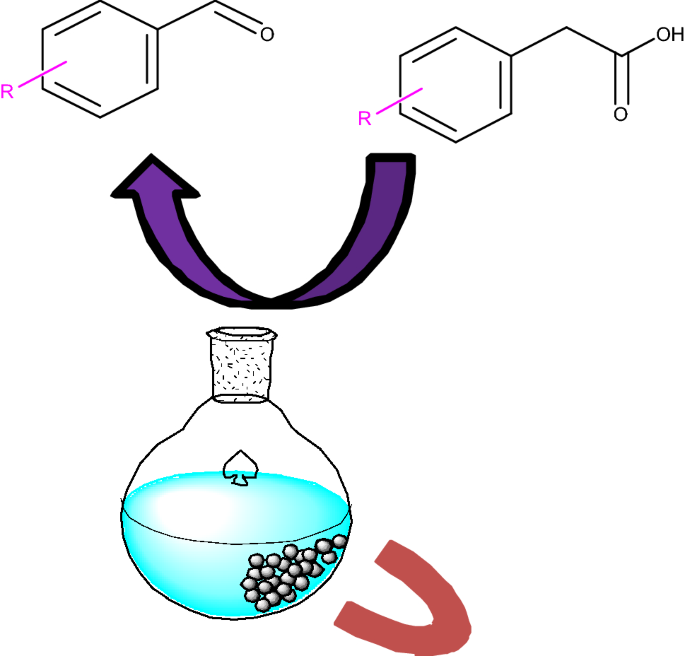 This is a preview of subscription content, log in to check access.
Access options
Buy single article
Instant access to the full article PDF.
US$ 39.95
Price includes VAT for USA
Subscribe to journal
Immediate online access to all issues from 2019. Subscription will auto renew annually.
US$ 199
This is the net price. Taxes to be calculated in checkout.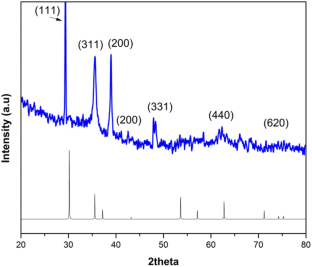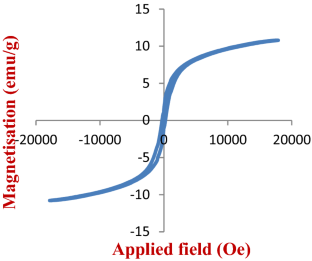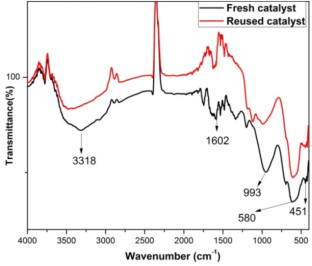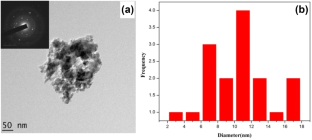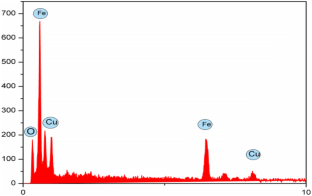 References
1.

Feng Q, Song Q (2014) J Org Chem 79:1867

2.

Jun CH (2004) Chem Soc Rev 33:610

3.

Dzik WI, Lange PP, Goossen L (2012) J Chem Sci 3:2671

4.

Rodriguez N, Goossen L (2011) J. Chem. Soc. Rev. 40:5030

5.

Mete TB, Khopade TM, Bhat RG (2017) Tetrahedron Lett 58:2822

6.

Shang R, Yang ZW, Wang Y, Zhang SL, Liu L (2010) J Am Chem Soc 132:14391

7.

Shang R, Huang Z, Chu L, Fu Y, Liu L (2011) Org Lett 13:4240

8.

Shang R, Ji DS, Chu L, Fu Y, Liu L (2011) Angew Chem Int Ed 50:4470

9.

Song Q, Feng Q, Zhou M (2013) Org Lett 15:5990

10.

Feng Q, Song Q (2014) Adv Synth Catal 356:1697

11.

Song Q, Feng Q, Yang K (2014) Org Lett 16:624

12.

Hussain FL, Suri M, Namdeo A, Borah G, Dutta D, Goswami T, Pahari P (2019) Catal Commun 124:76

13.

Kumar V, Mariappan CR, Azmi R, Moock D, Indris S, Bruns M, Ehrenberg H, Prakash GV (2017) ACS Omega 2:6003

14.

Pendashteh A, Rahmanifar MS, Kaner RB, Mousavi MF (2014) Chem Commun 50:1972

15.

Wu H, Lou Z, Yang H, Shen G (2015) Nanoscale 7:1921

16.

Goyal A, Bansal S, Kumar V, Singh J, Singhal S (2015) Appl Surf Sci 324:877

17.

Nassar MY, Khatab M (2016) RSC Adv. 6:79688

18.

Ghose J, Murthy KSRC (1996) J Catal 162:359

19.

Salker AV, Gurav SM (2000) J Mater Sci 35:4713

20.

Hosseini SA, Niaei A, Salari D, Nabavi SR (2012) Ceram Int 38:1655

21.

Zhai X, Yang W, Li M, Lv G, Liu J, Zhang X (2013) Carbon 65:277

22.

Bazgir A, Hosseini G, Ghahremanzadeh R (2013) ACS Comb. Sci. 15:530

23.

Zhang R, Miao C, Shen Z, Wang S, Xia C, Sun W (2012) ChemCatChem 4:824

24.

Huynh MM, Do DP, Tran TN, Nguyen HKH, Tran HQ, Luu TX (2018) Catal Lett 148:924

25.

Rahman T, Borah G, Gogoi PK (2019) J Chem Sci 131:4.

26.

Rahman T, Borah G, Gogoi PK (2018) J Indian Chem Soc 95:795

27.

Chavan P, Naik LR (2018) Sens. Actuators 272:28

28.

Vergis BR, Krishna RH, Kottam N, Nagabhushana BM, Sharath R, Darukaprasad B (2018) J. Nanostruct. Chem. 8:1

29.

Baruah D, Konwar D (2015) Catal Commun 69:68
Acknowledgements
The authors acknowledge the analytical services provided by STIC Kochi, SAIF NEHU Shillong, CIF IIT Guwahati, CSIC Dibrugarh University. The authors are also grateful to UGC, New Delhi, India for the financial support under the scheme SAP-DRS-I (2016-2021) and the Department of Science and Technology for financial assistance under the DST-FIST program.
Additional information
Publisher's Note
Springer Nature remains neutral with regard to jurisdictional claims in published maps and institutional affiliations.
Electronic supplementary material
Below is the link to the electronic supplementary material.
About this article
Cite this article
Rahman, T., Borah, G. & Gogoi, P.K. Spinel Structured Copper Ferrite Nano Catalyst with Magnetic Recyclability for Oxidative Decarboxylation of Phenyl Acetic Acids. Catal Lett (2020). https://doi.org/10.1007/s10562-020-03131-0
Received:

Accepted:

Published:
Keywords
Heterogeneous catalysis

Oxidative decarboxylation

Phenyl acetic acid

Magnetic nanoparticles