Pd Nanoparticles Assembled on Metalporphyrin-Based Microporous Organic Polymer as Efficient Catalyst for Tandem Dehydrogenation of Ammonia Borane and Hydrogenation of Nitro Compounds
Abstract
Metalporphyrin-based porous polymers supporting high dispersed Pd nanoparticle (NP) catalysts (HUST-1-Pd) were prepared with a novel solvent-knitting hyper-crosslinked polymer method using 5-, 10-, 15-, and 20-tetraphenylporphyrin (TPP) as building blocks. The N2 sorption isotherms of the catalysts show that the HUST-1-Pd possesses many ultra-micropores and continuous mesopores. The NPs are assembled on tetraphenylporphyrin structures and show Pd-N4 composition-dependent catalysis for methanolysis of ammonia borane (AB) and hydrogenation of aromatic nitro compounds to primary amines in methanol solutions at room temperature. The nano-palladium reduced by NaBH4 has efficient catalytic activity for AB methanolysis. A variety of R-NO2 derivatives were reduced selectively into R-NH2 via palladium catalyzed tandem reactions with 5–30 min of reaction time with conversion yields reaching up to 90%. The derivatives also give excellent recycling performance (more than 10 times). Furthermore, the turnover frequency (TOF) can reach 87,209 h−1. The HUST-1-Pd compounds represent a unique metal catalyst for hydrogenation reactions in a green environment without using pure hydrogen.
Graphic Abstract
A monodisperse Pd NPs embed in porphyrin-based microporous organic polymer was reported to catalyse the tandem dehydrogenation of ammonia borane and hydrogenation of R-NO
2
to R-NH
2
at room temperature. The catalyst is efficient and reusable in an environment-friendly process with short reaction times and high yields.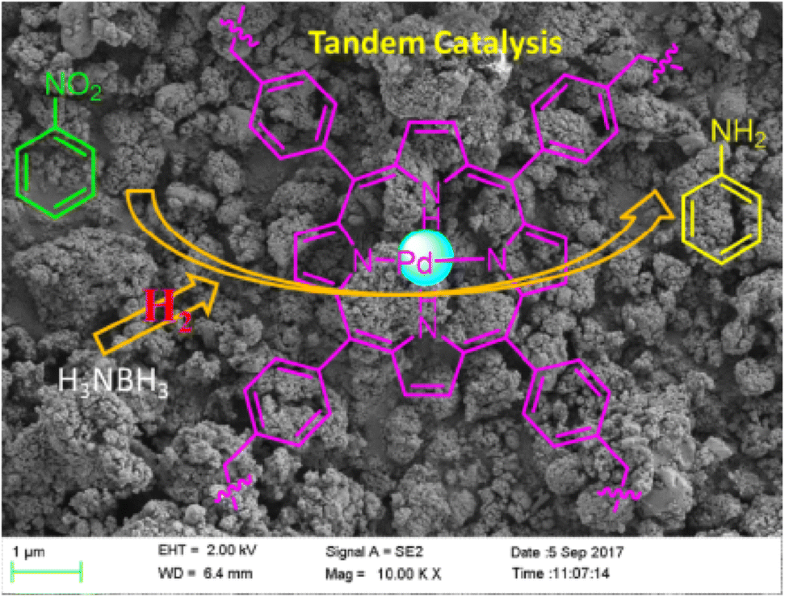 Keywords
Microporous organic polymer 
Metalloporphyrin 
Tandem reaction 
Hydrogenation 
Notes
Acknowledgements
This work was financially supported by the Science and Technology Planning Project of Guangdong Province (2017B030314092), the Fundamental Research Funds of CWNU (17C038) and Meritocracy Research Funds of CWNU (17Y031), Science and Technology Foundation of Sichuan Province (2017JY0015).
Copyright information
© Springer Science+Business Media, LLC, part of Springer Nature 2019