Effect of Carbon Support on the Electrocatalytic Performance of the Pt Nanoparticles Toward Oxidation of Formic Acid
Abstract
Nowadays, fuel cells (FCs) attracted a great deal of attention due to their many applications and advantages: Higher efficiency than diesel or gas engines, less pollution than fossil fuels, no using fuels such as oil and gas and reducing economic dependence on fossil fuel producing countries and easy maintenance are the advantages of FCs. However, the obstacles encountered FCs commercialization's are mainly expensive electrocatalyst materials such as platinum (Pt), it's poisoning by intermediates like as CO and sluggish electrooxidation kinetics of fuels. For this reasons, in order to minimize the amount of Pt and accordingly total cost of FCs and also decreasing the poisoning effects, Pt particles are deposited on/in different conductive supports. Herein we investigated the effect of carbon nanoparticles (CNPs) and reduced graphene oxide (RGO) nanosheets on the carbon-ceramic electrode (CCE) as support for Pt nanoparticles (PtNPs) toward formic acid electro-oxidation. PtNPs were successfully deposited on the CNPs and RGO with electrochemical method. The fabricated nanocomposites were characterized by the field emission scanning electron microscopy, energy-dispersive X-ray and X-ray powder diffraction spectroscopy. The electrocatalytic activities of the prepared electrocatalysts for oxidation of formic acid were investigated in 0.1 M H2SO4 solution by electrochemical techniques including cyclic voltammetry (CV) and chronoamperometry (CA). The results of the experiments revealed that the PtNPs on the CNPs, PtNPs/CNPs/CCE, shows more electrocatalytic activity than the RGO nanosheets support. This high electrocatalytic efficiency of the PtNPs/CNPs/CCE can be attributed to large specific surface area and unique structure of CNPs that is being used as support. The influence of some experimental agents on the electrocatalytic activity of the PtNPs/CNPs/CCE was investigated and the optimal conditions were suggested. The present investigation reveals that the PtNPs/CNPs/CCE is a promising electrocatalyst for the formic acid electro-oxidation reaction in FCs.
Graphic Abstract
Preparation and electrocatalytic performance of carbon support and alone PtNPs toward oxidation of formic acid.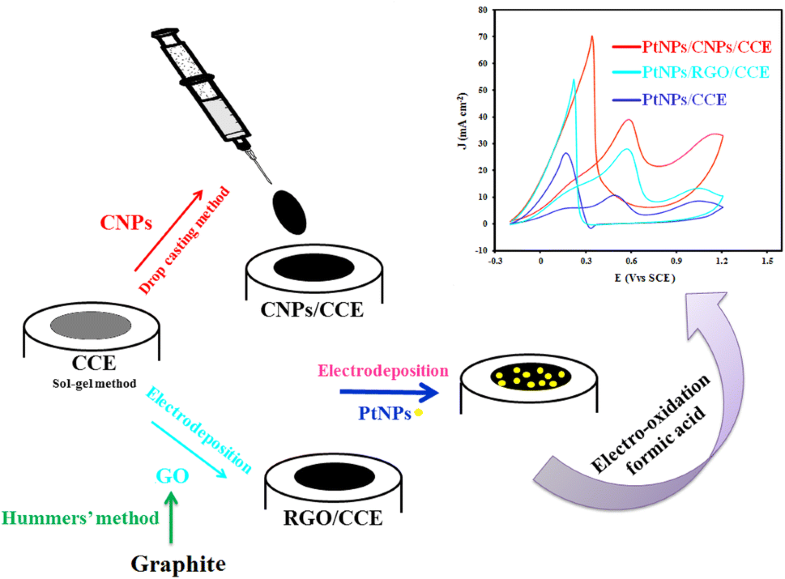 Keywords
Carbon nanoparticles 
Reduced graphene oxide 
Platinum nanoparticles 
Carbon-ceramic electrode 
Formic acid 
Fuel cells 
Notes
Acknowledgments
The authors are grateful to the Research Office of Azarbaijan Shahid Madani University, Tabriz, Iran for financial support.
Compliance with Ethical Standards
Conflict of interest
The authors declare that they have no conflict of interest.
Copyright information
© Springer Science+Business Media, LLC, part of Springer Nature 2019