Abstract
Infrared spectra of dealuminated high silica MFI zeolites were measured to elucidate the structure of silanol groups active for conversion of 1-butene to propene. The OH groups were replaced by OD groups to have clear vibrational spectra. Two sharp bands and one broad band were observed; isolated silanol at 2746 cm−1, terminal silanol at 2725 cm−1, and hydrogen-bonded silanols centered at 2570 cm−1 composed of more than one components. Based on the response of these bands to Na poisoning and pyridine adsorption together with the correlation with catalytic results, we propose that the active sites for propene formation are one of the terminal silanol groups and one of the hydrogen-bonded silanol groups in a silanol nest. The active hydrogen-bonded silanol groups are the one whose O atom is hydrogen-bonded to adjacent two H atoms in the silanol nest.
Graphic Abstract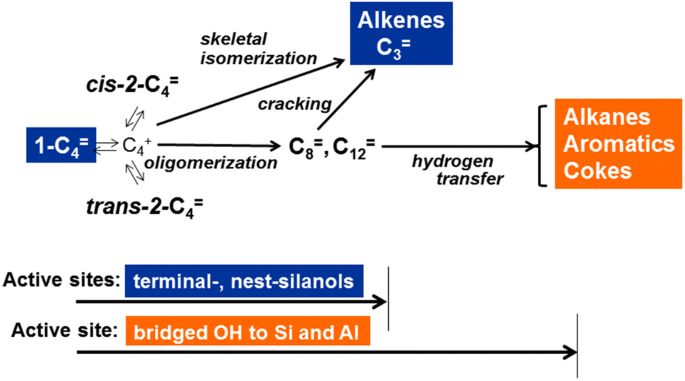 This is a preview of subscription content, log in to check access.
Access options
Buy single article
Instant access to the full article PDF.
US$ 39.95
Price includes VAT for USA
Subscribe to journal
Immediate online access to all issues from 2019. Subscription will auto renew annually.
US$ 199
This is the net price. Taxes to be calculated in checkout.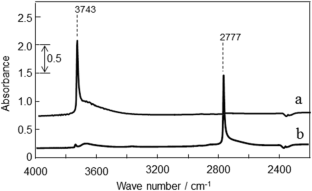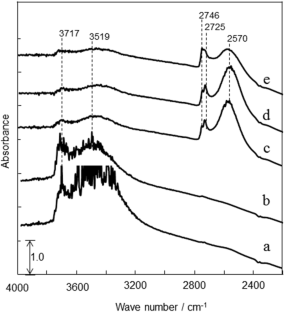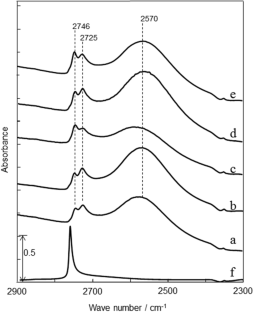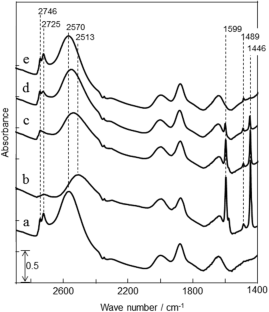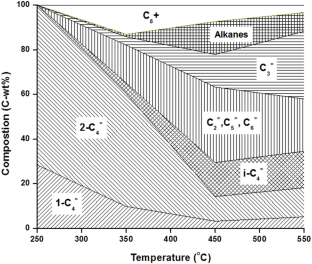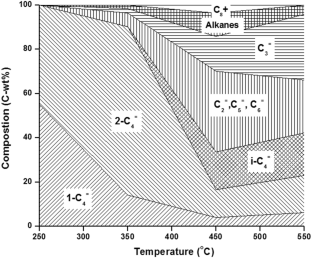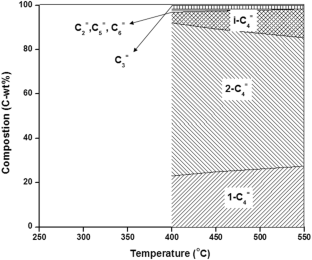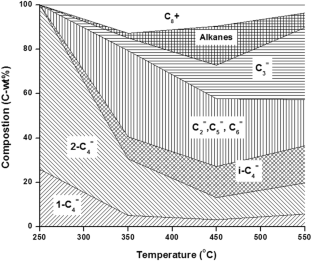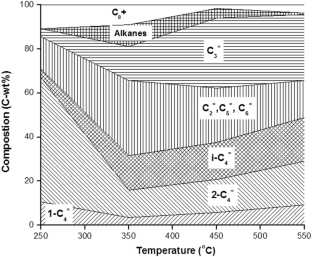 References
1.

Aitani A (2006) Encyclopedia of chemical processing. In: Lee S (ed) Taylor & Francis, New York, p 2461

2.

Amghizar I, Vandewalle LA, Van Geem KM, Marin GB (2017) Engineering 3:7

3.

Blay V, Epelde E, Miravalles R, Perea LA (2018) Catal Rev 60:278

4.

Ramani B (2019) Presented at the Asian petrochemical industry conference (APIC), Taipei, May 2019

5.

Zhu X, Liu L, Song Y, Xu L (2005) Catal Lett 103:201

6.

Xue N, Nie L, Pang D, Guo X, Shen J, Ding W, Chen Y (2009) Appl Catal A 352:87

7.

Zhu X, Liu S, Song Y, Xu L (2005) Appl Catal A 288:134

8.

Vora B, Marker TL, Barger PT (2000) US Patent 6,049,017

9.

Tang X, Zhou H, Qian W, Wang D, Zhao S, Jin Y, Wei F (2008) Catal Lett 125:380

10.

Epelde E, Gayubo AG, Olazar M, Bilbao J, Aguayo AT (2014) Ind Eng Chem Res 53:4614

11.

Lin L, Qui C, Zhuo Z, Zhang D, Zhao S, Wu H, Liu Y, He M (2014) J Catal 309:136

12.

Zhao G, Teng J, Zhang Y, Yue Y, Chen Q, Tang Y (2006) Appl Catal A 299:167

13.

Zeng P, Liang Y, Ji S, Shen B, Liu H, Wang B, Zhao H, Li M (2014) J Energy Chem 23:193

14.

Zhu X, Liu S, Song Y, Xie S, Xu L (2005) Appl Catal A 290:191

15.

Rahimi N, Karimzadeh R (2011) Appl Catal A 398:1

16.

Zhao G, Teng J, Xie Z, Jin W, Yang W, Chen Q, Tang Y (2007) J Catal 248:29

17.

Xue N, Chen X, Nie L, Guo X, Ding W, Chen Y, Gu M, Xie Z (2007) J Catal 248:20

18.

Xue N, Liu N, Nie L, Yu Y, Gu M, Peng L, Guo X, Ding W (2010) J Mol Catal A 327:12

19.

Gao X, Tang Z, Zhang H, Liu C, Zhang Z, Lu G, Ji D (2010) Korean J Chem Eng 27:812

20.

Li J, Ma H, Sun Q, Ying W, Fang D (2015) Fuel Process Technol 134:32

21.

Epelde E, Gayubo AG, Olazar M, Bilbao J, Aguayo AT (2014) Chem Eng J 251:80

22.

Lv J, Hua Z, Ge T, Zhou J, Liu Z, Guo H, Shi J (2017) Microporous Mesoporous Mat 247:31

23.

Xu R, Liu J, Liang C, Jia W, Li F, Guo H (2011) J Fuel Chem Technol 39:449

24.

Zhang R, Wang Z (2015) Ciesc J 66:571

25.

Zhang R, Wang Z (2015) Chin J Chem Eng 23:1131

26.

Zhao S, Yang D, Zhang X, Yao X, Liu Y, He MY (2016) Chem Commun 52:11191

27.

Abdalla A, Arudra P, Al-Khattaf SS (2017) Appl Catal A 533:109

28.

Arudra P, Bhiyan TI, Aktar MN, Aitani AM, Al-Khattaf SS, Hattori H (2014) ACS Catal. 4:4205

29.

Ichihashi H, Sato H (2001) Appl Catal A 221:359

30.

Hölderich WF, Röseler J, Heitmann G, Liebens A (1997) Catal Today 37:353

31.

Heitmann GP, Dahlhelt G, Hölderich WF (1999) J Catal 186:12

32.

Ichihashi H, Ishida M, Shiga A, Kitamura M, Suzuki T, Suenobu K, Sugita K (2003) Catal Surv Asia 7:261

33.

Dessau RM, Schmitt KD, Kerr GT, Woolery GL, Alemany LB (1987) J Catal 104:484

34.

Zecchina A, Bordiga S, Spoto G, Marchese L (1992) J Phys Chem 96:4991

35.

Astrino E, Peri JB, Willey RJ, Busca G (1995) J Catal 157:482
Acknowledgements
The authors appreciate the support from King Fahd University of Petroleum & Minerals (KFUPM) in conducting this work.
Ethics declarations
Conflict of interest
The authors have no conflicts to declare.
Additional information
Publisher's Note
Springer Nature remains neutral with regard to jurisdictional claims in published maps and institutional affiliations.
About this article
Cite this article
Hattori, H., Arudra, P., Abdalla, A. et al. Infrared Study of Silanol Groups on Dealuminated High Silica MFI Zeolite to Correlate Different Types of Silanol Groups with Activity for Conversion of 1-Butene to Propene. Catal Lett 150, 771–780 (2020). https://doi.org/10.1007/s10562-019-02972-8
Received:

Accepted:

Published:

Issue Date:
Keywords
Silanol groups

IR spectroscopy

MFI zeolite

1-Butene

Propene