Diamine-Decorated Graphene Oxide with Immobilized Gold Nanoparticles of Small Size for Alkenes Epoxidation with H2O2
Abstract
Diamine-decorated graphene oxide (NH2-GO) is successfully synthesized by covalently intercalated ethanediamines into the flat planes and edge of the GO sheet. The diamines could be act as buffer layer, thereby avoiding the stacking of graphene sheets, and offer abundant metal-chelating sites to subsequently obtain well-dispersed metal nanoparticles of small size. After the in situ reduction and deposition of AuNPs, it was found that the Au particle size of Au0.9%@NH2-GO estimated to be around 2–5 nm. The as-prepared GO-supported small AuNPs exhibited good catalytic performance for the heterogeneous epoxidation of alkenes with H2O2 under mild conditions. Notably, they presented good expansibility for either bulky or less bulky alkenes in this reaction, owing to the facilitated efficiency of mass transfer of substrates and products resulted from the supporting effect of intercalated diamines and high surface area of GO. Moreover, these heterogeneous catalysts could be readily recovered and recycled for five times with the remained activity and selectivity.
Graphic Abstract
Gold nanoparticles of small size immobilized on the diamine-decorated graphene oxide has been developed, which employed as an efficient, universal and reusable catalyst for the epoxidation of alkenes using H
2
O
2
as an oxidant.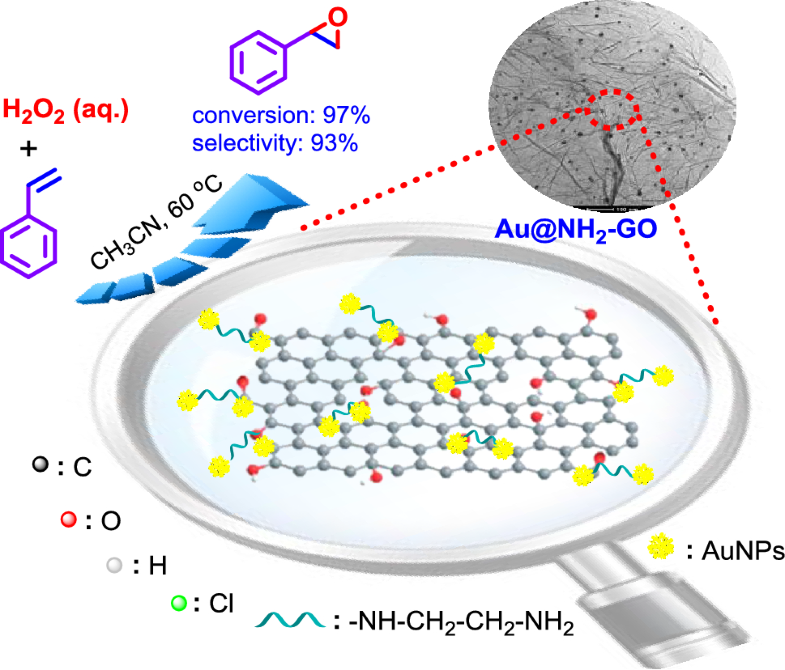 Keywords
Graphene oxide 
Gold nanoparticles 
Heterogeneous catalysis 
Epoxidation 
Notes
Acknowledgements
The project was financially supported by the Scientific Research Project of Education Department of Hunan Province (Grant No. 16C1083) and the Doctoral Scientific Research Start-up Project of Hunan University of Arts and Science.
Compliance with Ethical Standards
Conflict of interest
The authors declare that they have no conflicts of interest.
Copyright information
© Springer Science+Business Media, LLC, part of Springer Nature 2019