Acylation of Phenols, Alcohols, Thiols, Amines and Aldehydes Using Sulfonic Acid Functionalized Hyper-Cross-Linked Poly(2-naphthol) as a Solid Acid Catalyst
Abstract
The hyper-cross-linked porous poly(2-naphthol) fabricated by the Friedel–Crafts alkylation of 2-naphthol has been functionalized with sulfonic acid to obtain a solid acid catalyst. The catalyst is applied for the protection of phenol, alcohols, thiols, amines and aldehydes with acetic anhydride at room temperature. The catalytic protection using the new solid acid is featured by achieving high yield at neat condition, needing no aqueous work-up and/or chromatographic separation, and showing excellent recycling efficiency, suggesting the potential of this sulfonated porous polymers as a new protection protocol in a wide range of sustainable chemical reactions.
Graphical Abstract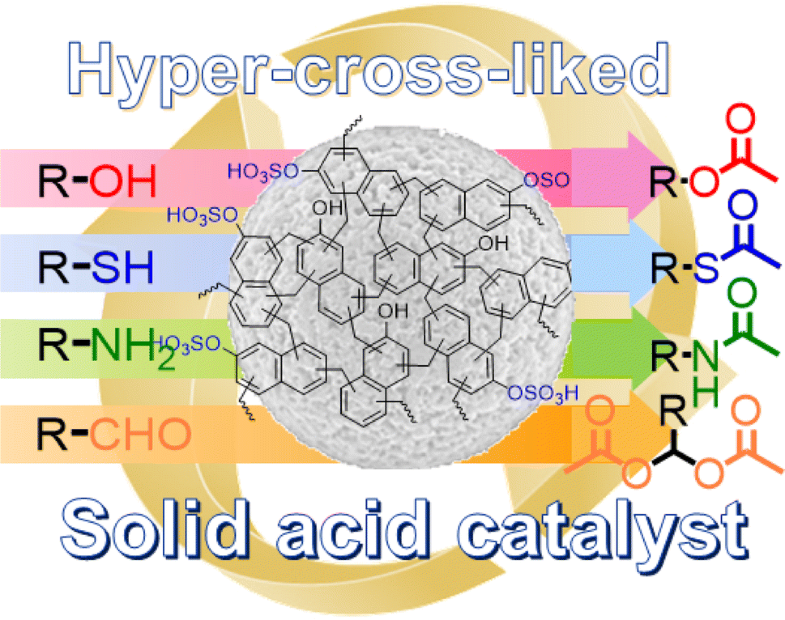 Keywords
Acylation 
Crosslinked polymers 
Heterogeneous catalysis 
Poly(2-naphtol) 
Protection 
Solid acid 
Notes
Acknowledgements
This work was supported by the Basic Science Research Program of the National Research Foundation of Korea (2018R1D1A1A09081809). The authors are also grateful to the BK21 PLUS Program for partial financial support.
Compliance with Ethical Standards
Conflict of interest
The authors declare that they have no conflict of interest.
Copyright information
© Springer Science+Business Media, LLC, part of Springer Nature 2019