LiFePO4/Carbon/Reduced Graphene Oxide Nanostructured Composite as a High Capacity and Fast Rate Cathode Material for Rechargeable Lithium Ion Battery
Abstract
In this study, LiFePO4-carbon (LFP-C) and LFP-C/reduced graphene oxide (rGO) nanocomposites were prepared by ultrasonic spray pyrolysis technique in different calcination conditions to be used as the cathode-active materials for lithium ion battery (LIB). The structure, morphology and composition of the obtained materials were analyzed by X-ray diffraction (XRD), scanning electron microscope (SEM), high-resolution transmission electron microscopy (HR-TEM) and energy-dispersive X-ray spectroscopy (EDX). The XRD results reveal that the olivine pure phase was obtained after calcination of the LFP-C. The SEM images of the prepared materials exhibit the spherical morphology with nanometer size and also change in the morphology by applying the calcination step. The electrochemical performances of cathode-active materials were investigated by charge–discharge test, electrochemical impedance spectroscopy and cyclic voltammetry. The obtained results for LFP-C show that the electrochemical performance was improved by adding carbon precursor and calcining step; in the optimum calcination conditions; 700 °C for 3 h, the LFP-C shows good results in terms of electrochemical performance in comparison with LFP alone. The LFP-C/rGO nanocomposite exhibits the best electrochemical performance however: highest rechargeable capacity and cycle stability; discharge capacity (168 mAh/g at 0.1 C and 123.5 mAh/g at 10 C) and capacity retention of 100% after 50 cycles with maximum reversibility and lithium ion (Li+) diffusion coefficient.
Graphical Abstract
Schematic representation of preparation of the cathode-active materials.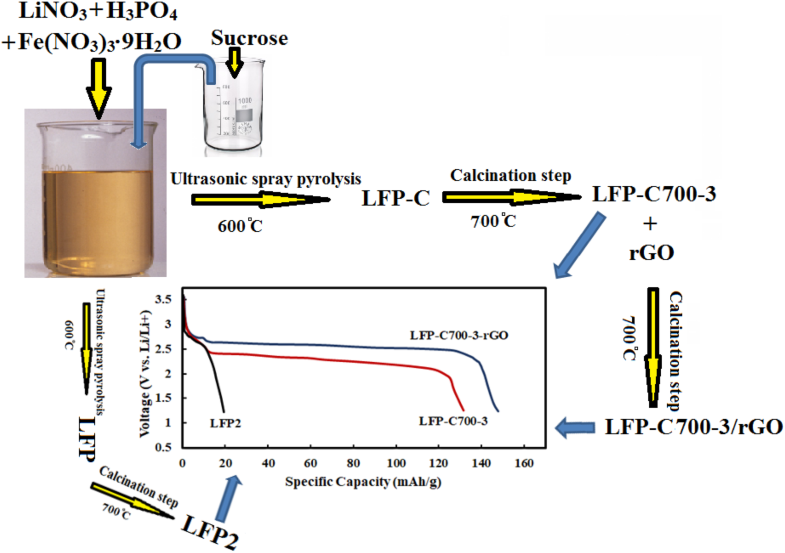 Keywords
LiFePO4 
Carbon precursor 
Calcination 
Olivine structure 
Reduced graphene oxide 
Nanocomposite 
Lithium ion battery 
Ultrasonic spray pyrolysis 
Notes
Acknowledgements
The authors would like to appreciate the University of Azarbaijan Shahid Madani University for providing facilities and financial support.
Compliance with Ethical Standards
Conflict of interest
The authors declare that they have no conflict of interest.
Copyright information
© Springer Science+Business Media, LLC, part of Springer Nature 2018