Immobilization of Carbonic Anhydrase on Modified Electrospun Poly(Lactic Acid) Membranes: Quest for Optimum Biocatalytic Performance
Abstract
Electrospun poly (lactic acid) membranes modified with graphene oxide (GO) and nano sized metal organic frameworks (nMOF) were synthesized, characterized and used for the immobilization of carbonic anhydrase (CA). The mechanical strength and young's modulus of the membrane were slightly decreased when GO and nMOF were introduced, due to irregularity in the dispersion. On the other hand, the incorporation of GO into the membrane increased its thermal degradation temperature. Enzyme loading was substantially improved with GO and nMOF integration (~1.83 and ~1.57 times higher than that of poly (lactic acid)). Thermal stability, storage stability and reusability of immobilized CA, all of which are important for industrial applications, were also found to be enhanced significantly.
Graphical Abstract
Improved loading, stability and biocatalytic activity of carbonic anhydrase enzyme on modified electrospun membrane are reported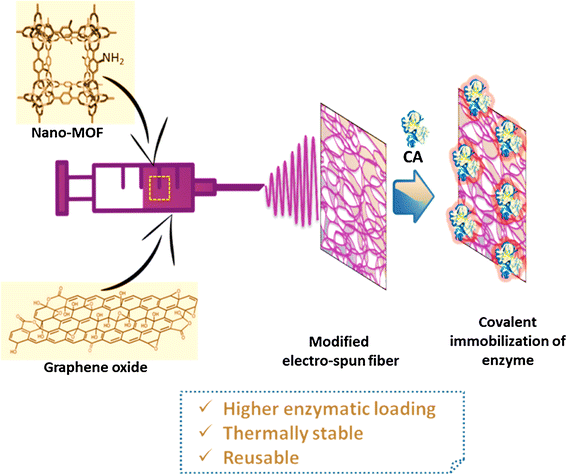 Keywords
Graphene oxide 
Nano-MOF 
Enzyme immobilization 
Electrospun PLA 
Notes
Acknowledgments
This research was supported financially by the Advanced Biomass R&D Center (ABC) (ABC-2012053875) Grant funded by the Ministry of Education, Science and Technology, Korea.
Copyright information
© Springer Science+Business Media New York 2014