Study of Oxygen Reactivity in La1−x Sr x CoO3−δ Perovskites for Total Oxidation of Toluene
Abstract
The total oxidation of toluene is studied over catalytic systems based on perovskite with general formula AA′CoO3-δ (A = La, A′ = Sr). The systematic and progressive substitution of La3+ by Sr2+ cations in the series (La1−x Sr x CoO3−δ system) of the perovskites have been studied to determine their influence in the final properties of these mixed oxides and their corresponding reactivity performance for the total oxidation of toluene as a model volatile organic compound with detrimental effects for health and environment. The structure and morphology of the samples before and after reaction have been characterized by XRD, BET and FE-SEM techniques. Additional experiments of temperature programmed desorption of O2 in vacuum and reduction in H2 were also performed to identify the main surface oxygen species and the reducibility of the different perovskites. It is remarkable that the La1−x Sr x CoO3−δ series presents better catalytic performance for the oxidation of toluene, with lower values for the T50 (temperature of 50 % toluene conversion) than the previously studied LaNi1−y Co y O3 series.
Graphical abstract
The substitution of La
3+
by Sr
2+
(La
1−x
Sr
x
CoO
3−δ
) have been studied to determine the influence in the final structure of these mixed oxides and their reactivity toward the deep oxidation of toluene, where the α-types oxygen species may play an activerole.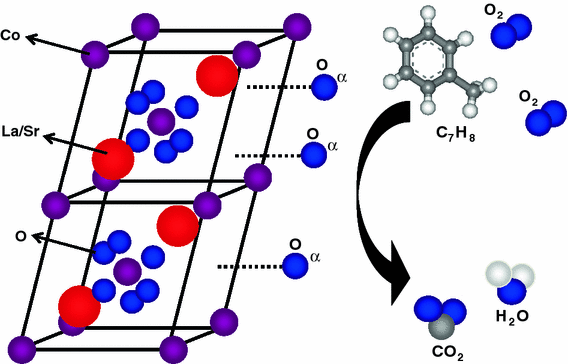 Keywords
Perovskites 
Toluene 
Total oxidation 
Spray pyrolysis 
Notes
Acknowledgments
We thank the Ministry of Science and Education of Spain for financial support (Projects ENE2004-01660 and ENE2007-67926-C02-01) and a PhD fellowship for R.P.).
Copyright information
© Springer Science+Business Media, LLC 2012