Insights into the Reactivity of La1−x Sr x MnO3 (x = 0 ÷ 0.7) in High Temperature N2O Decomposition
Abstract
In this paper a wide range of La1−x Sr x MnO3 (x = 0–0.7) perovskites was synthesized by Pechini route, characterized by XRD (including high temperature measurements), XPS, differential dissolution phase analysis, TPR H2, oxygen exchange and tested in N2O decomposition at 900 °C. At low degree of Sr substitution for La (x ≤ 0.3), high catalytic activity was found for perovskites with hexagonal structure (x = 0.1–0.2) and can be related to fast oxygen mobility caused by the lattice disordering during polymorphic phase transition from the hexagonal to cubic structure. For multiphase samples (x > 0.3) increase of activity and oxygen mobility can be attributed to the formation of the layer-structured perovskite–LaSrMnO4 on the surface.
Graphical Abstract
Catalytic activity of La–Sr–Mn–O samples in high-temperature N
2
O decomposition is discussed with emphasis on its relation to oxygen mobility, surface composition and microstructure of the catalyst particles.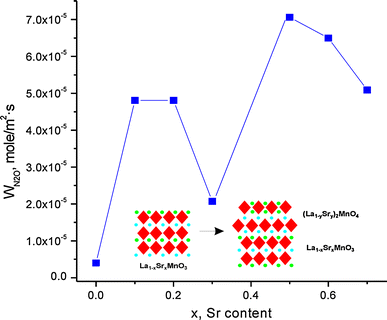 Keywords
La–Sr–Mn mixed oxide 
Layer-structured perovskite 
Nitrous oxide decomposition 
Oxygen mobility 
Polymorphic phase transition 
Microdistortions 
Abbreviations
DDPA

Differential dissolution phase analysis
Notes
Acknowledgments
We would like to acknowledge the contribution of Dr. Ekaterina Sadovskaya for modeling of oxygen exchange, Prof. Sergey Tsybulya for fruitful discussion, Mrs. Nina Kulikovskaya for assistance in samples preparation and Mr. Eugene Gerasimov for XRD measurements.
Copyright information
© Springer Science+Business Media, LLC 2010