Catalysis Center for Energy Innovation for Biomass Processing: Research Strategies and Goals
Abstract
Production of energy and chemicals from biomass is of critical importance in meeting some of the challenges associated with decreasing availability of fossil fuels and addressing global climate change. In the current article, we outline a perspective on key challenges of biomass processing. We also introduce the Catalysis Center for Energy Innovation (CCEI), one of the 46 Energy Frontier Research Centers established by the Department of Energy in the spring of 2009, and CCEI's overall research strategies and goals along with its cross-cutting research thrusts that can enable potential technological breakthroughs in the utilization of biomass and its derivatives. The center focuses on developing innovative heterogeneous catalysts and processing schemes that can lead to viable biorefineries for the conversion of biomass to chemicals, fuels, and electricity. In order to achieve this goal, a group of over twenty faculty members from nine institutions has been assembled to bring together complementary expertise covering novel materials synthesis, advanced characterization, multiscale modeling, surface science, catalytic kinetics, and microreactors.
Graphical Abstract
Scientific structure and research goals of the Catalysis Center for Energy Innovation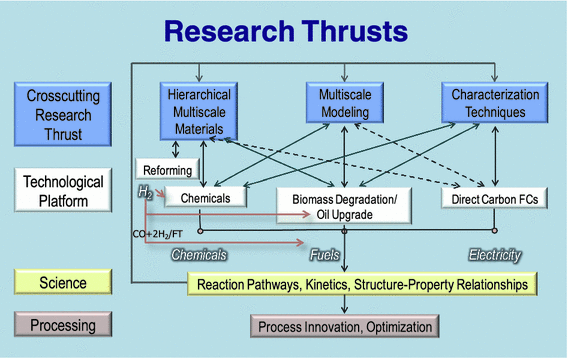 Keywords
Biomass 
Catalysis 
Fuels 
Chemicals 
Fuel cells 
Material synthesis 
Modeling 
Kinetics 
Notes
Acknowledgments
This work was supported as part of the Catalysis Center for Energy Innovation, an Energy Frontier Research Center funded by the U.S. Department of Energy, Office of Science, Office of Basic Energy Sciences under Award Number DE-SC0001004.
Copyright information
© Springer Science+Business Media, LLC 2010