Copper Manganese Oxide Catalysts Modified by Gold Deposition: The Influence on Activity for Ambient Temperature Carbon Monoxide Oxidation
Abstract
The addition of gold, by deposition precipitation, to a mixed copper manganese oxide catalyst (Hopcalite) has been studied for ambient temperature carbon monoxide oxidation. The deposition of gold on the catalyst surface enhanced the activity of the Hopcalite. The catalyst containing 1 wt% gold was the most active and showed higher activity than Hopcalite containing 0.5 and 2 wt% gold. It is expected that the introduction of gold will introduce new active sites to the Hopcalite that are associated with the gold nanoparticles. However, gold addition also increased the reducibility of the catalyst significantly compared to unmodified Hopcalite, and the most easily reduced catalyst was the most active, indicating that the lability of lattice oxygen was an important factor influencing activity.
Graphical Abstract
The activity of a copper-manganese oxide catalyst for ambient temperature CO oxidation is significantly promoted by the addition of gold using deposition precipitation.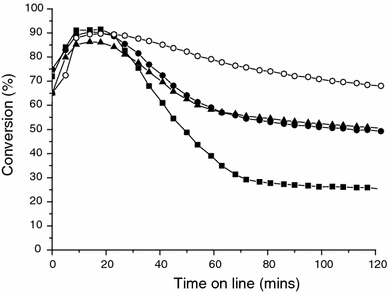 Keywords
Hopcalite 
Carbon monoxide 
Low temperature oxidation 
Gold 
Notes
Acknowledgements
We would like to thank Molecular Products and the EPSRC for financial support.
Copyright information
© Springer Science+Business Media, LLC 2010