A Traumagenic Social Ecological Framework for Understanding and Intervening with Sex Trafficked Children and Youth
Abstract
Sex trafficking of children and youth is receiving significant attention from practitioners, researchers, and policymakers. Recognition that sex trafficking constitutes a form of child abuse has increased; however, there is still a need for a theoretical framework that provides direction on how best to intervene and conduct research into this phenomenon. In this article, we present a traumagenic social ecological framework of child sex trafficking that examines perceived social norms, societal and environmental factors, extended and intimate relationships, and personal characteristics that influence the ecological setting in which the child is embedded. Utilizing a four-tier approach, our framework focuses on how factors at each level interact and contribute to youths' vulnerability for sex trafficking through mechanisms including social norms. This allows us to move beyond individualistic explanations of why sex trafficking occurs and consider more complex relationships. This framework is also useful to identify and group intervention strategies on the basis of social ecological level, as each level can be thought of as both a level of influence and a key point for prevention. In addition, interventions that have an impact on all levels of the social ecological framework are encouraged in order to successfully prevent child sex trafficking.
Keywords
Social norms 
Child sex trafficking 
Traumagenic model 
Socio-ecological framework 
Domestic minor sex trafficking 
Commercial sexual exploitation of children 
Awareness of commercial sexual exploitation and sex trafficking of children has increased in recent years. The prevalence of commercial sexual exploitation and sex trafficking in the United States is unknown as a result of a combination of factors, including the hidden nature of this crime, inconsistent definitions and screening, incomplete data systems, and low rates of disclosure. It has been estimated that between 100,000 and 300,000 children are at risk of commercial sexual exploitation and sex trafficking each year (Estes & Weiner, 2001). However, recent articles have questioned the validity of the existing prevalence data on human trafficking, making data estimates even more difficult to ascertain (Fedina, 2015; Weitzer, 2010).
Several terms are often used interchangeably when referring to this phenomenon, including commercial sexual exploitation of children (CSEC), sex trafficking of minors, domestic minor sex trafficking, and survival sex. Efforts have been made to clarify the use of these terms and promote consistent usage of the terms in research, policy, and programming, however, confusion and inconsistent application still exists [IOM (Institute of Medicine) and NRC (National Research Council), 2013]. This paper will use the term child sex trafficking to refer to the range of sexual crimes against children including any commercial sex act, regardless of force, fraud, or coercion as defined by the Office of Juvenile Justice and Delinquency Prevention and the Trafficking Victims Protection Act (P.L. 106-386) of 2000.
The complex trauma experienced by victims of child sex trafficking has devastating consequences including psychological disorders like anxiety, depression, and post-traumatic stress disorder (Hossain, Zimmerman, Abas, Light, & Watts, 2010; Tsutsumi, Izutsu, Poudyal, Kato, & Marui, 2008), emotional and developmental dysregulation, and substance abuse (Cole, Sprang, Lee & Cohen, 2016). Unique to the phenomenon of sex trafficking is the stigma assigned to those who are perceived to violate social norms about sexuality and sexual behaviors. This stigma can present barriers to fair treatment within justice systems (Gray, 2006; Page, 2010) and to health care access (Lazarus et al., 2012). Researchers have noted that social norms related to trafficking are influenced by myths and moral ideologies that often attribute blame to victims (Cunningham & Cromer, 2014). This knowledge of social norms is especially important with regard to the complicated issue of child sex trafficking. Here, we propose a framework for conceptualizing child sex trafficking that incorporates an understanding of social norms as influencing risk, prevention, and intervention.
Ecological theory provides a framework to explain how the inherent qualities of a child interacts with the environment to influence growth and development (Bronfenbrenner, 1981). This theory is ideal for understanding the individual, relational, social and environmental relationships which occur with a phenomenon like child sex trafficking (Barner, Okech & Camp, 2018; Bronfenbrenner, 1981). Children are understood to be enmeshed simultaneously in multiple environments, from the most immediate home to school to the larger society and culture. In addition, there is the concept of the chronosystem, i.e., the dimension of time, which speaks to the influence of both change and constancy in a child's environment throughout their development (Bronfenbrenner, 1994).
Our proposed framework adapts Bronfenbrenner and Ceci's (1994) conceptualization of the individual embedded and influenced by multiple settings and examines how factors at four levels contribute to child sex trafficking: (a) societal level, (b) community level, (c) relationship/interpersonal level, and (d) individual/intrapersonal level. Social norms can be seen as existing at or being influenced by all four of these levels. For this conceptualization, they are described at the community level with examples of how social norms interact with societal and relationship/interpersonal levels to influence the individual/interpersonal level. The framework considers Belsky's (1980) delineation of how the influence of one's personal history relates to the social–psychological phenomenon of child maltreatment, which contributes to individual vulnerability. It also considers Finkelhor and Browne's (1985) traumagenic model, which attempts to explain how sexual abuse damages children's emotional, cognitive, and relational development through four dynamics: traumatic sexualization, stigmatization, betrayal, and powerlessness.
Furthermore, the etiology of behaviors that deviate from broader social norms, such as commercial sex work, are viewed within the framework of Agnew's general strain theory (2006), which argues that offending behavior is a response to stress or strain (Snyder et al., 2016). Although it was originally developed to explain juvenile delinquency, other authors have applied strain theory to victimization and child sex trafficking (Reid, 2011; Reid & Piquero, 2016; Schreck, Stewart, & Osgood, 2008). Strain theory emphasizes how individual choices and behaviors are influenced by the broader social and physical environment, as illustrated by the social ecological framework described in this article.
The authors of this manuscript are experts in child maltreatment and child sex trafficking from five different states who have all received funding from the Children's Bureau.1 The goal of this funding is to develop multidisciplinary approaches to identification and protection of children and youth in child welfare who have been sex trafficked or are at risk of being trafficked. In addition, all authors aim to ensure that these youth have access to an array of comprehensive, high-quality services. They are aware of the limited extant literature about child sex trafficking, specifically the lack of a theoretical framework for both research and intervention. In this article, we aim to provide this theoretical underpinning based on our research and expertise (Fig. 1).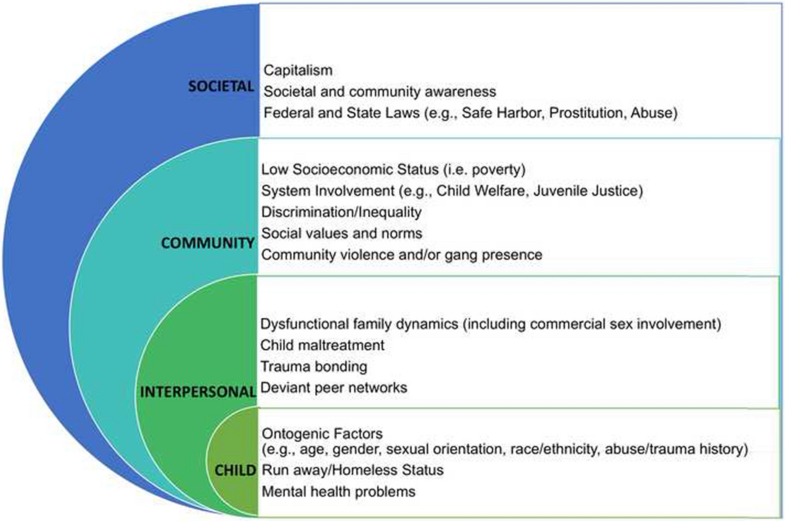 Notes
Acknowledgements
The authors would like to acknowledge their program officers, Rosie Gomez and Lauren Fischman, whose support of this research made this manuscript possible.
Funding
This publication was made possible by Grant Numbers 90CA1822, 90CA1823, 90CA1825, and 90CA1830 from the U.S. Department of Health and Human Services. Its contents are solely the responsibility of the authors and do not necessarily represent the official views of the U.S. Department of Health and Human Services.
Compliance with Ethical Standards
Conflict of interest
The authors declare that they have no conflict of interest.
Copyright information
© Springer Science+Business Media, LLC, part of Springer Nature 2018