Anthracycline Chemotherapy and Cardiotoxicity
Open Access
REVIEW ARTICLE
Abstract
Anthracycline chemotherapy maintains a prominent role in treating many forms of cancer. Cardiotoxic side effects limit their dosing and improved cancer outcomes expose the cancer survivor to increased cardiovascular morbidity and mortality. The basic mechanisms of cardiotoxicity may involve direct pathways for reactive oxygen species generation and topoisomerase 2 as well as other indirect pathways. Cardioprotective treatments are few and those that have been examined include renin angiotensin system blockade, beta blockers, or the iron chelator dexrazoxane. New treatments exploiting the ErbB or other novel pro-survival pathways, such as conditioning, are on the cardioprotection horizon. Even in the forthcoming era of targeted cancer therapies, the substantial proportion of today's anthracycline-treated cancer patients may become tomorrow's cardiac patient.
Keywords
Cancer anthracycline doxorubicin chemotherapy cardiotoxicity cardioprotection 
Introduction
Cancer outcomes continue to improve due to earlier detection and newer targeted therapies, with anthracycline chemotherapy playing a major role in the modern era of cancer treatment. The serendipitous discovery of doxorubicin from Streptomyces peucetius and its precursor daunorubicin was a milestone in antibiotic overproduction techniques of the day [1]. Anthracyclines are listed among the World Health Organisation (WHO) model list of essential medicines [2]. Fifty years on from its discovery, anthracycline anti-tumour and cardiotoxic mechanisms alike continue to evoke considerable interest in basic science and clinical trials research.
Cancer now affects more than one in three people in their lifetime, and along with cardiovascular disease, they are the two leading causes of death in developed nations. Overall ten-year cancer survival stands at 50% across the twenty most common malignancies and approximately 80% or better in breast, lymphoma, melanoma and uterine cancers. These mortality trends reflect a broad improvement in survival rates in the developed economies [3]. In the United Kingdom survival trends have doubled in adults in the last 40 years and tripled in children since the 1960s [4]. Paradoxically, improved long term cancer survival has led to an increased awareness of the adverse cardiac effects of cancer treatment itself. These welcome improvements have thus shifted the care paradigm from cancer survival to cancer survivorship.
The Role of Anthracyclines – today's Cancer Patients Are tomorrow's Cardiac Patients
New biological and small molecule treatments have dramatically improved the outlook of many cancers over the last 15 years [5, 6, 7]. Even in this encouraging context, anthracycline chemotherapy regimens play a prominent role in many cancer treatments – e.g.32% of breast cancer patients [8], 57 to 70% of elderly lymphoma patients [9, 10], and 50 to 60% of childhood cancer survivors are treated with an anthracycline regimen [11]. Thus, with long term cancer survivorship there will be a substantial population of cancer patients who will continue to remain at risk of early cardiovascular morbidity and mortality due to their legacy anthracycline chemotherapy [12, 13].
Anthracyclines: Structure, Targets and Toxicity
The four most common anthracyclines are doxorubicin, daunorubicin, epirubicin and idarubicin (Fig.
1
). Doxorubicin and daunorubicin were the first to be used in clinical practice. Epirubicin, a stereoisomer of doxorubicin, has an increased volume of distribution and longer half-life than doxorubicin (doxorubicin t½ = 1–3 h, epirubicin 31–35 h). Idarubicin, a derivative of daunorubicin, is more lipophilic and has a higher cellular uptake than daunorubicin.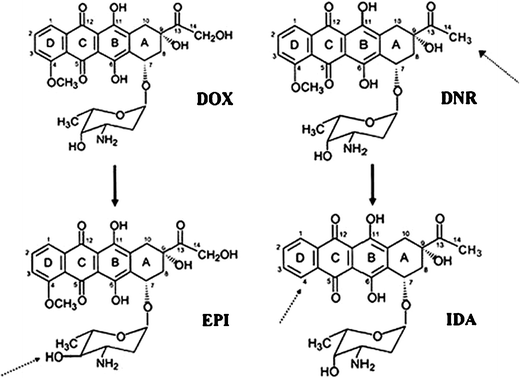 Mechanisms of Action
The exact mechanism of anthracycline-induced cardiotoxicity remains unclear, though it is likely to be multifactorial. Until recently, the most widely accepted hypothesis was that anthracyclines interfered with redox cycling, resulting in DNA damage due to reactive oxygen species (ROS) production [
14
]. More recently, topoisomerase 2 has been suggested to be the main mediator of cardiotoxicity, though other mechanisms contribute. (Fig.
2
)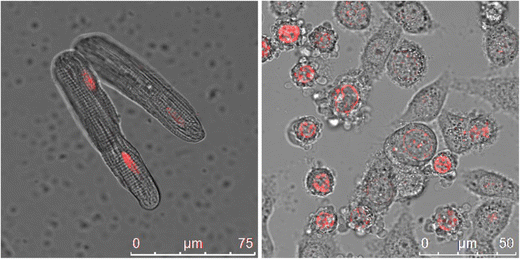 Cardiotoxicity – in Search of A Consensus Definition
The cardiovascular side effects of anthracycline anti-tumour agents became apparent soon after their widespread use in the 1970s, but the more recent concept of 'cardiotoxicity' has no standard definition. The mechanisms, detection, prevention, and protection from anthracycline cardiotoxicity remain relevant today because of its long legacy of treated patients and because cumulative dose-related toxicity constrains treatment. We deconstruct 'cardiotoxicity' according to patient age, time course, and affected cardiac domain (clinical decompensation, structural change, biomarker rise, or arrhythmia).
Outcomes
The long term cardiovascular outcomes of cancer survivors vary according to several risk profiles. The predictors for cardiovascular outcomes after cancer survival include age at time of diagnosis, female gender in childhood cancer survivors, chest radiotherapy, time since cancer treatment [13] and anthracycline dosage [73]. Kero et al. reported increased HR for cardiomyopathy =4.6 (and strikingly high HR 13.5 for age 0–19 y) and ischaemic heart disease =1.8 compared to sibling controls for young adult cancer survivors aged <35 years.
The importance of cardiology follow-up for late cardiotoxicity due to chemotherapy is particularly important in childhood cancer survivors. The cumulative incidence of adverse cardiovascular outcomes by age 45 years in 10,724 childhood cancer survivors (acute lypmphoblastic leukaemia [ALL] 30%, Hodgkin Lymphoma [HL] 12.8%, Wilms tumour 9.6%, sarcoma 8.7%) are strikingly higher [73]. The incidence in childhood cancer survivors compared to sibling controls of coronary artery disease, heart failure, and valvular disease was 5.3% vs. 0.9%, 4.8% vs 0.3%, and 1.5% vs. 0.1%, respectively, signifying an increased relative risk (RR) between 6 and 16. Hypertension alone was associated with an increased RR of 5.6 of cardiac death. This substantial body of long term follow-up has produced an individualized childhood cancer survivor risk calculator [74].
Cardiotoxic morbidity and mortality occur at higher numerical epirubicin doses than for doxorubicin. Dose-related NYHA class II or worse congestive heart failure (CHF) incidence occurred in 1.9% at 800 mg/m2, 4% at 900 mg/m2, and 15% at >1000 mg/m2 in a series of 469 epirubicin-treated breast cancer patients [75]. CHF occurring at a median onset of 57 days with overall 38% mortality and median survival of 162 days and 125 days if patients had received radiotherapy.
Cardiac mortality is an increasingly important determinant of overall prognosis after cancer. Cardiovascular death was the leading cause of death surpassing recurrent breast cancer (15.9% vs. 15.1%) after median nine-year follow up in 63,566 female breast cancer patients [13]. Women were more likely to die of cardiovascular causes than from breast cancer as they aged, with cardiac death overtaking cancer death after nine years survivorship. In childhood cancer survivors, cardiac deaths accounted for 13% of deaths after 45 years' survival, and the annualised cardiac death rate exceeded that of cancer recurrence (0.14% vs. 0.05%) after 30 years' survivorship [76]. Thus with ever longer cancer survivorship, cardiovascular mortality supervenes cancer mortality.
Pregnancy Outcomes
Cancer is the second most common cause of death during the female reproductive years and it occurs in 1 in 1000 pregnancies with breast, cervical, lymphoma and leukaemia's the most common malignancies [77]. Lymphoma occurs in 1 in 6000 pregnancies, and identified risks include increasing maternal age and HIV-related non-Hodgkin's lymphoma in developed and developing countries, respectively [78]. Termination of pregnancy is recommended when malignancy is diagnosed during the first trimester due to the likelihood of aneuploidy and disrupted organogenesis, but until recently malignancy management in later pregnancy was based on small case report data. Pinnix et al. reported promising 5-year long term outcomes in lymphoma (HL and NHL) diagnosed during pregnancy. In a retrospective series of 39 pregnant women (median age 28 years), there were three terminations. In the remaining 36 pregnancies, 24 elected to have antenatal chemotherapy and 12 elected to defer treatment until after delivery. There were 4 miscarriages (two in first trimester, all four in the antenatal chemotherapy group), and the median gestational age of delivery was 37 weeks. There were no reported foetal anomalies. Progression free survival at 5 years was 74.7%, (overall survival =82.4%). This compared favourably with 5-year HL survival of 86% and NHL of 69.5% in women who were not pregnant [4].
The Search for Cardioprotective Therapies
A number of potential cardioprotective techniques and therapies have been explored ranging from modified anthracycline preparations, anti-oxidants, free radical scavengers, renin-angiotensin-system antagonists, cardioselective beta-blockers to statins. Whilst many show promise in animal studies, the clinical studies have had mixed results.
Modified analogues of doxorubicin such as epirubicin and liposomal doxorubicin are relatively less cardiotoxic than conventional doxorubicin. Epirubicin was associated with decreased odds ratio for clinical 0.39 (95%CI 0.20–0.78) and sub-clinical fall in LVEF (OR 0.30 (95% CI 0.16–0.57) [11]. In a meta-analysis, epirubicin had lower rates of clinical cardiotoxicity (OR 0.39, 0.2 to 0.78; p = 0.008; I2 = 0.5%) and subclinical cardiotoxicity (OR 0.30, 0.16 to 0.57; p < 0.001; I2 = 1.7%) than doxorubicin without compromising anti-tumour efficacy [11]. Liposomal doxorubicin also had lower rates of clinical cardiotoxicity (OR 0.18, 0.08 to 0.38; p < 0.001; I2 = 0%) and subclinical cardiotoxicity (OR 0.31, 0.20 to 0.48; p < 0.01; I2 = 48.5%) than doxorubicin, again, without compromising efficacy. Liposomal doxorubicin and epirubicin have similar levels of cardiotoxicity (RR 1.15, 0.47 to 2.84; p = 0.754) [11]. Continuous infusion doxorubicin was compared against bolus infusion in children with acute lymphoblastic leukaemia. There were similar levels of LV systolic dysfunction, cavity dilatation, reduced wall thickness and LV mass at 8 years, and thus no cardioprotection in children [79].
N-acetylcysteine has antioxidant properties and was therefore hypothesised to be of benefit due to the ROS hypothesis. However, clinical studies have failed to demonstrate a benefit from N-acetylcysteine in preventing or reversing doxorubicin-induced cardiomyopathy. In a study of doxorubicin-naïve patients with normal left ventricular function, patients given N-acetylcysteine 1 h before their first dose of doxorubicin had similar histological damage (tubular and mitochondrial area) on endomycardial biopsies taken at 4 and 24 h after doxorubicin administration to controls. In a small randomised controlled trial of 19 disease-free sarcoma patients with doxorubicin-induced cardiomyopathy, patients receiving N-acetylcysteine 5.5 g/m2 daily for 30 days (n = 11) showed no difference in left ventricular ejection fraction at rest or during exercise compared to controls [80]. The largest randomised controlled trial was performed by Myers et al. who randomised 54 patients with breast cancer, nodular lymphoma or metastatic soft tissue sarcoma to receive either N-acetylcysteine 5.5 g/m2 orally prior to doxorubicin or placebo. The rates of clinical heart failure were similar between the intervention and control groups (12.5% vs 10%, p = 0.77) [81].
Calcium antagonists have been studied in two small clinical trials. Milei et al. studied prenylamine in 26 adults with solid tumours undergoing doxorubicin chemotherapy. One patient in the control group (n = 13) and no patients in the intervention group (n = 13) developed cardiomyopathy [82]. Kraft et al. studied low-dose verapamil in adult patients with acute myeloid leukaemia [83]. One patient in the control group (n = 17) and no patients in the intervention group (n = 13) developed heart failure (no significant difference).
Amifostine, a broad-spectrum cytoprotective agent, showed promise in animal models, where it prevented doxorubicin-induced cardiotoxicity [84, 85]. However, this did not translate in a clinical study of 28 children with osteosarcoma treated with cisplatin and doxorubicin, where no cardiac benefit was observed. Moreover, amifostine was poorly tolerated, with 93% of patients suffering grade 3/4 vomiting compared to 7% in the control group.
Coenzyme Q10 was studied in a mixed cohort of 20 children with acute lymphoblastic lymphoma (ALL) and HL. Children in the control group had a reduction in interventricular septum wall thickening, measured by echocardiography, following anthracycline chemotherapy. The authors suggested a protective effect from coenzyme Q10, though this has not been replicated in larger studies [86]. Despite their promise for providing cardioprotection, free radical scavengers have failed to show protection in clinical studies. Probucol, a lipid-lowering agent and antioxidant, has shown to be protective against doxorubicin-induced cardiomyopathy without compromising antitumour efficacy in rats and mice.
Animal studies using dexrazoxane had mixed results in vivo. Deferiprone (Ferriprox) demonstrated anthracycline cardioprotection in a rat model [87, 88]. However, dexrazoxane is the only iron chelator that has been licenced for clinical use in (breast) cancer patients undergoing extended anthracycline dosing in excess of 300 mg/m2.
Dexrazoxane's cardioprotective mechanism against anthracyclines was considered to be due to iron chelation, preventing anthracycline-iron binding and the subsequent ROS formation. However, cardioprotection seems to be exclusive to dexrazoxane and deferriprone rather than a class effect as other iron chelators, such as deferasirox, have not shown cardioprotection [89]. Dexrazoxane binds to topoisomerase-2, with cardioprotection conferred via top-2β, but the role of top-2α also formed the controversial hypothesis for potentially reduced anti-tumour efficacy and its role in malignant proliferation.
Dexrazoxane has largely been evaluated in women with advanced breast cancer and adults with sarcoma, and its current approval is for extended anthracycline dosing. A meta-analysis showed that dexrazoxane administration alongside doxorubicin or epirubicin reduced the rates of clinical cardiotoxicity (OR 0.21, 0.13 to 0.33; p < 0.000 l; I2 = 0%) and subclinical cardiotoxicity (RR 0.33, 0.20 to 0.55; p < 0.0001 l I2 = 0%) compared to doxorubicin or epirubicin alone [11]. Asselin et al. reported the cardioprotective effects of dexrazoxane vs doxorubicin-only in 537 children and adolescents with T-cell acute lymphoblastic leukaemia (T-ALL) or advanced lymphoblastic Non-Hodgkin lymphoma (NHL) [90]. At three years, LV function assessed by fraction shortening was significantly lower in the doxorubicin-only group than the dexrazoxane group (p = 0.05). Five-year event free survival and rate of secondary malignancies was not statistically different between the dexrazoxane group and doxorubicin-only group (76.7 ± 2.7% vs 76.0 ± 2.7%, p = 0.9, and 0.8 ± 0.5% vs 0.7 ± 0.5%, p = 0.17, respectively). Further meta-analysis of five randomised control trials suggested dexrazoxane was associated with a borderline increase in secondary malignant neoplasms that was not statistically significant (absolute incidence 2.7% [17/635] vs. 1.1% [7/610], p = 0.06).
In addition to their lipid-lowering effects, statins also have anti-inflammatory and anti-oxidant effects [91]. They have been postulated to increase anti-tumour efficacy but clinical studies in malignant melanoma and colorectal cancer have not observed this. In a small trial of patients undergoing anthracycline-containing chemotherapy regimes, patient were randomised to receive atorvastatin 40 mg (n = 20), commenced before their chemotherapy and continued for 6 months, or control (n = 20). The primary endpoint was reduction in LVEF to <50%. One patient (5%) in the statin arm and five patients (25%) in the control arm developed LVEF <50%, however, this did not reach statistical significance (p = 0.18). The mean change in LVEF, left ventricular end-diastolic diameter and end-systolic diameter (LVEDD and LVSD) from baseline to 6 months for the statin group and control group were 1.3 ± 3.8 vs −7.9 ± 8.0%, p < 0.001; −0.15 ± 4.0 vs 2.0 ± 3.3 mm, p = 0.021; and −1.35 ± 4.0 vs 2.1 ± 1.8 mm, p < 0.001, respectively [92]. In a retrospective, observational cohort study of 201 women receiving anthracyclines for newly diagnosed breast cancer, uninterrupted statin therapy had a reduced risk of heart failure compared to propensity-matched controls (hazard ratio 0.3, 95% CI: 0.1–0.9, p = 0.03). However, this finding may have been confounded by a greater ACE inhibitor and β-blocker use in the statin group compared to controls (38.8% vs 17.2%, p < 0.001 and 38.8% vs 14.9%, p < 0.001, respectively) [93].
Carvedilol is a non-selective β-antagonist with some α-antagonist effect. It also inhibits NADH dehydrogenase, found in complex I of the mitochondria, and has antioxidant activity. It has therefore received considerable interest in cardioprotection against anthracycline-induced cardiotoxicity and been studied in isolation and in combination with ACE inhibitors.
The OVERCOME trial (preventiOn of the left Ventricular dysfunction with Enalapril and caRvedilol in patients submitted to intensive chemOtherapy for the treatment of Malignant hEmopathies) is the largest randomised controlled trial of combined ACE inhibitors and carvedilol [94]. Ninety adult patients with normal left ventricular ejection fraction (LVEF) and newly diagnosed haematological malignancy were randomised to either enalapril + carvedilol or control. The primary endpoints were changes in LVEF assessed by transthoracic echocardiography and cardiac magnetic resonance (CMR) at six months from baseline. The population comprised of 36 patients with acute leukaemia (acute myeloid leukaemia 30 and acute lymphoblastic leukaemia 6) and 54 were undergoing autologous stem cell transplant for Hodgkin disease (n = 9), non-Hodgkin lymphoma (n = 23), and multiple myeloma (n = 22). Doses of enalapril and carvedilol were similar to heart failure studies (8.2 ± 5.9 mg and 26.1 ± 18.2 mg, respectively). Left ventricular ejection fraction declined at six month in the control group on both echocardiography and CMR (−3.28% (95%CI: -5.49 to −1.07) and −3.04% (95%CI: -6.01 to −0.070, respectively), but was preserved in the intervention group (−0.17 (−2.24 to 1.90) on echocardiography and 0.36 (−2.41 to 3.13) on CMR). Interestingly, the pre-specified subgroup analysis showed that patients with acute leukaemia had a greater degree of LVEF decline, with mean − 6.4% (95%CI: -11.88 to −0.87) compared to −1.01% (95%CI: -4.46 to 2.45) in patients undergoing autologous stem cell transplant.
Prompt initiation of ACE inhibitors and β-blockers when LVEF declines is important for recovery of function [71, 95]. Cardinale et al. randomised patients with raised troponin I after high-dose anthracycline-containing chemotherapy to either enalapril (n = 56) or control (n = 58). Treatment was started one month after the completion of chemotherapy and continued for a year. The primary endpoint was a reduction in LVEF >10% to LVEF <50%. The maximum tolerated dose of enalapril was 16 ± 6 mg daily. Twenty five control subjects (43%) and no intervention subject had a reduction in LVEF to <50% (p < 0.001) [72]. Furthermore, their work documented that prompt initiation of treatment was an important determinant of LV functional recovery.
In their larger prospective cohort study of 2625 patients undergoin anthracycline chemotherapy, Cardinale et al. measured LVEF by serial echocardiography for a median follow-up of 5.2 years (quartile 1 to quartile 3, 2.6–8.0 years) [37]. Cardiotoxicity, defined as a reduction in LVEF of ≥10% to <50%, was seen in 226 (9%). The vast majority (98%) occurred within the first 12 months, with median time to development of 3.5 months (quartile 1 to quartile 3, 3–6 months) after completing chemotherapy. Prompt initiation of enalapril and carvedilol (n = 186) or enalapril alone (for those recruited before 1999, n = 40) at the time of detection of cardiotoxicity resulted in full recovery of LVEF, defined as return to baseline, in 25 (11%) and partial recovery, defined as an increase in LVEF ≥ 5%, in 160 (71%) patients [95]. This study also raised the intriguing observation that 98% of LV functional decline was detected in the first 12 months – challenging the paradigm of early vs. late cardiotoxicity observed in legacy retrospective studies.
Studies of carvedilol monotherapy are smaller. In adult females with non-metastatic breast cancer randomised to carvedilol (n = 30) or placebo (n = 40), commencing one week before starting doxorubicin and finishing one week after the final cycle, those taking carvedilol showed no change in their LV strain measurements from baseline to after chemotherapy, whereas patients taking placebo showed significant deterioration. Neither group showed significant deterioration in their LVEF [96]. Another small study randomised patients to carvedilol (n = 25) or placebo (n = 25) and demonstrated that the carvedilol group maintained LVEF, whereas the control group had a reduction in LVEF at 6 months compared to baseline (70.5 vs 69.37, p = 0.3, and 68.9 vs 52.3, p < 0.001, respectively).
Carvedilol has also shown a benefit in children aged 6–12 years with acute lymphoblastic leukaemia treated with doxorubicin [97]. Patients were randomised to carvedilol for five days before doxorubicin (n = 25) or doxorubicin alone (n = 25). Patients in the intervention arm had a higher fractional shortening (FS) one week after the last dose of doxorubicin compared to pre-chemotherapy (baseline 34.0 ± 4.5 vs 39.5 ± 6.3, p ≤ 0.05), whereas patients without carvedilol had a reduction in FS (40.0 ± 4.6 vs 33.5 ± 6.2, p ≤ 0.05). Diastolic parameters (E, A and E/A) were not different between the two groups. Similar findings were seen by Ewer between pre-doxorubicin and one-week after completion of chemotherapy in paediatric patients, aged 7 months to 15.5 years [98]. Nebivolol, a selective β1-antagonist with nitric oxide vasodilator properties, demonstratred increased contractility in animal studies, and cardioprotrection via preserved LVEF compared to placebo in patients with breast cancer receiving doxorubicin [99].
The recent PRADA trial (Prevention of cardiac dysfunction during adjuvant breast cancer therapy) compared the cardioproctive properties of candesartan and metoprolol in 120 patients with early breast cancer undergoing adjuvant FEC chemotherapy (fluorouracil, epirubin and cyclophosphamide) in a 2 × 2 factorial, randomised, placebo-controlled, double-blind study [100]. Patients were randomised to receive candesartan-metoprolol, candesartan-placebo, metoprolol-placebo or placebo-placebo. The primary endpoint was a change in cardiac magnetic resonance (CMR)-LVEF from baseline to the end of chemotherapy. Patients receving candesartan had no change in their LVEF (0.8, 95% CI: -0.04 to 1.9) after chemotherapy, whereas the non-candesartan group had LVEF decline of 2.6% (95% CI: 1.5 to 3.8, p = 0.026). No difference was seen between patients receiving metoprolol and metoprolol-naïve patients, 1.6% (95% CI: 0.4 to 2.8) and 1.8% (95% CI: 0.7 to 3.0), respectively. The PRADA results support cardioprotective properties on a statistically measurable scale, if not wholly clinically significant.
Remote ischaemic conditioning (RIC) is another potentially cardioprotective treatment that is currently under investigation in cancer patients [56]. This non-invasive non-pharmacological treatment is delivered via a blood pressure cuff as short bursts of ischaemia and reperfusion in a peripheral limb. RIC has been shown to protect the heart and other organs from subsequent severe ischaemic injury [101, 102, 103, 104, 105, 106, 107], and demonstrated lung protection in cancer surgery [103]. While the mechanism of RIC is not fully understood, it appears to involve a humoral and neural pathway that confers cardioprotection by activating innate pro-survival pathways that ultimately modulate common mechanisms in ischaemia reperfusion injury and anthracycline cardiotoxicity such as calcium overload, lipid peroxidation, ROS generation and mitochondrial function [108].
Conclusion
The cardiotoxic mechanisms of anthracyclines may involve the dual pathways of reactive oxidation species and topoisomerase 2-beta and a final common pathway of calcium overload, lipid peroxidation and mitochondrial dysfunction. There is no universally accepted definition of anthracycline cardiotoxicity, and thus its incidence varies according to how it is defined. Clinically symptomatic heart failure occurs in 2–4%, asymptomatic fall in LVEF in 9–11%, arrhythmia in 12% or more, and cardiac biomarker rise in 30–35% of treated patients. Predictors of cardiotoxicity include cumulative dose, cardiovascular risk factors and age of treatment.
It is essential that we continue to investigate ways of protecting the heart following cancer chemotherapy, At present the limited cardioprotective strategies available -- dexrazoxane, ACE-inhibitors, ARB, and beta-blockers -- are not in routine prophylactic use. New strategies are required to help combat the cardiotoxicity derived from anthracycline and other chemotherapies with novel agents such as NRG-1 that target ErbB receptor or non-pharmacological and non-invasive techniques, such as remote conditioning, which activate endogenous pro-survival pathways in the heart.
In the forthcoming era of personalised cancer medicine and targeted therapies, it may be tempting to consign the cardiac effects of anthracyclines to history. However the large population-at-risk, long latency in childhood cancer survivors, and prospectively increased cardiac risk in adult cancer survivors have implications for cancer survivorship as a cardio-oncology partnership. Thus, the increasing cancer survivor population represents a strong motivator to explore larger randomised controlled trials in cancer cardioprotection to prevent today's cancer patient from becoming tomorrow's cardiac patient.
Notes
Acknowledgements
This work was supported by funding from the Biomedical Research Centre (grant number BRC233/CM/SD/101320). This manuscript was undertaken at University College London Hospitals / University College London (UCLH/UCL) who received a proportion of funding from the Department of Health's National Institute for Health Research Biomedical Research Centres funding scheme.
Compliance with Ethical Standards
Conflict of Interest
All authors (JVM, RC, AM, IP, JMW, DMY) declare that they have no conflicts of interest.
Ethical Approval
This article does not contain any studies with human participants or animals performed by any of the authors.
Funding
This article does not contain any studies conducted by the authors and thus there are no direct funding disclosures. Two authors (RC, IP) were supported by funding from the Biomedical Research Centre (grant number BRC233/CM/SD/101320). This manuscript was undertaken at University College London Hospitals / University College London (UCLH/UCL) who received a proportion of funding from the Department of Health's National Institute for Health Research Biomedical Research Centres funding scheme.
Informed Consent
Not applicable to this article-- as this article does not contain any studies with human participants or animals performed by any of the authors.
Copyright information
© The Author(s) 2017
Open Access This article is distributed under the terms of the Creative Commons Attribution 4.0 International License (http://creativecommons.org/licenses/by/4.0/), which permits unrestricted use, distribution, and reproduction in any medium, provided you give appropriate credit to the original author(s) and the source, provide a link to the Creative Commons license, and indicate if changes were made.