Abstract
Late gadolinium enhancement (LGE) has an established prognostic value in otherwise normal hearts, when detected with a subepicardial or intramyocardial pattern; nevertheless, the clinical relevance of isolated right ventricular insertion point (RVIP) LGE is yet to be defined. From a retrospectively identified cohort of 2000 consecutive patients undergoing CMR, we selected 420 patients according to study's inclusion and exclusion criteria (270 males, mean age 38 ± 17 years) with apparently normal hearts: besides 36 patients with non-ischemic pattern LGE (other-LGE group), we found isolated RVIP-LGE in 44 patients and absence of LGE (no-LGE group) in 340 patients. Clinical follow-up was performed for a median of approximately 6 years. Primary composite endpoint included cardiac death, resuscitated cardiac arrest, and appropriate implantable cardiac defibrillator shock. Prevalence of cardiac events was significantly lower in RVIP-LGE than in the other-LGE group (p = 0.006). Kaplan Meier curve analysis demonstrated no significant differences between patients with RVIP-LGE and no-LGE for the primary endpoint. On contrast, patients with other-LGE had worse prognosis than those with RVIP-LGE or no-LGE (p < 0.0001). RVIP-LGE in subjects without additional evidence of cardiac damage does not convey worse prognosis when compared to subjects without LGE and it should not be considered a marker of disease. Its diagnostic and prognostic significance is to be considered irrelevant.
This is a preview of subscription content, log in to check access.
Access options
Buy single article
Instant access to the full article PDF.
US$ 39.95
Price includes VAT for USA
Subscribe to journal
Immediate online access to all issues from 2019. Subscription will auto renew annually.
US$ 99
This is the net price. Taxes to be calculated in checkout.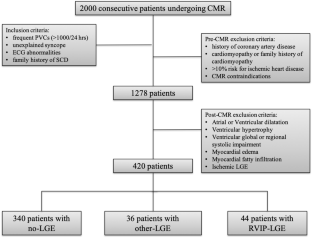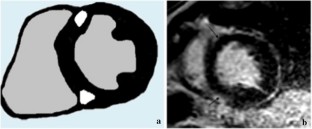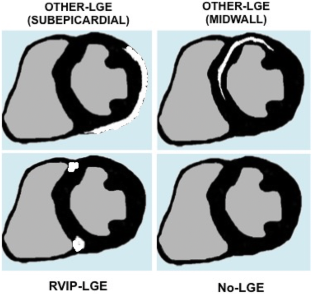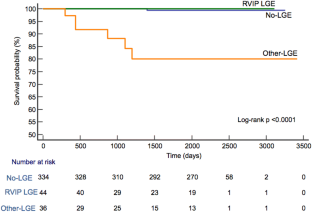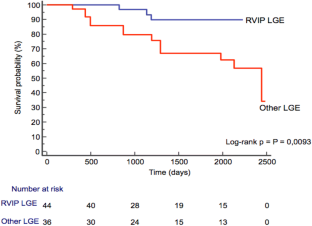 References
1.

Vöhringer M, Mahrholdt H, Yilmaz A, Sechtem U (2007) Significance of late gadolinium enhancement in cardiovascular magnetic resonance imaging (CMR). Herz 32(2):129–137

2.

Masci PG, Doulaptsis C, Bertella E et al (2014) Incremental prognostic value of myocardial fibrosis in patients with non-ischemic cardiomyopathy without congestive heart failure. Circ Heart Fail 7(3):448–456

3.

Symons R, Pontone G, Schwitter J et al (2018) Long-term incremental prognostic value of cardiovascular magnetic resonance after ST-segment elevation myocardial infarction: a study of the collaborative registry on CMR in STEMI. JACC Cardiovasc Imaging 11(6):813–825

4.

Wu KC, Weiss RG, Thiemann DR et al (2008) Late gadolinium enhancement by cardiovascular magnetic resonance heralds an adverse prognosis in nonischemic cardiomyopathy. J Am Coll Cardiol 51:2414–2421

5.

Kim RJ, Fieno DS, Parrish TB et al (1999) Relationship of MRI delayed contrast enhancement to irreversible injury, infarct age, and contractile function. Circulation 100(19):1992–2002

6.

Grigoratos C, Di Bella G, Aquaro GD (2019) Diagnostic and prognostic role of cardiac magnetic resonance in acute myocarditis. Heart Fail Rev 24:81–90

7.

Cummings KW, Bhalla S, Javidan-Nejad C, Bierhals AJ, Gutierrez FR, Woodard PK (2009) A pattern-based approach to assessment of delayed enhancement in nonischemic cardiomyopathy at MR imaging. Radiographics 29(1):89–103

8.

McCrohon JA, Moon JC, Prasad SK et al (2003) Differentiation of heart failure related to dilated cardiomyopathy and coronary artery disease using gadolinium-enhanced cardiovascular magnetic resonance. Circulation 108:54–59

9.

Grigoratos C, Liga R, Bennati E et al (2018) Magnetic resonance imaging correlates of left bundle branch disease in patients with nonischemic cardiomyopathy. Am J Cardiol 121(3):370–376

10.

Aquaro GD, Perfetti M, Camastra G, et al (2017) Cardiac Magnetic Resonance Working Group of the Italian Society of Cardiology. Cardiac MR with late gadolinium enhancement in acute myocarditis with preserved systolic function: ITAMY study. J Am Coll Cardiol. 70(16):1977–1987

11.

Bradlow WM, Assomull R, Kilner PJ, Gibbs JS, Sheppard MN, Mohiaddin RH (2010) Understanding late gadolinium enhancement in pulmonary hypertension. Circ Cardiovasc Imaging 3(4):501–503

12.

Bravo PE, Luo HC, Pozios I et al (2016) Late gadolinium enhancement confined to the right ventricular insertion points in hypertrophic cardiomyopathy: an intermediate stage phenotype? Eur Heart J Cardiovasc Imaging 17(3):293–300

13.

Chan RH, Maron BJ, Olivotto I et al (2015) Significance of late gadolinium enhancement at right ventricular attachment to ventricular septum in patients with hypertrophic cardiomyopathy. Am J Cardiol 116(3):436–441

14.

La Gerche A (2013) Can intense endurance exercise cause myocardial damage and fibrosis? Curr Sports Med Rep 12(2):63–69

15.

van de Schoor FR, Aengevaeren VL, Hopman MT et al (2016) Myocardial fibrosis in athletes. Mayo Clin Proc 91(11):1617–1631

16.

Wilson PW, D'Agostino RB, Levy D, Belanger AM, Silbershatz H, Kannel WB (1998) Prediction of coronary heart disease using risk factor categories. Circulation 97(18):1837–1847

17.

Aquaro GD, Camastra G, Monti L et al (2017) Working group "Applicazioni della Risonanza Magnetica" of the Italian Society of Cardiology. Reference values of cardiac volumes, dimensions, and new functional parameters by MR: a multicenter, multivendor study. J Magn Reson Imaging. 45(4):1055–1067

18.

Moon JC, Reed E, Sheppard MN et al (2004) The histologic basis of late gadolinium enhancement cardiovascular magnetic resonance in hypertrophic cardiomyopathy. J Am Coll Cardiol 43(12):2260–2264

19.

Noureldin RA, Liu S, Nacif MS et al (2012) The diagnosis of hypertrophic cardiomyopathy by cardiovascular magnetic resonance. J Cardiovasc Magn Reson 14:17
Funding
This study received no funding.
Ethics declarations
Conflict of interest
All authors declare that they have no conflict of interest.
Ethical approval
All procedures performed in studies involving human participants were in accordance with the ethical standards of the institutional and/or national research committee and with the 1964 Helsinki declaration and its later amendments or comparable ethical standards.
Informed consent
Informed consent was obtained from all individual participants included in the study.
Additional information
Publisher's Note
Springer Nature remains neutral with regard to jurisdictional claims in published maps and institutional affiliations.
About this article
Cite this article
Grigoratos, C., Pantano, A., Meschisi, M. et al. Clinical importance of late gadolinium enhancement at right ventricular insertion points in otherwise normal hearts. Int J Cardiovasc Imaging (2020). https://doi.org/10.1007/s10554-020-01783-y
Received:

Accepted:

Published:
Keywords
Magnetic resonance imaging

Prognosis

Cardiomyopathy

Right ventricular insertion points

Late gadolinium enhancement

Junctional fibrosis