Abstract
The potential of the MitraClip to prevent from right heart failure or to restore right ventricular (RV) function is still unclear. The aim of the present study was to analyze the impact of the MitraClip implantation on RV function and its association with clinical outcome. After MitraClip implantation patients underwent echocardiography follow-up scheduled between 3 and 6 months after the procedure in the present single-center registry. A total of 93 patients were included. Compared to baseline, RV function declined in 20%, was unchanged in 25% and improved in 55% of the patients. Factors associated with decline in RV performance were atrial fibrillation, decrease in left ventricular function and lack of reduction in pulmonary artery pressure. Patients who experienced worsening in RV function had a significantly lower survival after mean follow-up of 11 ± 7 months compared to those with preserved or improved RV function (15% vs. 83% vs. 83%; p log rank = 0.001). Furthermore, changes in TAPSE were found to be an independent predictor for all-cause mortality [HR 0.88 (0.77–0.99); p = 0.04]. The majority of patients suffering from severe MR benefited from MitraClip with respect to RV remodeling. However, 20% of the patients experienced a decline in RV function, which was associated with poor prognosis. Importantly, changes in RV function after MitraClip were identified as independent predictor for survival in contrast to baseline RV function and, therefore, should be implemented in follow-up routine for better outcome prediction.
This is a preview of subscription content, log in to check access.
Access options
Buy single article
Instant unlimited access to the full article PDF.
US$ 39.95
Price includes VAT for USA
Subscribe to journal
Immediate online access to all issues from 2019. Subscription will auto renew annually.
US$ 99
This is the net price. Taxes to be calculated in checkout.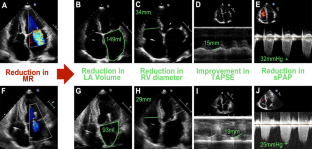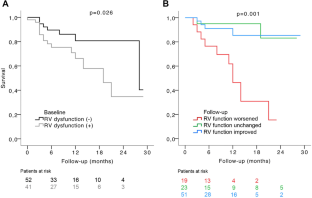 Abbreviations
FAC:

Fractional area change

LA:

Left atrial

LV:

Left ventricular

LV-EF:

Left ventricular ejection fraction

MR:

Mitral regurgitation

RV:

Right ventricular

TAPSE:

Tricuspid annular plane systolic excursion

TEE:

Transoesophageal echocardiography

TTE:

Transthoracic echocardiography

sPAP:

Systolic pulmonary artery pressure
References
1.

Vachiery JL, Adir Y, Barbera JA, Champion H, Coghlan JG, Cottin V, De Marco T, Galie N, Ghio S, Gibbs JS, Martinez F, Semigran M, Simonneau G, Wells A, Seeger W (2013) Pulmonary hypertension due to left heart diseases. J Am Coll Cardiol 62(25 Suppl):D100–D108

2.

Rosenkranz S, Gibbs JS, Wachter R, De Marco T, Vonk-Noordegraaf A, Vachiery JL (2016) Left ventricular heart failure and pulmonary hypertension. Eur Heart J 37(12):942–954

3.

Dini FL, Conti U, Fontanive P, Andreini D, Banti S, Braccini L, De Tommasi SM (2007) Right ventricular dysfunction is a major predictor of outcome in patients with moderate to severe mitral regurgitation and left ventricular dysfunction. Am Heart J 154(1):172–179

4.

Giannini C, Petronio AS, De Carlo M, Guarracino F, Conte L, Fiorelli F, Pieroni A, Di Bello V (2014) Integrated reverse left and right ventricular remodelling after MitraClip implantation in functional mitral regurgitation: an echocardiographic study. Eur Heart J Cardiovasc Imaging 15(1):95–103

5.

Giannini C, Fiorelli F, Colombo A, De Carlo M, Weisz SH, Agricola E, Godino C, Castriota F, Golino P, Petronio AS (2016) Right ventricular evaluation to improve survival outcome in patients with severe functional mitral regurgitation and advanced heart failure undergoing MitraClip therapy. Int J Cardiol 223:574–580

6.

Kaneko H, Neuss M, Weissenborn J, Butter C (2016) Prognostic significance of right ventricular dysfunction in patients with functional mitral regurgitation undergoing MitraClip. Am J Cardiol 118(11):1717–1722

7.

Orban M, Braun D, Orban M, Grebmer C, Sibbing D, Thaler R, Tittus J, Wimbauer F, Lesevic H, Sonne C, Mehilli J, Ott I, Nabauer M, Massberg S, Boekstegers P, Hausleiter J (2015) Long-term outcome of patients with severe biventricular heart failure and severe mitral regurgitation after percutaneous edge-to-edge mitral valve repair. J Interv Cardiol 28(2):164–171

8.

Frangieh AH, Gruner C, Mikulicic F, Attinger-Toller A, Tanner FC, Taramasso M, Corti R, Grunenfelder J, Lusche TF, Ruschitzka F, Bettex D, Maisano F, Gaemperli O (2016) Impact of percutaneous mitral valve repair using the MitraClip system on tricuspid regurgitation. EuroIntervention 11(14):e1680–e1686

9.

Vitarelli A, Mangieri E, Capotosto L, Tanzilli G, D'Angeli I, Viceconte N, Placanica A, Placanica G, Cocco N, Ashurov R, Al-Kindy S (2015) Assessment of biventricular function by three-dimensional speckle-tracking echocardiography in secondary mitral regurgitation after repair with the MitraClip system. J Am Soc Echocardiogr 28(9):1070–1082

10.

Stone GW, Adams DH, Abraham WT, Kappetein AP, Genereux P, Vranckx P, Mehran R, Kuck KH, Leon MB, Piazza N, Head SJ, Filippatos G, Vahanian AS, Mitral C (2015) Valve Academic Research, Clinical trial design principles and endpoint definitions for transcatheter mitral valve repair and replacement: part 2: endpoint definitions: a consensus document from the Mitral Valve Academic Research Consortium. Eur Heart J. 36(29):1878–1891

11.

Zoghbi WA, Adams D, Bonow RO, Enriquez-Sarano M, Foster E, Grayburn PA, Hahn RT, Han Y, Hung J, Lang RM, Little SH, Shah DJ, Shernan S, Thavendiranathan P, Thomas JD, Weissman NJ (2017) Recommendations for noninvasive evaluation of native valvular regurgitation: a Report from the American Society of Echocardiography Developed in Collaboration with the Society for Cardiovascular Magnetic Resonance. J Am Soc Echocardiogr 30(4):303–371

12.

Rudski LG, Lai WW, Afilalo J, Hua L, Handschumacher MD, Chandrasekaran K, Solomon SD, Louie EK, Schiller NB (2010) Guidelines for the echocardiographic assessment of the right heart in adults: a report from the American Society of Echocardiography endorsed by the European Association of Echocardiography, a registered branch of the European Society of Cardiology, and the Canadian Society of Echocardiography. J Am Soc Echocardiogr 23(7):685–713

13.

Lang RM, Badano LP, Mor-Avi V, Afilalo J, Armstrong A, Ernande L, Flachskampf FA, Foster E, Goldstein SA, Kuznetsova T, Lancellotti P, Muraru D, Picard MH, Rietzschel ER, Rudski L, Spencer KT, Tsang W, Voigt JU (2015) Recommendations for cardiac chamber quantification by echocardiography in adults: an update from the American Society of Echocardiography and the European Association of Cardiovascular Imaging. J Am Soc Echocardiogr 28(1):1–39

14.

Feldman T, Wasserman HS, Herrmann HC, Gray W, Block PC, Whitlow P, St Goar F, Rodriguez L, Silvestry F, Schwartz A, Sanborn TA, Condado JA, Foster E (2005) Percutaneous mitral valve repair using the edge-to-edge technique: six-month results of the EVEREST Phase I Clinical Trial. J Am Coll Cardiol. 46(11):2134–2140

15.

Blume GG, McLeod CJ, Barnes ME, Seward JB, Pellikka PA, Bastiansen PM, Tsang TS (2011) Left atrial function: physiology, assessment, and clinical implications. Eur J Echocardiogr 12(6):421–430

16.

Obokata M, Reddy YNV, Melenovsky V, Pislaru S, Borlaug BA (2019) Deterioration in right ventricular structure and function over time in patients with heart failure and preserved ejection fraction. Eur Heart J 40(8):689–697

17.

Asch FM, Grayburn PA, Siegel RJ, Kar S, Lim DS, Zaroff JG, Mishell JM, Whisenant B, Mack MJ, Lindenfeld J, Abraham WT, Stone GW, Weissman NJ, COAPT Investigators (2019) Echocardiographic outcomes after transcatheter leaflet approximation in patients with secondary Mitral regurgitation: the COAPT Trial. J Am Coll Cardiol 74(24):2969–2979

18.

Toyama K, Ayabe K, Kar S, Kubo S, Minamishima T, Rader F, Shiota T, Nishioka T, Siegel RJ (2017) Postprocedural changes of tricuspid regurgitation after MitraClip therapy for mitral regurgitation. Am J Cardiol 120(5):857–861

19.

Patel H, Desai M, Tuzcu EM, Griffin B, Kapadia S (2014) Pulmonary hypertension in mitral regurgitation. J Am Heart Assoc 3(4):e000748

20.

Matsumoto T, Nakamura M, Yeow WL, Hussaini A, Ram V, Makar M, Gurudevan SV, Trento A, Siegel RJ, Kar S (2014) Impact of pulmonary hypertension on outcomes in patients with functional mitral regurgitation undergoing percutaneous edge-to-edge repair. Am J Cardiol 114(11):1735–1739

21.

Nickenig G, Estevez-Loureiro R, Franzen O, Tamburino C, Vanderheyden M, Luscher TF, Moat N, Price S, Dall'Ara G, Winter R, Corti R, Grasso C, Snow TM, Jeger R, Blankenberg S, Settergren M, Tiroch K, Balzer J, Petronio AS, Buttner HJ, Ettori F, Sievert H, Fiorino MG, Claeys M, Ussia GP, Baumgartner H, Scandura S, Alamgir F, Keshavarzi F, Colombo A, Maisano F, Ebelt H, Aruta P, Lubos E, Plicht B, Schueler R, Pighi M, Di Mario C (2014) Transcatheter valve treatment sentinel registry investigators of the, percutaneous mitral valve edge-to-edge repair: in-hospital results and 1-year follow-up of 628 patients of the 2011–2012 Pilot European Sentinel Registry. J Am Coll Cardiol 64(9):875–884

22.

Opitz CF, Hoeper MM, Gibbs JS, Kaemmerer H, Pepke-Zaba J, Coghlan JG, Scelsi L, D'Alto M, Olsson KM, Ulrich S, Scholtz W, Schulz U, Grunig E, Vizza CD, Staehler G, Bruch L, Huscher D, Pittrow D, Rosenkranz S (2016) Pre-capillary, combined, and post-capillary pulmonary hypertension: a pathophysiological continuum. J Am Coll Cardiol 68(4):368–378
Ethics declarations
Conflict of interest
We do not report any conflict of interest regarding this study.
Additional information
Publisher's Note
Springer Nature remains neutral with regard to jurisdictional claims in published maps and institutional affiliations.
About this article
Cite this article
Ledwoch, J., Fellner, C., Hoppmann, P. et al. Impact of transcatheter mitral valve repair using MitraClip on right ventricular remodeling. Int J Cardiovasc Imaging (2020). https://doi.org/10.1007/s10554-020-01771-2
Received:

Accepted:

Published:
Keywords
Mitral regurgitation

MitraClip

Pulmonary hypertension

Right ventricular function

Remodeling