Abstract
Tako-tsubo cardiomyopathy (TTC) is characterized by the presence of transient left ventricular (LV) dysfunction. Whether left atrial (LA) function is also impaired in this setting is unclear. To assess prospectively LA peak systolic longitudinal strain (LAS) by two-dimensional strain at the acute phase of TTC and after recovery and its association with in-hospital complications. 40 patients with typical TTC (mean age 79.5 ± 10 years) underwent transthoracic-Doppler echocardiography at the acute phase and at follow-up (32 ± 18 days later), including the measurement of the LAS (mean of maximal strain from the 4–2 chamber views). A control group of 15 patients (75 ± 7 years, 13 women) without overt cardiovascular disease served as a comparative group. In-hospital complication was a composite of death, heart failure, cardiogenic shock, LV thrombus, and sustained ventricular arrhythmia. In the TTC group, LAS improved significantly between the two examinations from 15 ± 5.5% to 27 ± 8% (p < 0.01) whereas LA volume did not change (p = NS). In the control group LAS was 30 ± 4% (p < 0.01 vs. TTC acute phase, p = NS vs. TTC follow-up). In TTC, at the acute phase LAS was independently correlated to LV global longitudinal strain (LVGLS), and after recovery to E/e′, and the change of LAS was independently correlated to the change of the LVGLS (all, p < 0.01). Furthermore LAS was independently correlated to in-hospital complications (p < 0.01). LA function (reservoir) is transiently impaired in TTC and associated to in-hospital complications. Furthermore, the improvement of LAS parallel the dynamic improvement of LVGLS suggests that TTC induces a transient global left heart dysfunction.
This is a preview of subscription content, log in to check access.
Access options
Buy single article
Instant access to the full article PDF.
US$ 39.95
Price includes VAT for USA
Subscribe to journal
Immediate online access to all issues from 2019. Subscription will auto renew annually.
US$ 99
This is the net price. Taxes to be calculated in checkout.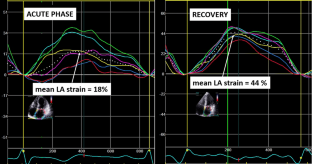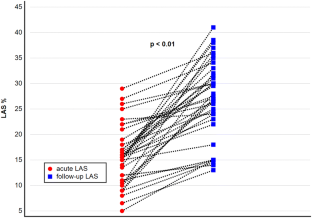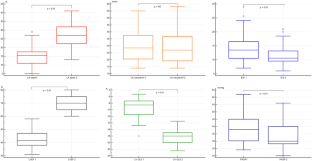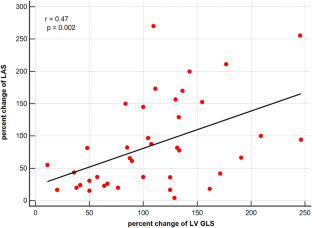 References
1.

Kurisu S, Sato H, Kawagoe T, Ishihara M, Shimatani Y, Nishioka K et al (2002) Tako-tsubo-like left ventricular dysfunction with ST-segment elevation: a novel cardiac syndrome mimicking acute myocardial infarction. Am Heart J 143:448–455

2.

Ghadri J-R, Wittstein IS, Prasad A, Sharkey S, Dote K, Akashi YJ et al (2018) international expert consensus document on Takotsubo syndrome (Part I): clinical characteristics, diagnostic criteria, and pathophysiology. Eur Heart J 39:2032–2046

3.

Citro R, Rigo F, Previtali M, Ciampi Q, Canterin FA, Provenza G et al (2012) Differences in clinical features and in-hospital outcomes of older adults with tako-tsubo cardiomyopathy. J Am Geriatr Soc 60:93–98

4.

Meimoun P, Abouth S, Boulanger J, Luycx-Bore A, Martis S, Clerc J (2014) Relationship between acute strain pattern and recovery in tako-tsubo cardiomyopathy and acute anterior myocardial infarction: a comparative study using two-dimensional longitudinal strain. Int J Cardiovasc Imaging 30:1491–1500

5.

Meimoun P, Djebali M, Botoro T, Djou U, Bidounga H, Elmkies F et al (2019) Left atrial strain and distensibility in relation to left ventricular dysfunction and prognosis in aortic stenosis. Echocardiography 00:1–9. https://doi.org/10.1111/echo.14258

6.

Mansencal N, Abbou N, Pillière R, El Mahmoud R, Farcot J-C, Dubourg O (2009) Usefulness of two-dimensional speckle tracking echocardiography for assessment of tako-tsubo cardiomyopathy. Am J Cardiol 103:1020–1024

7.

Citro R, Lyon AR, Meimoun P, Omerovic E, Redfors B, Buck T et al (2015) Standard and advanced echocardiography in Takotsubo (stress) cardiomyopathy: clinical and prognostic implications. J Am Soc Echocardiogr 28:57–74

8.

Heggemann F, Weiss C, Hamm K, Kaden J, Süselbeck T, Papavassiliu T et al (2009) Global and regional myocardial function quantification by two-dimensional strain in Takotsubo cardiomyopathy. Eur J Echocardiogr 10:760–764

9.

Meimoun P, Passos P, Benali T, Boulanger J, Elmkies F, Zemir H et al (2011) Assessment of left ventricular twist mechanics in Tako-tsubo cardiomyopathy by two-dimensional speckle-tracking echocardiography. Eur J Echocardiogr J 12:931–939

10.

Schwarz K, Ahearn T, Srinivasan J, Neil CJ, Scally C, Rudd A et al (2017) Alterations in cardiac deformation, timing of contraction and relaxation, and early myocardial fibrosis accompany the apparent recovery of acute stress-induced (Takotsubo) cardiomyopathy: an end to the concept of transience. J Am Soc Echocardiogr 30:745–755

11.

Morris DA, Takeuchi M, Krisper M, Köhncke C, Bekfani T, Carstensen T et al (2015) Normal values and clinical relevance of left atrial myocardial function analysed by speckle-tracking echocardiography: multicentre study. Eur Heart J Cardiovasc Imaging 16:364–372

12.

Vianna-Pinton R, Moreno CA, Baxter CM, Lee KS, Tsang TSM, Appleton CP (2009) Two-dimensional speckle-tracking echocardiography of the left atrium: feasibility and regional contraction and relaxation differences in normal subjects. J Am Soc Echocardiogr 22:299–305

13.

Cameli M, Mandoli GE, Loiacono F, Dini FL, Henein M, Mondillo S (2016) Left atrial strain: a new parameter for assessment of left ventricular filling pressure. Heart Fail Rev 21:65–76

14.

Cameli M, Caputo M, Mondillo S, Ballo P, Palmerini E, Lisi M et al (2009) Feasibility and reference values of left atrial longitudinal strain imaging by two-dimensional speckle tracking. Cardiovasc Ultrasound 7:6. https://doi.org/10.1186/1476-7120-7-6

15.

Cameli M, Lisi M, Focardi M, Reccia R, Natali BM, Sparla S et al (2012) Left atrial deformation analysis by speckle tracking echocardiography for prediction of cardiovascular outcomes. Am J Cardiol 110:264–269

16.

Lang RM, Badano LP, Mor-Avi V, Afilalo J, Armstrong A, Ernande L et al (2015) Recommendations for cardiac chamber quantification by echocardiography in adults: an update from the American Society of Echocardiography and the European Association of Cardiovascular Imaging. J Am Soc Echocardiogr 28:1–39

17.

Templin C, Ghadri JR, Diekmann J, Napp LC, Bataiosu DR, Jaguszewski M et al (2015) Clinical features and outcomes of Takotsubo (stress) cardiomyopathy. N Engl J Med 373:929–938

18.

Haghi D, Athanasiadis A, Papavassiliu T, Suselbeck T, Fluechter S, Mahrholdt H et al (2006) Right ventricular involvement in Takotsubo cardiomyopathy. Eur Heart J 27:2433–2439

19.

Burri MV, Nanda NC, Lloyd SG, Hsiung MC, Dod HS, Beto RJ et al (2008) Assessment of systolic and diastolic left ventricular and left atrial function using vector velocity imaging in Takotsubo cardiomyopathy. Echocardiography 25:1138–1144

20.

Backhaus SJ, Stiermaier T, Lange T, Chiribiri A, Uhlig J, Freund A et al (2019) Atrial mechanics and their prognostic impact in Takotsubo syndrome: a cardiovascular magnetic resonance imaging study. Eur Heart J Cardiovasc Imaging 20:1059–1069

21.

O'Connor K, Magne J, Rosca M, Piérard LA, Lancellotti P (2010) Impact of aortic valve stenosis on left atrial phasic function. Am J Cardiol 106:1157–1162

22.

Smiseth OA, Torp H, Opdahl A, Haugaa KH, Urheim S (2016) Myocardial strain imaging: how useful is it in clinical decision making? Eur Heart J 37:1196–1207

23.

Miglioranza MH, Badano LP, Mihaila S, Peluso D, Cucchini U, Soriani N et al (2016) Physiologic determinants of left atrial longitudinal strain: a two-dimensional speckle-tracking and three dimensional echocardiographic study in healthy volunteers. J Am Soc Echocardiogr 29:1023–1034

24.

Galli E, Fournet M, Chabanne C, Lelong B, Lequerrier A, Flecher E et al (2016) Prognostic value of left atrial reservoir function in patients with severe aortic stenosis: a 2D speckle-tracking echocardiographic study. Eur Heart J Cardiovasc Imaging 17:533–541

25.

Todaro MC, Carerj S, Khandheria B, Cusmà-Piccione M, Carrubba SL, Antonini-Canterin F et al (2016) Usefulness of atrial function for risk stratification in asymptomatic severe aortic stenosis. J Cardiol 67:71–79

26.

Cameli M, Lisi M, Righini FM, Massoni A, Natali BM, Focardi M et al (2013) Usefulness of atrial deformation analysis to predict left atrial fibrosis and endocardial thickness in patients undergoing mitral valve operations for severe mitral regurgitation secondary to mitral valve prolapse. Am J Cardiol 111:595–601

27.

Mondillo S, Cameli M, Caputo ML, Lisi M, Palmerini E, Padeletti M et al (2011) Early detection of left atrial strain abnormalities by speckle tracking in hypertensive and diabetic patients with normal left atrial size. J Am Soc Echocardiogr 24:898–908

28.

O'Connor K, Magne J, Rosca M, Piérard LA, Lancellotti P (2011) Left atrial function and remodeling in aortic stenosis. Eur J Echocardiogr 12:299–305

29.

Genovese D, Singh A, Volpato V, Kruse E, Weinert L, Yamat M et al (2018) Load dependency of left atrial strain in normal subjects. J Am Soc Echocardiogr 31:1221–1228

30.

Singh A, Medvedovsky D, Mediratta A, Balaney B, Kruse E, Ciszek B et al (2019) Peak left atrial strain as a single measure for the non-invasive assessment of left ventricular filling pressures. Int J Cardiovasc Imaging 35:23–32

31.

Oliveira MS, Carmona F, Vicente WVA, Manso PH, Mata KM, Celes MR et al (2017) Increased atrial β-adrenergic receptors and GRK-2 gene expression can play a fundamental role in heart failure after repair of congenital heart disease with cardiopulmonary bypass. Pediatr Cardiol 38:734–745

32.

Doggrell SA, Surman AJ (1994) Functional beta-adrenoceptors in the left atrium of normotensive and hypertensive rats. J Auton Pharmacol 14:425–436

33.

Freed BH, Daruwalla V, Cheng JY, Aguilar FG, Beussink L, Choi A et al (2016) Prognostic utility and clinical significance of cardiac mechanics in heart failure with preserved ejection fraction. Circ Cardiovasc Imaging 9:e003754. https://doi.org/10.1161/CIRCIMAGING.115.003754

34.

Pathan FP, Sivaraj E, Negishi K, Rafiuden R, Pathan S, D'Elia N et al (2018) Use of atrial strain to predict atrial fibrillation after cerebral ischemia. J Am Coll Cardiol Img 11:1557–1565

35.

Sugimoto T, Robinet S, Dulgheru R, Bernard A, Ilardi F, Contu L et al (2018) Echocardiographic reference ranges for normal left atrial function parameters: results from the EACVI NORRE study. Eur Heart J Cardiovasc Im 19:630–638
Ethics declarations
Conflict of interest
All the authors declares that they have no conflict of interest.
Ethical approval
The study have been approved by the local ethics committee and have been performed in accordance with the ethical standards as laid down in the 1964 Declaration of Helsinki and its later amendments or comparable ethical standards.
Informed consent
Inform consent was obtained from all patients included in the study.
Additional information
Publisher's Note
Springer Nature remains neutral with regard to jurisdictional claims in published maps and institutional affiliations.
About this article
Cite this article
Meimoun, P., Stracchi, V., Boulanger, J. et al. The left atrial function is transiently impaired in Tako-tsubo cardiomyopathy and associated to in-hospital complications: a prospective study using two-dimensional strain. Int J Cardiovasc Imaging 36, 299–307 (2020). https://doi.org/10.1007/s10554-019-01722-6
Received:

Accepted:

Published:

Issue Date:
Keywords
Tako-tsubo

Left atrial strain

Speckle tracking-complications