Abstract
By means of systematic literature review and meta-analysis, we compared results of studies examining different echocardiographic methods assessing severity of mitral valve regurgitation volume (MVR) with cardiac magnetic resonance imaging (CMR) as standard reference. A systematic search of electronic databases revealed twenty studies eligible for meta-analysis. Results of 2D- and 3D-trans-thoracic (TTE) and trans-esophageal echocardiographic (TEE) proximal isovelocity surface area (PISA) and volumetric methods were compared with CMR. Mean differences (ml) with 95% limits of agreement (LoA) derived from Bland–Altman tests and correlations coefficients [(R) 95% confidence interval (CI)] were pooled together. Overall 1187 patients [mean age = 59 ± 13 years and 678(57%) males] with primary or secondary mild to severe MVR were included. Comparing all echocardiographic methods with CMR showed an overestimation and moderate agreement with difference and 95% LoA of 8.05(− 3.40, 19.49) ml, R = 0.73(95% CI 0.71–0.76) p < 0.001. 3D-PISA followed by 3D-volumetric methods showed the better agreement with an underestimation of − 3.20(− 12.33, 5.92) ml, R = 0.84(95% CI 0.78–0.89) p < 0.001 and overestimation of 3.73(− 9.17, 16.61) ml, R = 0.90(95% CI 0.87, 0.94) p < 0.001, respectively. 2D-volumetric method showed the poorest agreement with difference and 95% LoA of 23.56(− 4.19, 51.31) ml, R = 0.64(95% CI 0.54–0.73) p < 0.001. In patients (n = 280) with severe MVR, 2D technique incorrectly estimated regurgitation volume severity in 106 (38%) compared to 4(14%) patients using 3D technique. Among echocardiographic methods 3D-PISA agreed best with CMR as reference, making 3D-PISA the most reliable method to quantify MVR. CMR can be considered in severe MVR where uncertainties arise and a decision-making prior valve surgery is required. Further powerful studies are needed to assess the accuracy of different echocardiographic methods.
This is a preview of subscription content, log in to check access.
Access options
Buy single article
Instant access to the full article PDF.
US$ 39.95
Price includes VAT for USA
Subscribe to journal
Immediate online access to all issues from 2019. Subscription will auto renew annually.
US$ 99
This is the net price. Taxes to be calculated in checkout.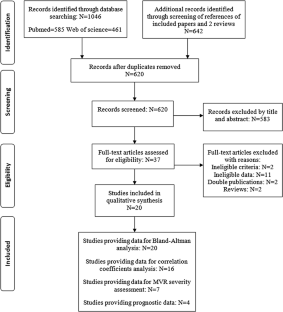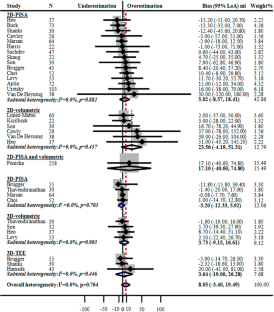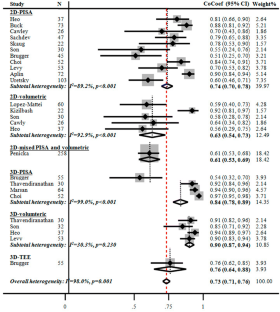 Funding
This study was not funded by any source.
Ethics declarations
Conflict of interest
Jawdat Abdulla has received speaker fees from Novartis Health Care. All the other authors declared that they have no conflict of interest.
Additional information
Publisher's Note
Springer Nature remains neutral with regard to jurisdictional claims in published maps and institutional affiliations.
Electronic supplementary material
Below is the link to the electronic supplementary material.
About this article
Cite this article
Sköldborg, V., Madsen, P.L., Dalsgaard, M. et al. Quantification of mitral valve regurgitation by 2D and 3D echocardiography compared with cardiac magnetic resonance a systematic review and meta-analysis. Int J Cardiovasc Imaging 36, 279–289 (2020). https://doi.org/10.1007/s10554-019-01713-7
Received:

Accepted:

Published:

Issue Date:
Keywords
Mitral regurgitation

Echocardiography

Magnetic resonance