Abstract
Echocardiographic assessment of left ventricular (LV) filling pressures is performed using a multi-parametric algorithm. Left atrial (LA) strain was recently found to accurately classify the degree of diastolic dysfunction. We hypothesized that LA strain could be used as a stand-alone marker and sought to identify and test a cutoff, which would accurately detect elevated LV pressures. We studied 76 patients with a spectrum of LV function who underwent same-day echocardiogram and invasive left-heart catheterization. Speckle tracking was used to measure peak LA strain. The protocol involved a retrospective derivation group (N = 26) and an independent prospective validation cohort (N = 50) to derive and then test a peak LA strain cutoff which would identify pre-A-wave LV diastolic pressure > 15 mmHg. The guidelines-based assessment of filling pressures and peak LA strain were compared side-by-side against invasive hemodynamic data. In the derivation cohort, receiver-operating characteristic analysis showed area under curve of 0.76 and a peak LA strain cutoff < 20% was identified as optimal to detect elevated filling pressure. In the validation cohort, peak LA strain demonstrated better agreement with the invasive reference (81%) than the guidelines algorithm (72%). The improvement in classification using LA strain compared to the guidelines was more pronounced in subjects with normal LV function (91% versus 81%). In summary, the use of a peak LA strain to estimate elevated LV filling pressures is more accurate than the current guidelines. Incorporation of LA strain into the non-invasive assessment of LV diastolic function may improve the detection of elevated filling pressures.
This is a preview of subscription content, log in to check access.
Access options
Buy single article
Instant access to the full article PDF.
US$ 39.95
Price includes VAT for USA
Subscribe to journal
Immediate online access to all issues from 2019. Subscription will auto renew annually.
US$ 99
This is the net price. Taxes to be calculated in checkout.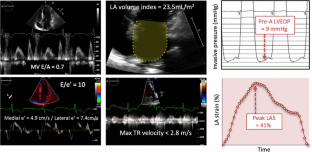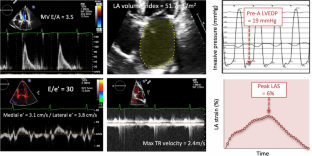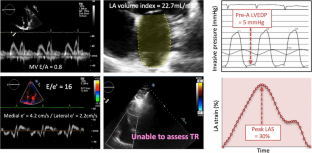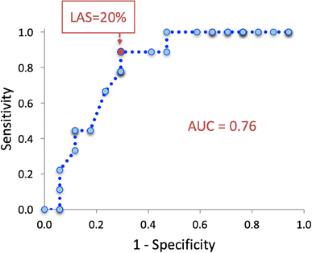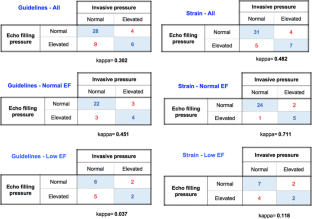 Abbreviations
AUC:

Area under curve

EDP:

End-diastolic pressure

EF:

Ejection fraction

LA:

Left atrial

LAVi:

Left atrial volume index

LV:

Left ventricular

NPV:

Negative predictive value

PPV:

Positive predictive value

ROC:

Receiver-operating characteristic
References
1.

Nagueh SF, Smiseth OA, Appleton CP, Byrd BF III, Dokainish H, Edvardsen T, Flachskampf FA, Gillebert TC, Klein AL, Lancellotti P, Marino P, Oh JK, Popescu BA, Waggoner AD (2016) Recommendations for the evaluation of left ventricular diastolic function by echocardiography: an update from the American society of echocardiography and the European association of cardiovascular imaging. J Am Soc Echocardiogr 29:277–314

2.

Nagueh SF, Appleton CP, Gillebert TC, Marino PN, Oh JK, Smiseth OA, Waggoner AD, Flachskampf FA, Pellikka PA, Evangelista A (2009) Recommendations for the evaluation of left ventricular diastolic function by echocardiography. J Am Soc Echocardiogr 22:107–133

3.

Andersen OS, Smiseth OA, Dokainish H, Abudiab MM, Schutt RC, Kumar A, Sato K, Harb S, Gude E, Remme EW, Andreassen AK, Ha JW, Xu J, Klein AL, Nagueh SF (2017) Estimating left ventricular filling pressure by echocardiography. J Am Coll Cardiol 69:1937–1948

4.

Singh A, Addetia K, Maffessanti F, Mor-Avi V, Lang RM (2017) LA strain categorization of LV diastolic dysfunction. JACC Cardiovasc Imaging 10:735–743

5.

Hewing B, Theres L, Spethmann S, Stangl K, Dreger H, Knebel F (2017) Left atrial strain predicts hemodynamic parameters in cardiovascular patients. Echocardiography 34:1170–1178

6.

Kurt M, Wang J, Torre-Amione G, Nagueh SF (2009) Left atrial function in diastolic heart failure. Circulation 2:10–15

7.

Lang RM, Badano LP, Mor-Avi V, Afilalo J, Armstrong A, Ernande L, Flachskampf FA, Foster E, Goldstein SA, Kuznetsova T, Lancellotti P, Muraru D, Picard MH, Rietzschel ER, Rudski L, Spencer KT, Tsang W, Voigt JU (2015) Recommendations for cardiac chamber quantification by echocardiography in adults: an update from the American society of echocardiography and the European association of cardiovascular imaging. J Am Soc Echocardiogr 28:1–39 e14

8.

Voigt JU, Pedrizzetti G, Lysyansky P, Marwick TH, Houle H, Baumann R, Pedri S, Ito Y, Abe Y, Metz S, Song JH, Hamilton J, Sengupta PP, Kolias TJ, d'Hooge J, Aurigemma GP, Thomas JD, Badano LP (2015) Definitions for a common standard for 2D speckle tracking echocardiography: consensus document of the EACVI/ASE/industry task force to standardize deformation imaging. J Am Soc Echocardiogr 28:183–193

9.

Freed BH, Daruwalla V, Cheng JY, Aguilar FG, Beussink L, Choi A, Klein DA, Dixon D, Baldridge A, Rasmussen-Torvik LJ, Maganti K, Shah SJ (2016) Prognostic utility and clinical significance of cardiac mechanics in heart failure with preserved ejection fraction: importance of left atrial strain. Circ Cardiovasc Imaging 9:e004521

10.

Obokata M, Negishi K, Kurosawa K, Tateno R, Tange S, Arai M, Amano M, Kurabayashi M (2014) Left atrial strain provides incremental value for embolism risk stratification over CHA(2)DS(2)-VASc score and indicates prognostic impact in patients with atrial fibrillation. J Am Soc Echocardiogr 27:709–716

11.

Yasuda R, Murata M, Roberts R, Tokuda H, Minakata Y, Suzuki K, Tsuruta H, Kimura T, Nishiyama N, Fukumoto K, Aizawa Y, Tanimoto K, Takatsuki S, Abe T, Fukuda K (2015) Left atrial strain is a powerful predictor of atrial fibrillation recurrence after catheter ablation: study of a heterogeneous population with sinus rhythm or atrial fibrillation. Eur Heart J Cardiovasc Imaging 16:1008–1014

12.

Santos AB, Roca GQ, Claggett B, Sweitzer NK, Shah SJ, Anand IS, Fang JC, Zile MR, Pitt B, Solomon SD, Shah AM (2016) Prognostic relevance of left atrial dysfunction in heart failure with preserved ejection fraction. Circ Heart Fail 9:e002763

13.

Yang LT, Liu YW, Shih JY, Li YH, Tsai LM, Luo CY, Tsai WC (2015) Predictive value of left atrial deformation on prognosis in severe primary mitral regurgitation. J Am Soc Echocardiogr 28:1309–1317

14.

Huynh QL, Kalam K, Iannaccone A, Negishi K, Thomas L, Marwick TH (2015) Functional and anatomic responses of the left atrium to change in estimated left ventricular filling pressure. J Am Soc Echocardiogr 28:1428–1433

15.

O'Connor K, Magne J, Rosca M, Pierard LA, Lancellotti P (2011) Left atrial function and remodelling in aortic stenosis. Eur J Echocardiogr 12:299–305

16.

Morris DA, Takeuchi M, Krisper M, Kohncke C, Bekfani T, Carstensen T, Hassfeld S, Dorenkamp M, Otani K, Takigiku K, Izumi C, Yuda S, Sakata K, Ohte N, Tanabe K, Osmanoglou E, Kuhnle Y, Dungen HD, Nakatani S, Otsuji Y, Haverkamp W, Boldt LH (2015) Normal values and clinical relevance of left atrial myocardial function analysed by speckle-tracking echocardiography: multicentre study. Eur Heart J Cardiovasc Imaging 16:364–372

17.

Pessoa-Amorim G, Mancio J, Vouga L, Ribeiro J, Gama V, Bettencourt N, Fontes-Carvalho R (2018) Impaired left atrial strain as a predictor of new-onset atrial fibrillation after aortic valve replacement independently of left atrial size. Rev Esp Cardiol 71:466–476

18.

von Roeder M, Rommel KP, Kowallick JT, Blazek S, Besler C, Fengler K, Lotz J, Hasenfuss G, Lucke C, Gutberlet M, Schuler G, Schuster A, Lurz P (2017) Influence of left atrial function on exercise capacity and left ventricular function in patients with heart failure and preserved ejection fraction. Circ Cardiovasc Imaging 10:e005467

19.

Ramkumar S, Yang H, Wang Y, Nolan M, Negishi T, Negishi K, Marwick TH (2017) Association of the active and passive components of left atrial deformation with left ventricular function. J Am Soc Echocardiogr 30:659–666

20.

Morris DA, Belyavskiy E, Aravind-Kumar R, Kropf M, Frydas A, Braunauer K, Marquez E, Krisper M, Lindhorst R, Osmanoglou E, Boldt LH, Blaschke F, Haverkamp W, Tschope C, Edelmann F, Pieske B, Pieske-Kraigher E (2017) Potential usefulness and clinical relevance of adding left atrial strain to left atrial volume index in the detection of left ventricular diastolic dysfunction. JACC Cardiovasc Imaging. https://doi.org/10.1016/j.jcmg.2017.07.029
Acknowledgements
AS was supported by funding from the NIH T32 Training Grant (#5T32HL7381).
Ethics declarations
Conflict of interest
The authors have no relevant financial disclosures or conflicts of interest.
About this article
Cite this article
Singh, A., Medvedofsky, D., Mediratta, A. et al. Peak left atrial strain as a single measure for the non-invasive assessment of left ventricular filling pressures. Int J Cardiovasc Imaging 35, 23–32 (2019). https://doi.org/10.1007/s10554-018-1425-y
Received:

Accepted:

Published:

Issue Date:
Keywords
Left atrium

Filling pressure

Diastolic function