Abstract
Right ventricular (RV) evaluation represents one of the major clinical tasks in the follow-up of repaired tetralogy of Fallot patients (rToF) with pulmonary valve regurgitation, as both severe RV dilatation and dysfunction are key factors in defining the need of pulmonary valve replacement. The aim of our study was to report the diagnostic accuracy of echocardiography in the identification of rToF patients with severely dilated and/or depressed RV as compared to cardiac magnetic resonance (CMR). Among our patients with rToF, a subgroup of 95 (17.6 ± 6.8 years; 60% male), who underwent right ventricular qualitative and quantitative evaluation with CMR following echocardiographic suspicion of severe dilation/dysfunction, were included in the analysis. When comparing echocardiographic RV functional parameters to CMR findings, we found no association between CMR-ejection fraction (EF) and either tricuspid annulus plane systolic excursion (TAPSe) nor tissue Doppler systolic tricuspid excursion velocity (all p = ns). In contrast RVFAC was strongly associated with CMR-EF (r = 0.44; p < 0.01) as well as to longitudinal components of RV mechanics including tissue Doppler s′ (r = 0.40; p < 0.01) and TAPSE (r = 0.36; p < 0.01). When comparing echocardiographic and CMR structural parameters of the RV, we found that CMR RV volume was strongly related to echocardiographic measurements of RV end diastolic area (from the 4 chamber apical view) and with proximal parasternal short axis right ventricle outflow-dimension. Accordingly a regression model was derived from multiple regression analysis, which allows a more accurate estimate of CMR RV volume from echocardiography (r2 = 0.59, p < 0.001). Our study demonstrates a significant, although imperfect, correlation between echocardiographic and CMR RV functional and geometrical parameters. Combining echocardiographic measures of RV inflow and RV outflow, we deliver a simple formula to estimate CMR-RV volume, improving the echocardiographic accuracy in RV volume quantification.
This is a preview of subscription content, log in to check access.
Access options
Buy single article
Instant unlimited access to the full article PDF.
US$ 39.95
Price includes VAT for USA
Subscribe to journal
Immediate online access to all issues from 2019. Subscription will auto renew annually.
US$ 99
This is the net price. Taxes to be calculated in checkout.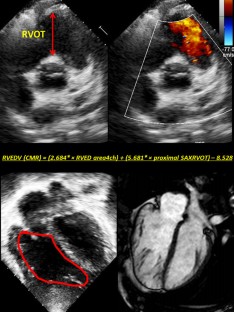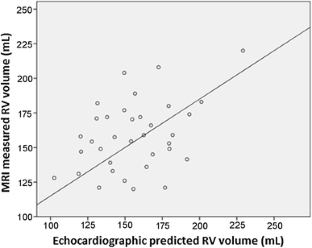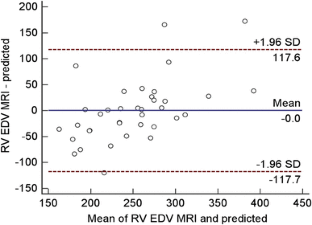 References
1.

Luijnenburg SE, Helbing WA, Moelker A, Kroft LJ, Groenink M, Roos-Hesselink JW, de Rijke YB, Hazekamp MG, Bogers AJ, Vliegen HW, Mulder BJ (2013) 5-Year serial follow-up of clinical condition and ventricular function in patients after repair of tetralogy of Fallot. Int J Cardiol 169:439–444

2.

Frigiola A, Redington AN, Cullen S, Vogel M (2004) Pulmonary regurgitation is an important determinant of right ventricular contractile dysfunction in patients with surgically repaired tetralogy of Fallot. Circulation 110:153–157

3.

Gatzoulis MA, Balaji S, Webber SA, Siu SC, Hokanson JS, Poile C, Rosenthal M, Nakazawa M, Moller JH, Gillette PC, Webb GD, Redington AN (2000) Risk factors for arrhythmia and sudden cardiac death late after repair of tetralogy of Fallot: a multicentre study. The Lancet 356:975–981

4.

Dave HH, Buechel ER, Dodge-Khatami A, Kadner A, Rousson V, Bauersfeld U, Pretre R (2005) Early insertion of a pulmonary valve for chronic regurgitation helps restoration of ventricular dimensions. Ann Thorac Surg 80:1615–1620

5.

Buechel ER, Dave HH, Kellenberger CJ, Dodge-Khatami A, Pretre R, Berger F, Bauersfeld U (2005) Remodelling of the right ventricle after early pulmonary valve replacement in children with repaired tetralogy of Fallot: assessment by cardiovascular magnetic resonance. Eur Heart J 26:2721e2727

6.

Therrien J, Siu SC, McLaughlin PR, Liu PP, Williams WG, Webb GD (2000) Pulmonary valve replacement in adults late after repair of tetralogy of Fallot: are we operating too late? J Am Coll Cardiol 36:1670–1675

7.

Warnes CA, Williams RG, Bashore TM, Child JS, Connolly HM, Dearani JA, del Nido P, Fasules JW, Graham TP Jr, Hijazi ZM, Hunt SA, King ME, Landzberg MJ, Miner PD, Radford MJ, Walsh EP, Webb GD, Smith SC Jr, Jacobs AK, Adams CD, Anderson JL, Antman EM, Buller CE, Creager MA, Ettinger SM, Halperin JL, Hunt SA, Krumholz HM, Kushner FG, Lytle BW, Nishimura RA, Page RL, Riegel B, Tarkington LG, Yancy CW, American College of Cardiology; American Heart Association Task Force on Practice Guidelines; American Society of Echocardiography; Heart Rhythm Society; International Society for Adult Congenital Heart Disease; Society for Cardiovascular Angiography, Interventions; Society of Thoracic Surgeons (2008) ACC/AHA 2008 guidelines for the management of adults with congenital heart disease: a report of the American College of Cardiology/American Heart Association Task Force on Practice Guidelines (Writing Committee to Develop Guidelines on the Management of Adults With Congenital Heart Disease). Developed in collaboration with the American Society of Echocardiography, Heart Rhythm Society, Society for Cardiovascular Angiography and Interventions, and Society of Thoracic Surgeons. J Am Coll Cardiol 52:e143–e263

8.

Davlouros PA, Kilner PJ, Hornung TS et al. (2002) Right ventricular function in adults with repaired tetralogy of Fallot assessed with cardiovascular magnetic resonance imaging: detrimental role of right ventricular outflow aneurysms or akinesia and adverse right-to-left ventricular interaction. J Am Coll Cardiol 40:2044–2052

9.

Rudski LG, Lai WW, Afilalo J, Hua L, Handschumacher MD, Chandrasekaran K, Solomon SD, Louie EK, Schiller NB (2010) Guidelines for the Echocardiographic Assessment of the Right Heart in Adults: a Report from the American Society of Echocardiography Endorsed by the European Association of Echocardiography, a registered branch of the European Society of Cardiology, and the Canadian Society of Echocardiography. J Am Soc Echocardiogr 23:685–713

10.

Cerqueira MD, Weissman NJ, Dilsizian V, Jacobs AK et al (2002) Standardized myocardial segmentation and nomenclature for tomographic imaging of the heart. Circulation 105(4):539–542

11.

Daraban AM, Jucurt A, Badila E, Bartos D, Dan GA (2017) Following up adult patients with tetralogy of Fallot: the role of echocardiography. J Clin Ultrasound 45:79–95

12.

Kjaergaard J, Petersen CL, Kjaer A, Schaadt BK, Oh JK, Hassager C (2006) Evaluation of right ventricular volume and function by 2D and 3D echocardiography compared to CMR. Eur J Echocardiogr 7(6):430–438

13.

Puchalski MD, Williams RV, Askovich B, Minich LL, Mart C, Tani LY (2007) Assessment of right ventricular size and function: echo versus magnetic resonance imaging. Congenit Heart Dis 2(1):27–31

14.

van der Zwaan HB, Geleijnse ML, McGhie JS, Boersma E, Helbing WA, Meijboom FJ et al (2011) Right ventricular quantification in clinical practice: two-dimensional vs. three-dimensional echocardiography compared with cardiac magnetic resonance imaging. Eur J Echocardiogr 12(9):656–664

15.

Lai WW, Gauvreau K, Rivera ES, Saleeb S, Powell AJ, Geva T (2008) Accuracy of guideline recommendations for two-dimensional quantification of the right ventricle by echocardiography. Int J Cardiovasc Imaging 24(7):691–698

16.

Lee C, Kim YM, Lee C-H, Kwak JG, Park CS, Song JY, Shim W-S, Choi EY, Lee SY, Baek JS (2012) Outcomes of pulmonary valve replacement in 170 patients with chronic pulmonary regurgitation after relief of right ventricular outflow tract obstruction: implications for optimal timing of pulmonary valve replacement. J Am Coll Cardiol 60:1005–1014

17.

Ferraz Cavalcanti PE, Sa´ MPBO, Santos CA, Esmeraldo IM, de Escobar RR, de Menezes AM, de Azevedo OM Jr, de Vasconcelos Silva FP, Lins RF, de A, Lima R de C (2013) Pulmonary valve replacement after operative repair of tetralogy of Fallot: meta-analysis and meta-regression of 3,118 patients from 48 studies. J Am Coll Cardiol 62:2227–2243

18.

Therrien J, Provost Y, Merchant N, Williams W, Colman J, Webb G (2005) Optimal timing for pulmonary valve replacement in adults after tetralogy of Fallot repair. Am J Cardiol 95:779–782

19.

Geva T, Gauvreau K, Powell AJ, Cecchin F, Rhodes J, Geva J, del Nido P (2010) Randomized trial of pulmonary valve replacement with and without right ventricular remodeling surgery. Circulation 122:S201–S208

20.

Oosterhof T, van Straten A, Vliegen HW, Meijboom FJ, van Dijk APJ, Spijkerboer AM, Bouma BJ, Zwinderman AH, Hazekamp MG, de Roos A, Mulder BJM (2007) Preoperative thresholds for pulmonary valve replacement in patients with corrected tetralogy of Fallot using cardiovascular magnetic resonance. Circulation 116:545–551

21.

Punn R, Behzadian F, Tacy TA (2010) Annular tilt as a screening test for right ventricular enlargement in patients with tetralogy of Fallot. J Am Soc Echocardiogr 23(12):1297–1302

22.

Lee SY, Song J, Kim SH (2014) The echocardiographic paradox index in patients with a repaired tetralogy of Fallot. Scand Cardiovasc J 48:85

23.

Buddle S, Ferguson M, Arya B, Soriano BD (2016) Right ventricular apical flattening as an echocardiographic screening tool for right ventricular enlargement. Pediatr Cardiol 37:568–574

24.

Morcos P, Vick GW III, Sahn DJ (2009) Correlation of the right ventricular ejection fraction and tricuspid annular plane systolic excursion in tetralogy of Fallot by magnetic resonance imaging. Int J Cardiovas Imaging 25:263

25.

Kutty S, Zhou J, Gauvreau K (2011) Regional dysfunction of the right ventricular outflow tract reduces the accuracy of Doppler tissue imaging assessment of global right ventricular systolic function in patients with repaired tetralogy of Fallot. J Am Soc Echocardiogr 24:637

26.

Scherptong RW, Mollema SA, Blom NA (2009) Right ventricular peak systolic longitudinal strain is a sensitive marker for right ventricular deterioration in adult patients with tetralogy of Fallot. Int J Cardiovasc Imaging 25:669
Acknowledgements
The present work was presented in abstract form at the European Meeting of Echocardiography and Cardiovascular Imaging 2015 (EuroECHO 2015, Seville, Spain).
Funding
Research received no grant from any funding agency in the public, commercial or not-for-profit sectors.
Ethics declarations
Conflict of interest
All authors declare that they have no conflict of interest.
Electronic supplementary material
Below is the link to the electronic supplementary material.
Supplementary material 1 (AVI 2773 KB)
About this article
Cite this article
D'Anna, C., Caputi, A., Natali, B. et al. Improving the role of echocardiography in studying the right ventricle of repaired tetralogy of Fallot patients: comparison with cardiac magnetic resonance. Int J Cardiovasc Imaging 34, 399–406 (2018). https://doi.org/10.1007/s10554-017-1249-1
Received:

Accepted:

Published:

Issue Date:
Keywords
Echocardiogram

Right ventricular

Accuracy

CMR

Congenital