Abstract
Some patients with unstable angina and critical stenosis of the left anterior descending coronary artery (LAD) present with Wellens syndrome (WS), i.e., inverted or biphasic T-waves in the anterior precordial leads. We assessed clinical, angiographic, electro- and echocardiographic characteristic of patients with WS. In this retrospective study, clinical, angiographic, electro- and echocardiographic characteristic of 35 patients with WS were compared to 57 patients with critical LAD stenosis and normal resting electrocardiogram (ECG), and 45 subjects with normal coronary angiogram. QTc dispersion was measured from the 12-lead ECG as the difference between longest and shortest QTc intervals. Mechanical dispersion was defined as the time difference between the longest and shortest contraction durations which were measured as the time from the first deflection of the QRS complex to maximum myocardial shortening of each 18 segmental longitudinal strain curves derived by speckle tracking echocardiography. There were no significant differences in the complexity and location of the LAD lesion, anterograde and collateral flow in LAD and coronary artery dominance between patients with WS and normal ECG (P > 0.05, for all). Patients with WS had lower global longitudinal strain (GLS) and more pronounced both QTc and myocardial mechanical dispersion than patients with critical LAD stenosis and normal ECG, and control subjects (P < 0.05). T-wave changes in patients with WS are associated with more profound regional myocardial dysfunction and increased QTc and myocardial mechanical dispersion. Similar angiographic characteristics of the LAD lesion were seen in patients with WS and normal ECG.
This is a preview of subscription content, log in to check access.
Access options
Buy single article
Instant unlimited access to the full article PDF.
US$ 39.95
Price includes VAT for USA
Subscribe to journal
Immediate online access to all issues from 2019. Subscription will auto renew annually.
US$ 99
This is the net price. Taxes to be calculated in checkout.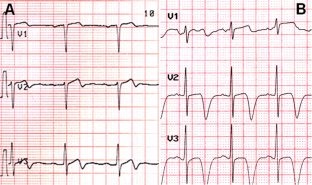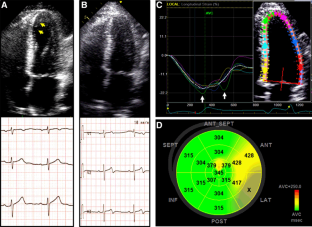 References
1.

de Zwaan C, Bär FW, Wellens HJ (1982) Characteristic electrocardiographic pattern indicating a critical stenosis high in the left anterior descending coronary artery in patients admitted because of impending myocardial infarction. Am Heart J 103:730–736

2.

de Zwaan C, Bär FW, Janssen JH, Cheriex EC, Dassen WR, Brugada P, Penn OC, Wellens HJ (1989) Angiographic and clinical characteristics of patients with unstable angina showing an ECG pattern indicating critical narrowing of the proximal LAD coronary artery. Am Heart J 117:657–665

3.

Stankovic I, Vlahovic-Stipac A, Ilic I, Putnikovic B, Neskovic AN (2012) Aborted myocardial infarction in a patient with rapid progression of Wellens syndrome. J Emerg Med 43(3):e181–e184

4.

Wang JY, Chen H, Su X, Zhang ZP (2016) Wellens' syndrome in a 22-year-old man. Am J Emerg Med 34(5):937.e3–e4

5.

Venkatesan R, Methachittiphan N, Berbarie RF, Aaron E, Jaffery Z, Rangasetty U (2016) Late diagnosis of Wellens syndrome in a patient presenting with an atypical acute coronary syndrome. Am J Emerg Med 34(2):338.e3–e5

6.

Nisbet BC, Zlupko G (2010) Repeat Wellens' syndrome: case report of critical proximal left anterior descending artery restenosis. J Emerg Med 39(3):305–308

7.

Stankovic I, Kafedzic S, Putnikovic B, Neskovic AN (2015) An echocardiographic illustration of the Dock's murmur in a patient with Wellens syndrome. Can J Cardiol S0828–282X(15):01700–01706. doi:10.1016/j.cjca.2015.12.029.

8.

Asanuma T, Fukuta Y, Masuda K, Hioki A, Iwasaki M, Nakatani S (2012) Assessment of myocardial ischemic memory using speckle tracking echocardiography. JACC Cardiovasc Imaging 5(1):1–11

9.

Stankovic I, Putnikovic B, Janicijevic A, Jankovic M, Cvjetan R, Pavlovic S, Kalezic-Radmili T, Panic M, Milicevic P, Ilic I, Cvorovic V, Neskovic AN (2015) Myocardial mechanical and QTc dispersion for the detection of significant coronary artery disease. Eur Heart J Cardiovasc Imaging 16(9):1015–1022

10.

Malik M, Batchvarov VN (2000) Measurement, interpretation and clinical potential of QT dispersion. J Am Coll Cardiol 36(6):1749–1766

11.

Bazett HC (1920) An analysis of the time-relations of electrocardiography. Heart 7:353–370

12.

Barr CS, Naas A, Freeman M, Lang CC, Struthers AD (1994) QT dispersion and sudden unexpected death in chronic heart failure. Lancet 343:327–329

13.

Priori SG, Napolitano C, Diehl L, Schwartz PJ (1994) Dispersion of the QT interval: a marker of therapeutic efficacy in the idiopathic long QT syndrome. Circulation 89:1681–1689

14.

Lang RM, Badano LP, Mor-Avi V, Afilalo J, Armstrong A, Ernande L, Flachskampf FA, Foster E, Goldstein SA, Kuznetsova T, Lancellotti P, Muraru D, Picard MH, Rietzschel ER, Rudski L, Spencer KT, Tsang W, Voigt JU (2015) Recommendations for cardiac chamber quantification by echocardiography in adults: an update from the American Society of Echocardiography and the European Association of Cardiovascular Imaging. Eur Heart J Cardiovasc Imaging 16(3):233–270

15.

Mor-Avi V, Lang RM, Badano LP, Belohlavek M, Cardim NM, Derumeaux G, Galderisi M, Marwick T, Nagueh SF, Sengupta PP, Sicari R, Smiseth OA, Smulevitz B, Takeuchi M, Thomas JD, Vannan M, Voigt JU, Zamorano JL (2011) Current and evolving echocardiographic techniques for the quantitative evaluation of cardiac mechanics: ASE/EAE consensus statement on methodology and indications endorsed by the Japanese Society of Echocardiography. Eur J Echocardiogr 12(3):167–205

16.

Haugaa KH, Smedsrud MK, Steen T, Kongsgaard E, Loennechen JP, Skjaerpe T, Voigt JU, Willems R, Smith G, Smiseth OA, Amlie JP, Edvardsen T (2010) Mechanical dispersion assessed by myocardial strain in patients after myocardial infarction for risk prediction of ventricular arrhythmia. JACC Cardiovasc Imaging 3(3):247–256

17.

Haugaa KH, Amlie JP, Berge KE, Leren TP, Smiseth OA, Edvardsen T (2010) Transmural differences in myocardial contraction in long-QT syndrome: mechanical consequences of ion channel dysfunction. Circulation 122(14):1355–1363

18.

Haugaa KH, Grenne BL, Eek CH, Ersbøll M, Valeur N, Svendsen JH, Florian A, Sjøli B, Brunvand H, Køber L, Voigt JU, Desmet W, Smiseth OA, Edvardsen T (2013) Strain echocardiography improves risk prediction of ventricular arrhythmias after myocardial infarction. JACC Cardiovasc Imaging 6(8):841–850

19.

Levine GN, Bates ER, Blankenship JC, Bailey SR, Bittl JA, Cercek B, Chambers CE, Ellis SG, Guyton RA, Hollenberg SM, Khot UN, Lange RA, Mauri L, Mehran R, Moussa ID, Mukherjee D, Nallamothu BK, Ting HH; (2011) ACCF/AHA/SCAI guideline for percutaneous coronary intervention. A report of the American College of Cardiology Foundation/American Heart Association Task Force on Practice Guidelines and the Society for Cardiovascular Angiography and Interventions. J Am Coll Cardiol 58(24):e44–e122

20.

The TIMI Study Group (1984) The thrombolysis in myocardial infarction (TIMI) trial: phase I findings. N Engl J Med 33:523–530

21.

Ellis SG, Vandormael MG, Cowley MJ, DiSciascio G, Deligonul U, Topol EJ, Bulle TM (1990) Coronary morphologic and clinical determinants of procedural outcome with angioplasty for multivessel coronary disease. Implications for patient selection. Multivessel Angioplasty Prognosis Study Group. Circulation 82:1193–1202

22.

Rentrop KP, Cohen M, Blanke H, Phillips RA (1985) Changes in collateral channel filling immediately after controlled coronary artery occlusion by an angioplasty balloon in human subjects. J Am Coll Cardiol 5(3):587–592

23.

Schneider CA, Voth E, Baer FM, Horst M, Wagner R, Sechtem U (1997) QT dispersion is determined by the extent of viable myocardium in patients with chronic Q-wave myocardial infarction. Circulation 96(11):3913–3920

24.

Li VH, Dorbala S, Narula D, DePuey G, Steinberg JS (2002) QT dispersion and viable myocardium in patients with prior myocardial infarction and severe left ventricular dysfunction. Ann Noninvasive Electrocardiol 7(1):53–59

25.

Aytemir K, Bavafa V, Ozer N, Aksoyek S, Oto A, Ozmen F (1999) Effect of balloon inflation-induced acute ischemia on QT dispersion during percutaneous transluminal coronary angioplasty. Clin Cardiol 22(1):21–24

26.

Williams RI, Payne N, Phillips T, D'hooge J, Fraser AG (2005) Strain rate imaging after dynamic stress provides objective evidence of persistent regional myocardial dysfunction in ischaemic myocardium: regional stunning identified? Heart 91(2):152–160

27.

Khan B, Alexander J, Rathod KS, Farooqi F (2013) Wellens' syndrome in a 24-year-old woman. BMJ Case Rep. doi:10.1136/bcr-2013-009323.

28.

Patel K, Alattar F, Koneru J, Shamoon F (2014) ST-Elevation myocardial infarction after pharmacologic persantine stress test in a patient with Wellens' syndrome. Case Rep Emerg Med 2014:530451

29.

Hovland A, Bjornstad H, Staub U, Vik-Mo H (2006) Reversible ischemia in Wellens' syndrome. J Nucl Cardiol 13(6):e13–e15

30.

Bucciarelli-Ducci C, Denes P, Holly TA, Wu E (2008) Pseudo Wellens T-waves in patients with suspected myocardial infarction: how cardiac magnetic resonance imaging can help the diagnosis. Int J Cardiol 128(2):e68–e71

31.

Migliore F, Zorzi A, Marra MP, Basso C, Corbetti F, De Lazzari M, Tarantini G, Buja P, Lacognata C, Thiene G, Corrado D, Iliceto S (2011) Myocardial edema underlies dynamic T-wave inversion (Wellens' ECG pattern) in patients with reversible left ventricular dysfunction. Heart Rhythm 8(10):1629–1634

32.

Stankovic I, Putnikovic B, Cvjetan R, Milicevic P, Panic M, Kalezic-Radmili T, Mandaric T, Vidakovic R, Cvorovic V, Neskovic AN (2015) Visual assessment vs. strain imaging for the detection of critical stenosis of the left anterior descending coronary artery in patients without a history of myocardial infarction. Eur Heart J Cardiovasc Imaging 16(4):402–409
Ethics declarations
Conflict of interest
All authors have no conflict of interest to declare.
Electronic supplementary material
Below is the link to the electronic supplementary material.
Supplementary material 2 (AVI 10679 KB)
About this article
Cite this article
Stankovic, I., Kafedzic, S., Janicijevic, A. et al. T-wave changes in patients with Wellens syndrome are associated with increased myocardial mechanical and electrical dispersion. Int J Cardiovasc Imaging 33, 1541–1549 (2017). https://doi.org/10.1007/s10554-017-1181-4
Received:

Accepted:

Published:

Issue Date:
Keywords
Wellens syndrome

QT dispersion

Mechanical dispersion

Strain imaging