Abstract
This study sought to phenotype patients over 65 years old with heart failure and preserved ejection fraction (HFpEF) using clinical available comprehensive cardiovascular imaging modalities. Forty-nine patients with HFpEF and without coronary artery disease underwent clinical evaluation, electrocardiography, echocardiography, cardiac magnetic resonance (CMR) and 99mTc-3,3-diphosphono-1,2-propanodicarboxylic acid scintigraphy (99mTc-DPD). The mean population age was 76 ± 8 years. Most of the patients (53 %) were NYHA class II. Mean NT-Pro-NBNP level was 1961 ± 2372 pg/ml. CMR exhibited a hypertrophic cardiomyopathy or infiltrative pattern in 3 (6 %) and 15 (31 %) patients, respectively. In the latter subgroup, 99mTc-DPD was suggestive of transthyretin-related cardiac amyloidosis for nine (18 %) patients, while AL amyloidosis was proven in five patients (10 %) by extracardiac (n = 3, 6 %) or endomyocardial (n = 2, 4 %) biopsies—one patient declined tissue biopsy. Compared to patients with unspecified cardiomyopathy (n = 31), patients with amyloid cardiomyopathy (n = 15 or n = 14/proven) had less hypertension, lower systolic blood pressure and higher NT-pro BNP level. Their electrocardiogram showed lowest QRS voltage and longer QRS duration. Left ventricular (LV) pattern was characterized by a more pronounced LV hypertrophy, a smaller ejection fraction and a decrease of global longitudinal strain associated with an increase of longitudinal strain apical-to-basal ratio. In patients over 65 years, HFpEF is a heterogeneous syndrome with at least a 29 % prevalence of amyloid cardiomyopathy. Combined CMR and 99mTc-DPD are helpful imaging tools for accurate phenotyping of patients amenable to histopathological diagnosis or genetic testing, and should be considered for proper management of this population. Further longitudinal investigations are needed to better clarify these preliminary results.
This is a preview of subscription content, log in to check access.
Access options
Buy single article
Instant unlimited access to the full article PDF.
US$ 39.95
Price includes VAT for USA
Subscribe to journal
Immediate online access to all issues from 2019. Subscription will auto renew annually.
US$ 99
This is the net price. Taxes to be calculated in checkout.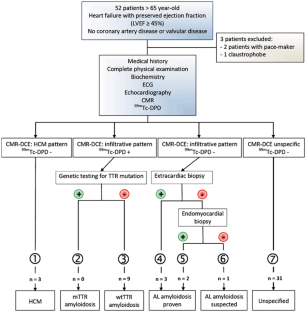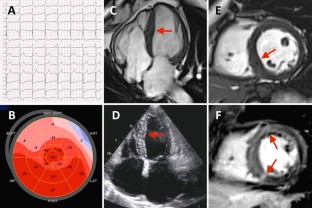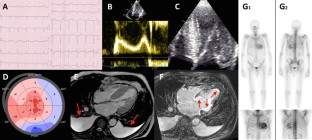 Abbreviations
99mTc-DPD:

99mTc-3,3-diphosphono-1,2-propanodicarboxylic acid scintigraphy

CMR:

Cardiac magnetic resonance

DCE:

Delayed contrast enhancement

eGFR:

Estimated glomerular filtration rate

HCM:

Hypertrophic cardiomyopathy

HF:

Heart failure

HFpEF:

Heart failure with preserved ejection fraction

LV:

Left ventricular

LVEF:

Left ventricular ejection fraction

mTTR:

Muted transthyretin related

wtTTR:

Wild-type transthyretin-related
References
1.

Owan TE, Hodge DO, Herges RM, Jacobsen SJ, Roger VL, Redfield MM (2006) Trends in prevalence and outcome of heart failure with preserved ejection fraction. N Engl J Med 355(3):251–259

2.

Maurer MS, King DL, El-Khoury Rumbarger L, Packer M, Burkhoff D (2005) Left heart failure with a normal ejection fraction: identification of different pathophysiologic mechanisms. J Card Fail 11(3):177–187

3.

Mohammed SF, Mirzoyev SA, Edwards WD, Dogan A, Grogan DR, Dunlay SM, Roger VL, Gertz MA, Dispenzieri A, Zeldenrust SR, Redfield MM (2014) Left ventricular amyloid deposition in patients with heart failure and preserved ejection fraction. J Am Coll Cardiol Heart Fail 2(2):113–122

4.

Bodin K, Ellmerich S, Kahan MC, Tennent GA, Loesch A, Gilbertson JA, Hutchinson WL, Mangione PP, Gallimore JR, Millar DJ, Minogue S, Dhillon AP, Taylor GW, Bradwell AR, Petrie A, Gillmore JD, Bellotti V, Botto M, Hawkins PN, Pepys MB (2010) Antibodies to human serum amyloid P component eliminate visceral amyloid deposits. Nature 468(7320):93–97

5.

Di Bella G, Pizzino F, Minutoli F, Zito C, Donato R, Dattilo G, Oreto G, Baldari S, Vita G, Khandheria BK, Carerj S (2014) The mosaic of the cardiac amyloidosis diagnosis: role of imaging in subtypes and stages of the disease. Eur Heart J Cardiovasc Imaging 15(12):1307–1315

6.

McMurray JJ, Adamopoulos S, Anker SD, Auricchio A, Bohm M, Dickstein K, Falk V, Filippatos G, Fonseca C, Gomez-Sanchez MA, Jaarsma T, Kober L, Lip GY, Maggioni AP, Parkhomenko A, Pieske BM, Popescu BA, Ronnevik PK, Rutten FH, Schwitter J, Seferovic P, Stepinska J, Trindade PT, Voors AA, Zannad F, Zeiher A, Bax JJ, Baumgartner H, Ceconi C, Dean V, Deaton C, Fagard R, Funck-Brentano C, Hasdai D, Hoes A, Kirchhof P, Knuuti J, Kolh P, McDonagh T, Moulin C, Popescu BA, Reiner Z, Sechtem U, Sirnes PA, Tendera M, Torbicki A, Vahanian A, Windecker S, McDonagh T, Sechtem U, Bonet LA, Avraamides P, Ben Lamin HA, Brignole M, Coca A, Cowburn P, Dargie H, Elliott P, Flachskampf FA, Guida GF, Hardman S, Iung B, Merkely B, Mueller C, Nanas JN, Nielsen OW, Orn S, Parissis JT, Ponikowski P (2012) ESC guidelines for the diagnosis and treatment of acute and chronic heart failure 2012: the task force for the diagnosis and treatment of acute and chronic heart failure 2012 of the European Society of Cardiology. Developed in collaboration with the Heart Failure Association (HFA) of the ESC. Eur J Heart Fail 14(8):803–869

7.

Carroll JD, Gaasch WH, McAdam KP (1982) Amyloid cardiomyopathy: characterization by a distinctive voltage/mass relation. Am J Cardiol 49(1):9–13

8.

Gottdiener JS, Bednarz J, Devereux R, Gardin J, Klein A, Manning WJ, Morehead A, Kitzman D, Oh J, Quinones M, Schiller NB, Stein JH, Weissman NJ (2004) American Society of Echocardiography recommendations for use of echocardiography in clinical trials. J Am Soc Echocardiogr 17(10):1086–1119

9.

Lang RM, Bierig M, Devereux RB, Flachskampf FA, Foster E, Pellikka PA, Picard MH, Roman MJ, Seward J, Shanewise JS, Solomon SD, Spencer KT, Sutton MS, Stewart WJ (2005) Recommendations for chamber quantification: a report from the American Society of Echocardiography's Guidelines and Standards Committee and the Chamber Quantification Writing Group, developed in conjunction with the European Association of Echocardiography, a branch of the European Society of Cardiology. J Am Soc Echocardiogr 18(12):1440–1463

10.

Rudolph A, Abdel-Aty H, Bohl S, Boye P, Zagrosek A, Dietz R, Schulz-Menger J (2009) Noninvasive detection of fibrosis applying contrast-enhanced cardiac magnetic resonance in different forms of left ventricular hypertrophy relation to remodeling. J Am Coll Cardiol 53(3):284–291

11.

Mekinian A, Lions C, Leleu X, Duhamel A, Lamblin N, Coiteux V, De Groote P, Hatron PY, Facon T, Beregi JP, Hachulla E, Launay D (2010) Prognosis assessment of cardiac involvement in systemic AL amyloidosis by magnetic resonance imaging. Am J Med 123(9):864–868

12.

Austin BA, Tang WH, Rodriguez ER, Tan C, Flamm SD, Taylor DO, Starling RC, Desai MY (2009) Delayed hyper-enhancement magnetic resonance imaging provides incremental diagnostic and prognostic utility in suspected cardiac amyloidosis. J Am Coll Cardiol Cardiovasc Imaging 2(12):1369–1377

13.

Rapezzi C, Quarta CC, Guidalotti PL, Longhi S, Pettinato C, Leone O, Ferlini A, Salvi F, Gallo P, Gagliardi C, Branzi A (2011) Usefulness and limitations of 99mTc-3,3-diphosphono-1,2-propanodicarboxylic acid scintigraphy in the aetiological diagnosis of amyloidotic cardiomyopathy. Eur J Nucl Med Mol Imaging 38(3):470–478

14.

Toor AA, Ramdane BA, Joseph J, Thomas M, O'Hara C, Barlogie B, Walker P, Joseph L (2006) Cardiac nonamyloidotic immunoglobulin deposition disease. Mod Pathol 19(2):233–237

15.

Gonzalez-Lopez E, Gallego-Delgado M, Guzzo-Merello G, de Haro-Del Moral FJ, Cobo-Marcos M, Robles C, Bornstein B, Salas C, Lara-Pezzi E, Alonso-Pulpon L, Garcia-Pavia P (2015) Wild-type transthyretin amyloidosis as a cause of heart failure with preserved ejection fraction. Eur Heart J 36(38):2585–2594

16.

Hutt DF, Quigley AM, Page J, Hall ML, Burniston M, Gopaul D, Lane T, Whelan CJ, Lachmann HJ, Gillmore JD, Hawkins PN, Wechalekar AD (2014) Utility and limitations of 3,3-diphosphono-1,2-propanodicarboxylic acid scintigraphy in systemic amyloidosis. Eur Heart J Cardiovasc Imaging 15(11):1289–1298

17.

Dungu JN, Valencia O, Pinney JH, Gibbs SD, Rowczenio D, Gilbertson JA, Lachmann HJ, Wechalekar A, Gillmore JD, Whelan CJ, Hawkins PN, Anderson LJ (2014) CMR-based differentiation of AL and ATTR cardiac amyloidosis. J Am Coll Cardiol Cardiovasc Imaging 7(2):133–142

18.

Syed IS, Glockner JF, Feng D, Araoz PA, Martinez MW, Edwards WD, Gertz MA, Dispenzieri A, Oh JK, Bellavia D, Tajik AJ, Grogan M (2010) Role of cardiac magnetic resonance imaging in the detection of cardiac amyloidosis. J Am Coll Cardiol Cardiovasc Imaging 3(2):155–164

19.

Ferrari R, Bohm M, Cleland JG, Paulus WJ, Pieske B, Rapezzi C, Tavazzi L (2015) Heart failure with preserved ejection fraction: uncertainties and dilemmas. Eur J Heart Fail 17(7):665–671

20.

Kyle RA, Greipp PR, O'Fallon WM (1986) Primary systemic amyloidosis: multivariate analysis for prognostic factors in 168 cases. Blood 68(1):220–224

21.

Pinney JH, Whelan CJ, Petrie A, Dungu J, Banypersad SM, Sattianayagam P, Wechalekar A, Gibbs SD, Venner CP, Wassef N, McCarthy CA, Gilbertson JA, Rowczenio D, Hawkins PN, Gillmore JD, Lachmann HJ (2013) Senile systemic amyloidosis: clinical features at presentation and outcome. J Am Heart Assoc 2(2):e000098

22.

Shah SJ, Katz DH, Selvaraj S, Burke MA, Yancy CW, Gheorghiade M, Bonow RO, Huang CC, Deo RC (2015) Phenomapping for novel classification of heart failure with preserved ejection fraction. Circulation 131(3):269–279

23.

Borlaug BA, Redfield MM (2011) Diastolic and systolic heart failure are distinct phenotypes within the heart failure spectrum. Circulation 123(18):2006–2013 (discussion 2014)

24.

Gertz MA, Dispenzieri A, Sher T (2015) Pathophysiology and treatment of cardiac amyloidosis. Nat Rev Cardiol 12(2):91–102

25.

Vaishnaw AK, Gollob J, Gamba-Vitalo C, Hutabarat R, Sah D, Meyers R, de Fougerolles T, Maraganore J (2010) A status report on RNAi therapeutics. Silence 1(1):14

26.

Ackermann EJ, Guo S, Booten S, Alvarado L, Benson M, Hughes S, Monia BP (2012) Clinical development of an antisense therapy for the treatment of transthyretin-associated polyneuropathy. Amyloid 19(Suppl 1):43–44

27.

Glaudemans AW, van Rheenen RW, van den Berg MP, Noordzij W, Koole M, Blokzijl H, Dierckx RA, Slart RH, Hazenberg BP (2014) Bone scintigraphy with (99 m)technetium-hydroxymethylene diphosphonate allows early diagnosis of cardiac involvement in patients with transthyretin-derived systemic amyloidosis. Amyloid 21(1):35–44
Ethics declarations
Conflict of interest
On behalf of all authors, the corresponding author states that there is no conflict of interest.
About this article
Cite this article
Bennani Smires, Y., Victor, G., Ribes, D. et al. Pilot study for left ventricular imaging phenotype of patients over 65 years old with heart failure and preserved ejection fraction: the high prevalence of amyloid cardiomyopathy. Int J Cardiovasc Imaging 32, 1403–1413 (2016) doi:10.1007/s10554-016-0915-z
Received:

Accepted:

Published:

Issue Date:
Keywords
Heart failure with preserved ejection fraction

Cardiac amyloidosis

Amyloid cardiomyopathy

Cardiac imaging