Abstract
We report a case of severe mitral stenosis caused by Libman-Sacks endocarditis, as an initial manifestation of systemic lupus erythematosus (SLE) in a 20-year-old woman. Cardiac magnetic resonance imaging (MRI) demonstrated a thickening of the mitral valve with basal endocardial thickening exhibiting defect on first-pass perfusion short-axis acquisition and delayed enhancement in keeping with extensive fibrous endocarditis. The patient underwent successful mechanical mitral valve replacement. This case illustrates that MRI is useful in diagnosing this recognised but uncommon cardiac complication of SLE and excluding differential diagnosis such as valve tumour and infective endocarditis with perivalvular abscesses.
This is a preview of subscription content, log in to check access.
Access options
Buy single article
Instant unlimited access to the full article PDF.
US$ 39.95
Price includes VAT for USA
Subscribe to journal
Immediate online access to all issues from 2019. Subscription will auto renew annually.
US$ 99
This is the net price. Taxes to be calculated in checkout.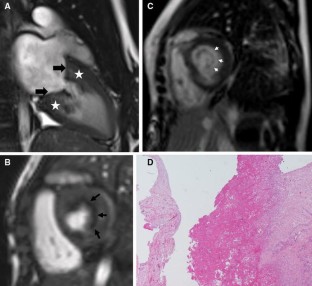 Electronic supplementary material
Below is the link to the electronic supplementary material.
Supplementary material Movie 1. Transthoracic echocardiography. Transthoracic echocardiography showed minor hydropericardium and severe mitral stenosis due to a global thickening of the endocardium. (MPG 1488 kb)
Supplementary material Movie 2. Cardiac MRI long-axis cine. Analysis of long-axis cine views demonstrated a thickening of both the mitral valve and the surrounding endocardial tissue. (MPG 124 kb)
Supplementary material Movie 3. Cardiac MRI short-axis first-pass perfusion. First-pass perfusion short-axis acquisition showed a perfusion defect of the basal endocardium. (MPG 422 kb)
About this article
Cite this article
Gouya, H., Cabanes, L., Mouthon, L. et al. Severe mitral stenosis as the first manifestation of systemic lupus erythematosus in a 20-year-old woman: the value of magnetic resonance imaging in the diagnosis of Libman-Sacks endocarditis. Int J Cardiovasc Imaging 30, 959–960 (2014). https://doi.org/10.1007/s10554-014-0418-8
Received:

Accepted:

Published:

Issue Date:
Keywords
Systemic lupus erythematosus

Magnetic resonance imaging

Libman-Sacks endocarditis

Mitral stenosis