Abstract
Coronary artery fistulas (CAFs) are rare congenital or acquired abnormalities that have anomalous terminations of the coronary arteries. Although many patients with CAFs are asymptomatic, they can display various clinical features associated with ischemic heart disease or heart failure. Making an early diagnosis is important for the proper management and prevention of late symptoms and complications. Conventional coronary angiography and cardiac CT have been commonly performed to diagnose CAFs, but multi-detector computed tomography (MDCT) is now being widely applied for diagnosing cardiovascular anomalies, and the number of incidentally detected CAFs on MDCT has been increasing. Therefore, we have to be familiar with the image findings of CAFs, and especially the image findings of MDCT for making the correct diagnosis of CAFs. In this article, we illustrate the MDCT findings of various types of CAFs in adults and we review the pathophysiology and clinical features of CAFs.
This is a preview of subscription content, log in to check access.
Access options
Buy single article
Instant access to the full article PDF.
US$ 39.95
Price includes VAT for USA
Subscribe to journal
Immediate online access to all issues from 2019. Subscription will auto renew annually.
US$ 99
This is the net price. Taxes to be calculated in checkout.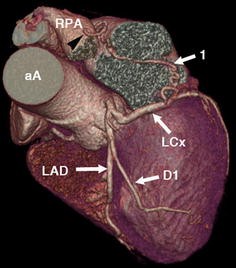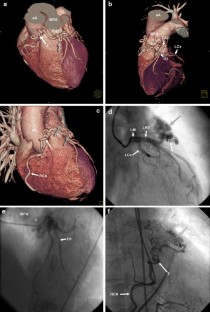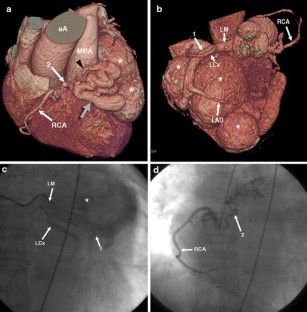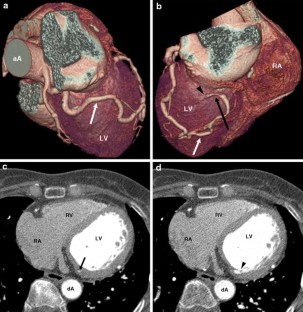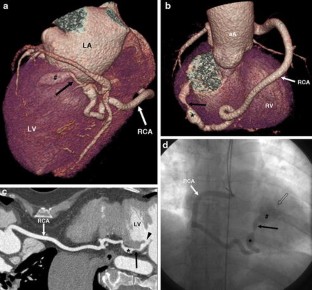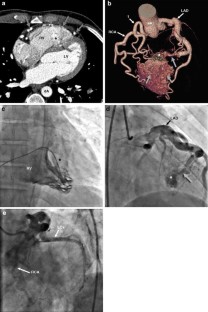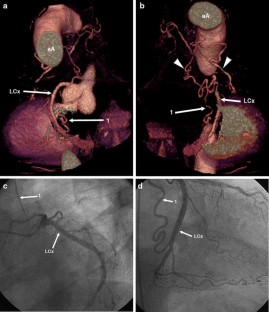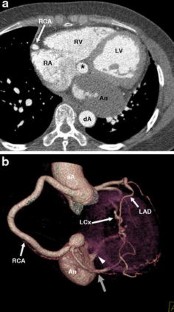 References
1.

Vavuranakis M, Bush CA, Boudoulas H (1995) Coronary artery fistulas in adults: incidence, angiographic characteristics, natural history. Cathet Cardiovasc Diagn 35:116–120

2.

Ishikawa T, Brandt PW (1985) Anomalous origin of the left main coronary artery from the right anterior aortic sinus: angiographic definition of anomalous course. Am J Cardiol 55:770–776

3.

Achenbach S, Ulzheimer S, Baum U et al (2000) Noninvasive coronary angiography by retrospectively ECG-gated multislice spiral CT. Circulation 102:2823–2828

4.

Schmitt R, Froehner S, Brunn J et al (2005) Congenital anomalies of the coronary arteries: imaging with contrast-enhanced, multidetector computed tomography. Eur Radiol 15:1110–1121

5.

Datta J, White CS, Gilkeson RC et al (2005) Anomalous coronary arteries in adults: depiction at multi-detector row CT angiography. Radiology 235:812–818

6.

Roberts WC (1986) Major anomalies of coronary arterial origin seen in adulthood. Am Heart J 111:941–963

7.

Armsby LR, Keane JF, Sherwood MC, Forbess JM, Perry SB, Lock JE (2002) Management of coronary artery fistulae. Patient selection and results of transcatheter closure. J Am Coll Cardiol 39:1026–1032

8.

Chan MS, Chan IY, Fung KH, Lee G, Tsui KL, Leung TC (2005) Demonstration of complex coronary-pulmonary artery fistula by MDCT and correlation with coronary angiography. AJR Am J Roentgenol 184:S28–S32

9.

Zenooz NA, Habibi R, Mammen L, Finn JP, Gilkeson RC (2009) Coronary artery fistulas: CT findings. Radiographics 29:781–789

10.

Tomasian A, Lell M, Currier J, Rahman J, Krishnam MS (2008) Coronary artery to pulmonary artery fistulae with multiple aneurysms: radiological features on dual-source 64-slice CT angiography. Br J Radiol 81:e218–e220

11.

Chia BL, Chan AL, Tan LK, Ng RA, Chiang SP (1981) Coronary artery-left ventricular fistula. Cardiology 68:167–179

12.

Rittenhouse EA, Doty DB, Ehrenhaft JL (1975) Congenital coronary artery- cardiac chamber fistula. Review of operative management. Ann Thorac Surg 20:468–485

13.

Gowda RM, Vasavada BC, Khan IA (2006) Coronary artery fistulas: clinical and therapeutic considerations. Int J Cardiol 107:7–10

14.

Oncel D, Oncel G (2007) Right coronary artery to left ventricle fistula–effective diagnosis with 64-MDCT. Int J Cardiovasc Imaging 23:287–291

15.

Branco LM, Feliciano J, Cacela D et al (2008) Giant septal cavity due to coronary artery fistula and ventricular septal dissection after cardiac surgery. Eur J Echocardiogr 9:163–166

16.

Lee ST, Kim SY, Hur G et al (2008) Coronary-to-bronchial artery fistula: demonstration by 64-multidetector computed tomography with retrospective electrocardiogram-gated reconstructions. J Comput Assist Tomogr 32:444–447

17.

Jim MH, Lee SW, Lam L (2003) Localized bronchiectasis is a definite association of coronaro-bronchial artery fistula. J Invasive Cardiol 15:554–556

18.

Jarry G, Bruaire JP, Commeau P et al (1999) Coronary-to-bronchial artery communication: report of two patients successfully treated by embolization. Cardiovasc Intervent Radiol 22:251–254

19.

Saijo Y, Izutsu K, Sonobe T, Okuyama Y, Yambe T, Nitta S (1999) Successful closure of coronary-bronchial artery fistula with vein graft-coated stent. Catheter Cardiovasc Interv 46:214–217

20.

Van den Berg JC, Overtoom TT, De Valois JC (1996) Case report: bronchial to coronary artery anastomosis—a potential hazard in bronchial artery embolization. Br J Radiol 69:570–572

21.

Matsunaga N, Hayashi K, Sakamoto I et al (1993) Coronary-to-pulmonary artery shunts via the bronchial artery: analysis of cineangiographic studies. Radiology 186:877–882

22.

Dogan A, Ozaydin M, Altinbas A, Gedikli O (2003) A giant aneurysm of the circumflex coronary artery with fistulous connection to the coronary sinus: a case report. Int J Cardiovasc Imaging 19:5–8

23.

Aoyagi S, Fukunaga S, Ishihara K, Egawa N, Hosokawa Y, Nakamura E (2006) Coronary artery fistula from the left circumflex to the coronary sinus. Int Heart J 47:147–152

24.

Gupta V, Truong QA, Okada DR et al (2008) Images in cardiovascular medicine. Giant left circumflex coronary artery aneurysm with arteriovenous fistula to the coronary sinus. Circulation 118:2304–2307
About this article
Cite this article
Seon, H.J., Kim, Y., Choi, S. et al. Complex coronary artery fistulas in adults: evaluation with multidetector computed tomography. Int J Cardiovasc Imaging 26, 261–271 (2010). https://doi.org/10.1007/s10554-010-9718-9
Received:

Accepted:

Published:

Issue Date:
Keywords
Multidetector computed tomography (MDCT)

Coronary arterial fistula (CAF)

Cardiovascular imaging