Abstract
To assess the contractility of accessory left atrial appendages (LAAs) using multiphasic cardiac CT. We retrospectively analyzed the presence, location, size and contractile properties of accessory LAAs using multiphasic cardiac 64-slice CT in 102 consecutive patients (63 males, 39 females, mean age 57). Multiplanar reformats were used to create image planes in axial oblique, sagittal oblique and coronal oblique planes. For all appendages with an orifice diameter ≥ 10 mm, axial and sagittal diameters and appendage volumes were recorded in atrial diastole and systole. Regression analysis was performed to assess which imaging appearances best predicted accessory appendage contractility. Twenty-three (23%) patients demonstrated an accessory LAA, all identified along the anterior LA wall. Dimensions for axial oblique (AOD) and sagittal oblique (SOD) diameters and sagittal oblique length (SOL) were 6.3–19, 3.4–20 and 5–21 mm, respectively. All appendages (≥10 mm) demonstrated significant contraction during atrial systole (greatest diameter reduction was AOD [3.8 mm, 27%]). Significant correlations were noted between AOD-contraction and AOD (R = 0.57, P < 0.05) and SOD-contraction and AOD, SOD and SOL (R = 0.6, P < 0.05). Mean diverticulum volume in atrial diastole was 468.4 ± 493 mm3 and in systole was 171.2 ± 122 mm3, indicating a mean change in volume of 297.2 ± 390 mm3, P < 0.0001. Stepwise multiple regression analysis revealed SOL to be the strongest independent predictor of appendage contractility (R2 = 0.86, P < 0.0001) followed by SOD (R2 = 0.91, P < 0.0001). Accessory LAAs show significant contractile properties on cardiac CT. Those accessory LAAs with a large sagittal height or depth should be evaluated for contractile properties, and if present should be examined for ectopic activity during electrophysiological studies.
This is a preview of subscription content, log in to check access.
Access options
Buy single article
Instant unlimited access to the full article PDF.
US$ 39.95
Price includes VAT for USA
Subscribe to journal
Immediate online access to all issues from 2019. Subscription will auto renew annually.
US$ 99
This is the net price. Taxes to be calculated in checkout.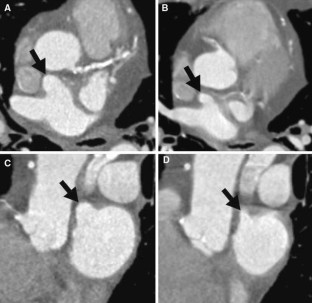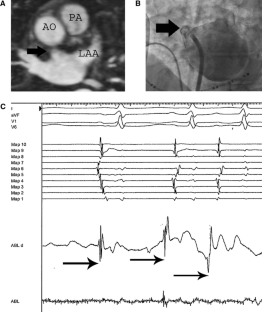 References
1.

Allessie MA, Boyden PA, Camm AJ et al (2001) Pathophysiology and prevention of atrial fibrillation. Circulation 103:769–777

2.

Keane D, Ruskin J (2002) Pulmonary vein isolation for atrial fibrillation. Rev Cardiovasc Med 3:167–175

3.

Wyse DG, Gersh BJ (2004) Atrial fibrillation: a perspective: thinking inside and outside the box. Circulation 109:3089–3095

4.

Terada H, Tanaka Y, Kashima K et al (2000) Left atrial diverticulum associated with severe mitral regurgitation. Jpn Circ J 64:474–476

5.

Duerinckx AJ, Vanovermeire O (2008) Accessory appendages of the left atrium as seen during 64-slice coronary CT angiography. Int J Cardiovasc Imaging 24:215–221

6.

Wazni OM, Tsao H-M, Chen S-A et al (2006) Cardiovascular imaging in the management of atrial fibrillation. J Am Coll Cardiol 48:2077–2084

7.

Schwartzman D, Lacomis J, Wigginton WG (2003) Characterization of left atrium and distal pulmonary vein morphology using multidimensional computed tomography. J Am Coll Cardiol 41:1349–1357

8.

Stanford W, Breen JF (2005) CT evaluation of left atrial pulmonary venous anatomy. Int J Cardiovasc Imaging 21:133–139

9.

Butler J, Shapiro MD, Jassal DS et al (2007) Comparison of multidetector computed tomography and two-dimensional transthoracic echocardiography for left ventricular assessment in patients with heart failure. Am J Cardiol 99:247–249

10.

Saremi F, Krishna S (2007) Cardiac conduction system: anatomic landmarks relevant to interventional electrophysiologic techniques demonstrated with 64-detector CT. Radiographics 27:1539–65; discussion 1566–1567

11.

Christiaens L, Varroud-Vial N, Ardilouze P et al (2008) Real three-dimensional assessment of left atrial and left atrial appendage volumes by 64-slice spiral computed tomography in individuals with or without cardiovascular disease. Int J Cardiol. doi:10.1016/j.ijcard.2008.11.055

12.

Sharma S, Devine W, Anderson RH et al (1988) The determination of atrial arrangement by examination of appendage morphology in 1842 heart specimens. Br Heart J 60:227–231

13.

Wang Y, Zhang Z, Kong L et al (2008) Dual-source CT coronary angiography in patients with atrial fibrillation: comparison with single-source CT. Eur J Radiol 68:434–441

14.

Lickfett L, Dickfeld T, Kato R et al (2005) Changes of pulmonary vein orifice size and location throughout the cardiac cycle: dynamic analysis using magnetic resonance cine imaging. J Cardiovasc Electrophysiol 16:582–588

15.

Abbara S, Mundo-Sagardia JA, Hoffmann U et al (2009) Cardiac CT assessment of left atrial accessory appendages and diverticula. AJR Am J Roentgenol 193:807–812

16.

Mansour M, Holmvang G, Sosnovik D et al (2004) Assessment of pulmonary vein anatomic variability by magnetic resonance imaging: implications for catheter ablation techniques for atrial fibrillation. J Cardiovasc Electrophysiol 15:387–393

17.

Igawa O, Miake J, Adachi M (2007) The small diverticulum in the right anterior wall of the left atrium. Europace 10:120

18.

Hassink RJ, Aretz HT, Ruskin J et al (2003) Morphology of atrial myocardium in human pulmonary veins: a postmortem analysis in patients with and without atrial fibrillation. J Am Coll Cardiol 42:1108–1114

19.

Killeen RP, O'Connor SA, Keane D et al (2009) Ectopic focus in an accessory left atrial appendage: radiofrequency ablation of refractory atrial fibrillation. Circulation 120:e60–e62

20.

Lee W-J, Chen S-J, Lin J-L et al (2008) Accessory left atrial appendage: a neglected anomaly and potential cause of embolic stroke. Circulation 117:1351–1352

21.

Kok LC, Mangrum JM, Haines DE et al (2002) Cerebrovascular complication associated with pulmonary vein ablation. J Cardiovasc Electrophysiol 13:764–767

22.

Thiagalingam A, Reddy VY, Cury RC et al (2008) Pulmonary vein contraction: characterization of dynamic changes in pulmonary vein morphology using multiphase multislice computed tomography scanning. Heart Rhythm 5:1645–1650

23.

Alkadhi H, Wildermuth S, Bettex DA et al (2006) Mitral regurgitation: quantification with 16-detector row CT—initial experience. Radiology 238:454–463
Electronic supplementary material
Below is the link to the electronic supplementary material.
Cine fluoroscopic angiogram of the LA demonstrated a contractile accessory LA appendage arising from the anterior wall with the catheter tip within it. This proved to be a source of early ectopic atrial activity
About this article
Cite this article
Killeen, R.P., Ryan, R., MacErlane, A. et al. Accessory left atrial diverticulae: contractile properties depicted with 64-slice cine-cardiac CT. Int J Cardiovasc Imaging 26, 241–248 (2010). https://doi.org/10.1007/s10554-009-9511-9
Received:

Accepted:

Published:

Issue Date:
Keywords
Computed tomography

Cardiac CT

Diverticulum

Atrial fibrillation

Left atrium