Abstract
Comprehensive cancer control celebrated its twentieth anniversary in 2018. A dedicated group of national partners formed the Comprehensive Cancer Control National Partnership (CCCNP) at the same time that CDC's National Comprehensive Cancer Control Program was formed. The CCCNP has supported the development and growth of comprehensive cancer control from its inception. The CCCNP mirrors how coalitions function at the state, tribe, territory, and Pacific Island Jurisdiction level. We provide a national example of how 19 leading cancer organizations work together with a unified vision to support cancer control efforts in the United States (U.S.). What follows is an overview of the CCCNP, its vision, mission, and structure and a description of how this partnership has evolved over the past 20 years. The importance of collaboration is highlighted. Two states, South Dakota and Kansas, provide examples of how working with partners through the cancer coalition has advanced their state's cancer control agenda. Closing thoughts on the future work of the CCCNP are provided, including a continued focus on supporting health equity; better engagement and support of CCC coalition leaders; and informing efforts to develop a national cancer control plan for the United States.
This is a preview of subscription content, log in to check access.
Access options
Buy single article
Instant access to the full article PDF.
US$ 39.95
Price includes VAT for USA
Subscribe to journal
Immediate online access to all issues from 2019. Subscription will auto renew annually.
US$ 199
This is the net price. Taxes to be calculated in checkout.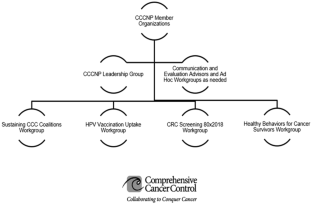 References
1.

Given L, Black B, Lowry G, Huang P, Kerner J (2005) Collaborating to conquer cancer: a comprehensive approach to cancer control. Cancer Causes Control 16(0):3–14

2.

Hohman K, Rochester P, Kean T, Belle-Isle L (2010) The CCC National Partnership: an example of organizations collaborating on comprehensive cancer control. Cancer Causes Control 21(12):1979–1985

3.

President's Cancer Panel (2018) HPV vaccination for cancer prevention: progress, opportunities, and a renewed call to action. A Report to the President of the United States from the Chair of the President's Cancer Panel https://prescancerpanel.cancer.gov/report/hpvupdate/pdf/PresCancerPanel_HPVUpdate_Nov2018.pdf. Accessed 14 Nov 2018

4.

Comprehensive Cancer Control National Partnership. Increase human papillomavirus (HPV) vaccination uptake workgroup page. https://www.cccnationalpartners.org/increase-human-papillomavirus-hpv-vaccination-uptake

5.

American Cancer Society (2018) Cancer facts & figs. American Cancer Society, Atlanta

6.

National Colorectal Roundtable (2018) All pledges. NCCRT website. http://nccrt.org/all-pledges/. Accessed 14 Nov 2018

7.

Comprehensive Cancer Control National Partnership Forum Teams Report 80%: 80% by 2018 Forum. https://smhs.gwu.edu/cancercontroltap/sites/cancercontroltap/files/80%20by%202018%20Forum%20Teams%20Report_0.pdf

8.

American Cancer Society (2014) Nine Habits of successful comprehensive cancer control coalitions. Comprehensive Cancer Control National Partnership website. https://www.cccnationalpartners.org/new-resource-9-habits-successful-comprehensive-cancer-control-coalitions. Accessed 14 November 2018

9.

Biden J (2016) Cancer moonshot. Official Medium Account of the Vice President's Cancer Moonshot. https://medium.com/cancer-moonshot. Accessed 14 Nov 2018
About this article
Cite this article
Vinson, C.A., Staples, C., Shafir, S. et al. Collaborating to conquer cancer: the role of partnerships in comprehensive cancer control. Cancer Causes Control 29, 1173–1180 (2018). https://doi.org/10.1007/s10552-018-1118-9
Received:

Accepted:

Published:

Issue Date:
Keywords
Coalition

Partnership

Collaboration

Cancer control